As part of the Passion Made Possible global campaign by the Singapore Tourism Board (STB), Atypical Singapore is part of the latest wave of marketing activities launched overseas. Recently back from Russia, this travelling art and augmented reality (AR) technology showcase will be heading to Myanmar in November as well as December. This initiative is part of the Culture Shapers – one of seven identified "Passion Tribes" by STB.
Focusing on the various passions based on a huge range of lifestyles, interests and what sort of travellers there are in the world, Culture Shapers are the ones who travel to immerse themselves in arts and culture. They are eager to gain new perspectives, to find out more through what the arts can offer them and bring this immersion home with them – wherever home may be.
Atypical Singapore brings a taste of what Singapore's arts ecosystem is like to the streets overseas. Instead of waiting for travellers to encounter us by chance, this campaign seizes the opportunity to bring multi-sensory art experiences to the people – to engage them in terms of participation and dialogue. Ranging from performance art to GIF animation to sculptures, the works are done by seven contemporary artists handpicked by Khairuddin Hori, the curatorial director and partner of Chan+Hori Contemporary.
Anticipating Atypical Singapore's appearance as part of Singapore Day in Myanmar later in November? Here's a quick peek at the works you can expect, and introductions of the seven artists.
Daniel Yu: Lunar Beast and Lunar Cleric
You might have heard of Daniel if you are into the subculture art scene in Singapore or abroad. Known for his fictitious characters sculpted from clay and resin, he has made plenty of palm-sized collectibles that are heavily influenced by pop culture as well as local tradition. Two of his sculptures, Lunar Beast and Lunar Cleric, take on a new form as inflatable sculptures for the showcase. Evidently, they have also been made cuter – almost like a Meitu Xiu Xiu version of his regular grotesque and punk style. It is a playful marriage of recreating traditional icons with a modern and easily approachable presentation.
Gerald Leow: Alang Alang (A Framed One)
Armed with a sociology degree from the National University of Singapore, Gerald is a self-taught artist with interests in houses, anthropology and material cultures. His sculptures and works do make an appearance next to the Singapore Art Museum signage in their larger than life form every now and then. Alang Alang is a reimagination of the traditional Austronesian house form. With shapes derived from typographic logos of heavy metal bands, this particular work reflects upon the relationship between culture and social systems. Metallica, anybody?
Speak Cryptic: S*GATTE
You definitely have encountered his distinctive figures all across the wall just outside of Esplanade's Recital Studio. Speak Cryptic's visual language is very much informed by the culture of comics and underground music . These gateways are all done in his style – utilising his personal iconography and a cast of characters he has developed over the years. Besides interpreting the five stars present on Singapore's flag, the gateways also activate an AR portal that presents a view of Singapore populated by monochromatic characters.
Amanda Tan: What Tribe is Thi$?
Filmmaker, director, visual designer, writer and artist based in Singapore, Amanda directed Vandetta's ONZ music video. This work is a two-channel video that paraphrases what identity in a melting pot of different cultures could mean to an individual. A visual interpretation that questions the depths of urban tribes and if we are one and the same to not. This work also features costumes by local fashion collective MASH-UP and  a remix of popular music by award-winning Singaporean media artist, musician and record producer Nick Chan.
Eugene Soh: Sunday Afternoon on the Island of Singapore
With his works fully embracing technology and all of its advancements, Eugene experiments with AR and digital art often; constantly aspiring to find new ways of creating and sharing his work. The work is distinctly Singaporean, a cheeky adaption of A Sunday Afternoon on the Island of La Grande Jatte by Georges Seurat. Don't be fooled into thinking that these works as part of Atypical Singapore are merely photographs. Every figure was photographed individually at the scene over the course of six months, and the entire artwork is able to come to life in AR animation for up to 30 seconds each due to this artistic diligence.
anGie seah: To Steal the Night from the Day
Drawing from a multidisciplinary practise, anGie traverses various art mediums to respond to the human condition in relation to the social environment. This particular series of two performances done live is inspired by living paradoxes that surround us. Think day and night, hope and fear as well as reality and dreams. And since it is partly performed 'live' each day, the work also narrates the visceral and embodied nature of existence and emotions.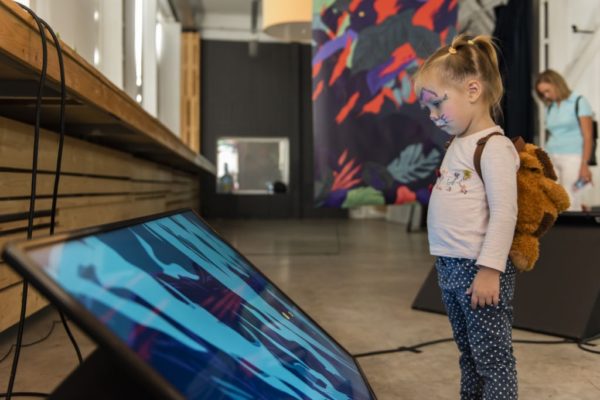 Muhammad Izdi: Tales Don't Tell Themselves
Izdi previously managed the design department of Singapore Art Museum, and as a skilled illustrator, was one of the founders of local Risograph press collective Knuckles & Notch. His works tend to be visually stimulating and complex in their detailing. In this travelling installation, Izdi's illustrations take on the form of .GIF animations based on historical sightings, legends and modern-day hunts regarding lions and tigers in Singapore. The bold colours catch your eye and brings your attention to the very animals that are etched as part of the official insignia of Singapore.
–
Singapore Festival was first held in Myanmar back in 2016 and this time, the festival will run for two weeks. Besides Atypical Singapore, you may also look forward to the Bogalay Day Street street activation, a Myanmar-Singapore street food festival as well as a whole line-up of performances including our very own THELIONCITYBOY.
For more information on the Passion Made Possible campaign, click here.
Photographs courtesy of STB
==
Stay updated and social with Popspoken:  Telegram| Facebook | Twitter | Instagram