By Victoria Chen 
招: When The Cold Wind Blows and G.F.E. are presented in that order as a double bill for the Singapore Theatre Festival. Both touch on what could be defined as typical Singaporean male experiences—National Service and finding love in Geylang—but are stylistically different from top to bottom.
招, written by Neo Hai Bin and directed by Thong Pei Qin, carries the regimental energy of the military from start to finish. The audience follows Xavier (Joshua Lim) as he confronts—or avoids—the cause of his return to an alternate Pulau Tekong, where all exits lead back to the starting point. There he meets a Man (Joel Low), who speaks crisply and from time to time takes on various identities that Xavier encountered a decade ago during his enlistment. Both of them perform with a sharpness that clearly signals the shifts from conversation to recollection to exposition.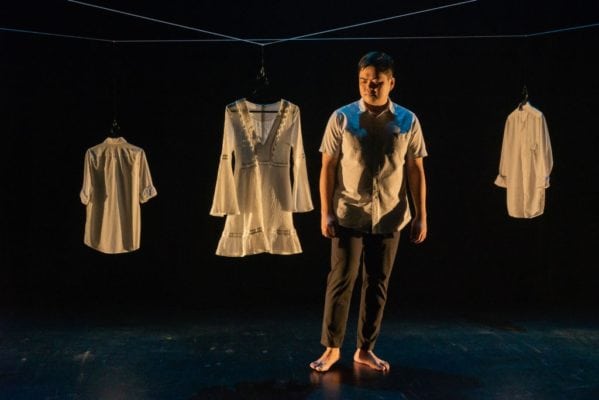 On the other hand, Chong Woon Yong, who goes solo in his self-written play, is much more fluid when transitioning between characters and scenes, and simply distinguishes between G.F.E.'s protaganist and his best friend with a lit cigarette, suggested via Chong's straightened index and middle fingers. In this piece directed by Ric Liu, the man attempts to find love, or company, or relive the past through his encounter with the most sought after woman in Geylang, juxtaposed with his failed relationships. Yet this piece also falls into a regimen of its own, as Chong takes on the cycle of narrating then demonstrating, then narrating and then demonstrating again, rarely combining both.
Nonetheless, both pieces manage to break their patterns with clever staging. Despite its minimal set, 招 manages to surprise the audience at several points in the show; the first one thrusts the audience into full attention within seconds of lights coming up on stage.
At one point in G.F.E. Chong describes sending a text to his secondary school crush. It is undoubtedly a highlight of the show; "ooh"s and "aww"s ooze from the audience as Chong hangs a shirt (symbolising his teenage self) on a string, and it bumbles innocently towards a white dress hung in the middle of the set. As both pieces of clothing clash, the audience shrieks with delight.
All in all, both shows are outstanding for their mass appeal. It is no surprise that this double bill has sold out, seeing as they carry the right balance of head and heart to satisfy audiences that are either there to critique a performance or to be entertained for the evening. 招: When The Cold Wind Blows and G.F.E are neither Army Daze nor Pretty Woman. These shows approach common issues with a fresh perspective on male identity in contemporary society.
---
The Singapore Theatre Festival is on until 22nd July. Check out the festival guide here.
Photography credits: W!ld Rice
==
Stay updated and social with Popspoken: Facebook | Twitter | Instagram