Simple yet poignant, I Want To Go Home by Wesley Leon Aroozoo is a glimpse into the strength of human resilience and how love may manifest itself in times of crisis. About crossing borders and to share a man's loss, love and sheer determination to reunite with his wife.
I Want To Go Home – the very last text message Mr Yasuo Takamatsu received from his wife Yuko before losing her to the tsunami during the Great East Japan earthquake in 2011. Since then, he has been diving every week in search of her to honour her. Inspired to share his story under the title bearing the words of Yuko, the book is a journey from Singapore to Onagawa to meet the person himself and walk a small part of journey with him.
The book comes with both English and a Japanese translation, with photographs taken from the week-long trip taken by author Wesley, translator Miki Hawkinson and photographer/videographer Jonathan Chan.
I am unable to read Japanese, so I may only speak about the English – unable to share about what has been gained or lost in the act of translation, if any nuances carried better in whichever language used. However, the novel touches me beyond words and brings out my emotions to be part of this journey. Despite the specific circumstances the book presents, its ability to draw out memories and hold a connection throughout the entire trajectory. At the end, I feel I have a gained a friend and that I have lived a life outside of myself – a renewed sense of heartache and admiration for the strength of Mr Takamatsu.
Popspoken interviews the author Wesley, who also made a film with the same title, to find out more about the makings of I Want To Go Home.
---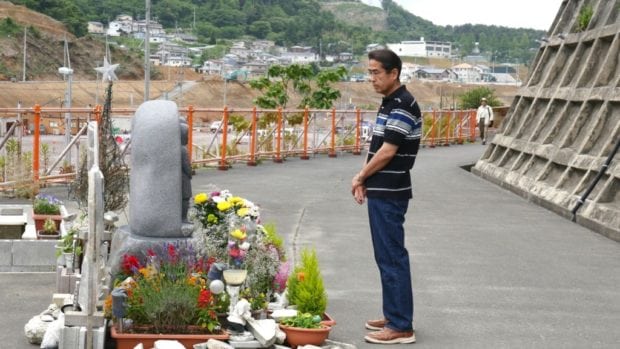 Popspoken: What drew you towards this story of Mr Takamatsu and Yuko?
Wesley: In 2014, I read an article online on the Daily Telegraph about Mr. Takamatsu. The article was about how he dives into the sea every week to search for his wife whom he lost to the tsunami. I was very moved by his story and found his dedication to be very inspiring. At that point in time, I didn't know what I wanted to say to him if I had the chance but I felt a great need to reach out to him to at least tell him that he is an inspiration. The need grew greater and it led me to tracking him down. After three to four months of following leads, I managed to acquire Mr. Takamatsu's email contact but was informed that he didn't speak English.
It took me a little more time but I eventually found a translator, Miki Hawkinson from Melbourne who was keen to help. What followed was communicating with Mr. Takamatsu over email for over a year.
Through our communication, I felt his story was greater than what was covered in the online article and I decided to write a novel about him and to produce a documentary about him as well. My hope for the novel and documentary was to reach out to more people and hopefully they can be inspired by Mr. Takamatsu, just like how he has inspired me.
PS: Share with us why you settled for this sort of narrative style for I Want To Go Home, with references to your own thoughts, instead of focusing purely on Mr Takamatsu? 
W: During my time in Onagawa, our conversations were all documented and I noted down my experiences during the stay. Coming back to Singapore, it took me a while on figuring out how best to approach writing the novel. I chose having my own thoughts into the book as I felt it was a comfortable and relatable direction for the reader to learn about Mr. Tamatatsu. Much of what I might feel, would be similar to a person who does not live in Onagawa.
Another reason why I chose to have my own thoughts was because I wanted to share how Mr. Takamatsu has inspired me as well. During my time in Onagawa, I was about to get married a month later in Singapore, so the idea of 'love' and what one would do for love was something on my mind. It was a time when I was thinking a lot about my wife to be and our life ahead together. I also would ask myself, if I was in Mr. Takamatsu's shoes, would I dive in the sea every week for a loved one? This was a question I was curious to find the answer to.
PS: How were the featured photographs selected, out of the many taken throughout the trip?
W: The photographs were taken by the cinematographer who came with me to Onagawa. His name is Jon Chan and at that time he was my student in LASALLE College of the Arts. The chosen photographs were selected by me and Kenny Leck of Math Paper Press.
PS: Even though you don't speak Japanese, a Japanese version comes together with the English one. What's the significance in that?
W: The main reason why there is a Japanese translation is so that Mr. Takamatsu can read the book. The other reason is my hope to share the book with the Japanese speaking community internationally which unfortunately has been difficult.
PS: Out of curiosity, are you still in touch with Mr Takamatsu after all these years? How is he?
W: Yes, I constantly keep in touch with him via email. We chat about twice a month. Mainly now our conversations revolve around me sharing updates about our project and him sharing updates about his diving trips. He still dives weekly in the sea and is fine.
I would love to visit Mr. Takamatsu in Onagawa again next year with my wife and spend time with him.
PS: Has embarking on this journey impact you in any way?
W: It has on many different ways. Learning from him and understanding why he dives in the sea has taught me to not be afraid of what you believe in even when nobody believes in you. It reminded me of the power of love and the mountains it can move. Mr. Takamatsu taught me to appreciate your loved ones and do the best you can for them. Mr. Takamatsu has moved my heart and I hope people who read the book will be moved as well.
---
To purchase the book I Want To Go Home and to find out more, look it up here.
Photography credit: Jonathan Chan
Reads is a series by Teo Dawn on Popspoken. Learn more about local writers, their inspirations and what they think is worth writing about. After all, one writes about what one cares about. Got a book you want featured? Drop her an email here. 
==
Stay updated and social with Popspoken: Facebook | Twitter | Instagram