Sam Steiner's Lemons, Lemons, Lemons, Lemons, Lemons.
A questioning of free speech and miscommunication. Relevant provocation.
Adeeb & Shai's debut production at Aliwal Arts Centre Multipurpose Hall.
Premise: Ability to speak only 140 words per day. Will new love persist between Bernadette (quirky Tia Guttensohn) and Oliver (charming Jamil Schulze) and stay?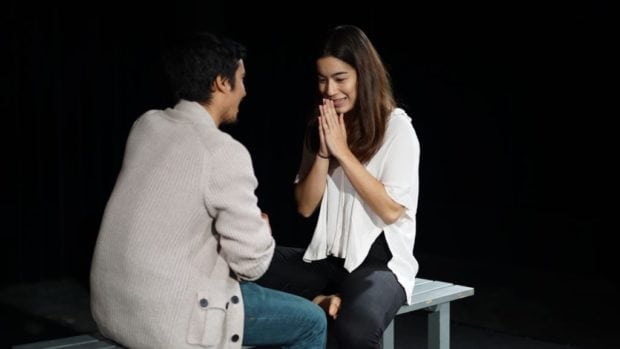 Simple set of bench and two stools; wise choice. Directed by Adeeb Fazah, fluidity of movements on stage worked well though more precision would help with picking up the pace and building of scenes. Focus mainly on cleverly written text, though delivery of intentions may not always be clear. However, appreciate the risk taken in using a thrust stage – allowing every audience member take home a unique perspective.
But is there more to this relationship between the show and audience, besides witnessing a modern abusive relationship going nowhere?
(140 words)
==
Stay updated and social with Popspoken: Facebook | Twitter | Instagram