(In Malay) Angkat: To lift up, to raise, to bring to or towards a higher position or an upright position.
Salmah (by Sahirrah Safit) is a National Idol hopeful and in an attempt to win, has been convinced by the advisory panel to alter her image to appeal to the masses. This surfaces the prying of old wounds and questions about her identity as an adopted child. Bringing new tensions between her adoptive mother Khadijah (by Norsiah Ramly) and her, this is a transitional period for the pair's future – for better or for worse.
Conceptualised by Nabilah Said and directed by Irfan Kasban with Angkat being a devised effort between Kasban and the actors, the hour long show brings a lot of textures to the theatre space. With layered interpretations from their use, the simple approach goes beyond artistic and seeks to show more than speak.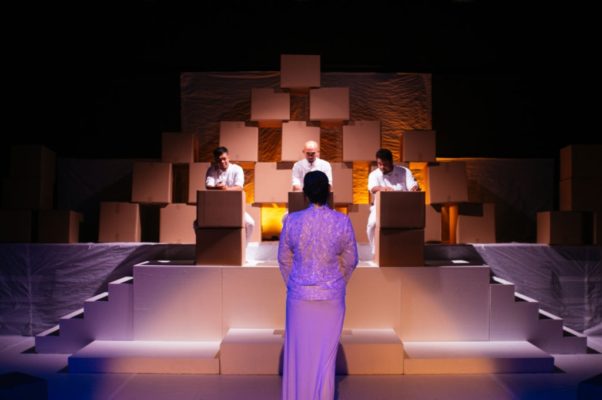 1. Cardboard
Flimsy, plain and constantly overlooked. It is a material commonly found hidden in dusty storerooms or muddied on roadsides. We associate it with old folks collecting it on the streets for an allowance (yes, for a living and not 'exercise') or memories long packed away or moving away from home.
Teater Ekamatra filled the Malay Heritage Centre Auditorium with stacked cardboard boxes. One after another – a wall of piled up memories in dust waiting to be dug up again. There are so many of them that together, the cardboard boxes formed the home, the orphanage and the National Idol advisory room.
The ambiguity of the light brown and the ordinary nature of these boxes make the imagination come alive.
Piles and piles of collected cardboard to support a family, as Khadijah cries out to her daughter during an argument, of a forgotten childhood. Some boxes for sale to the karang guni man and some, to hide away the memories that she hopes to deny and forget.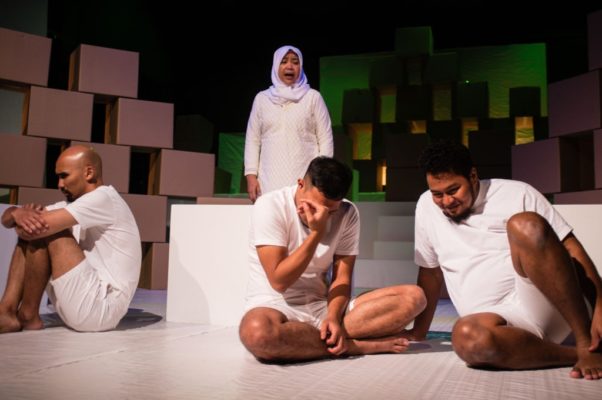 Then they become donations to the orphanage, and making do with cardboard boxes as furniture, as toys and as hiding spaces for the little privacy available. The boys, by ensemble Erwin Shah Ismail, Faizal Abdullah and Farez Najid, shift them around to form new walls as they navigate the space and eventually knocking them all down as the barriers tear down.
And how alien the cardboard walls become when the National Idol advisory room is in play. Suffocating and cheapening the entire process, it makes Sahirrah's headstrong yet naïve Salmah become as plain as they are – echoing the plight of her manipulated and moldable identity. A play thing for the advisory panel, and a play thing for the masses to do as they wish in the harsh environment of a singing competition.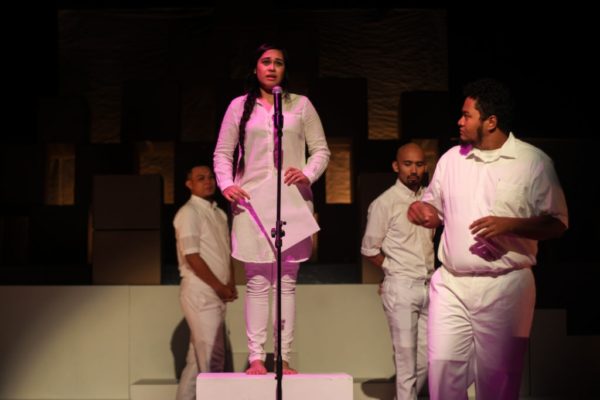 2. White cloths
With part of the stage in white as well, forming the concrete structure of stage, stairs and the backbone of levels in the space, what calls out to me are the white cloths. Costumes, regardless of style or scenario, are all white with minimal finishings of a different hue.
Starting the show with Khadijah putting on her prayer garments, in white, the colour emphasises a sense of purity and innocence. Opening her heart to Allah, with no holds barred and arms wide open, for the cleansing of a burdened heart.
As beautiful as white can be with Salmah donning a white baju kurung and a white kebaya for the competition, it slowly becomes a sense of sterility and the unforgiving nature of history. Or even a hint at death of an identity, for white is the true colour of death while black is the mere reflection of night.
But, white can also be seen as a rebirth, a blank canvas, for a new beginning. Perhaps this is where Angkat echoes its meaning – to uplift, and not succumb to surrender.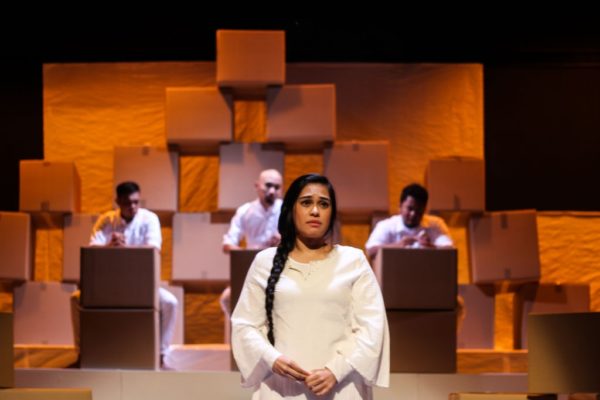 3. Coloured skin
The text itself, in terms of dialogue, raises a couple of recurring themes. Not flinching away from race, Angkat even starts with joking about typical racial stereotypes one might have encountered in Singapore as a Malay. Then skin colour becomes even more prominent when a possibility of third culture children is being involved.
It is a back and forth of questioning how a Malay looks like, or a Singaporean, or if your skin colour should really mean anything. What does it really mean to still be divided by race when we all are born and bred here in the same land?
"I did not choose to be born with discrimination," as one of Erwin's character said to Salmah.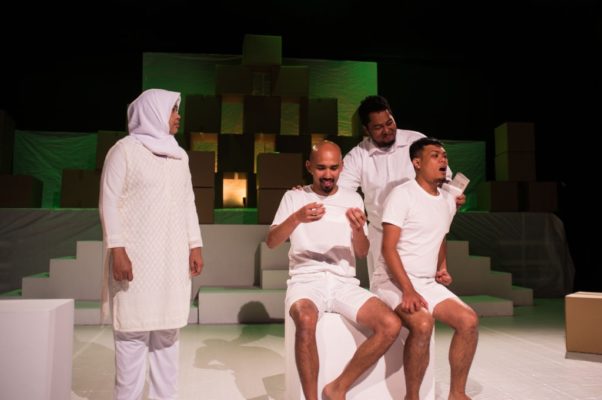 Bringing the colour of skin to the forefront of open discussion does stir up discomfort, as many would love to leave it within stored away cardboard boxes under white cloths like discarded furniture. However, it is a necessity now to play it out and having a theatre show do that is almost essential at this point in our societal dynamics today in Singapore.
With this, Angkat nudges awake our different senses with so much space for imagination and personal interpretation. Perhaps, even provides the audience a way to navigate various perspectives in the real world through theatre.
Images courtesy of Teater Ekamatra
==
Stay updated and social with Popspoken: Facebook | Twitter | Instagram