Not often do we get a crossover of a museum and a shopping mall, but a new collaboration by Raffles City and Very Special Arts (VSA) has done just that. They have even enlisted the wonderful workings of Cultural Medallion-winning artist Chng Seok Tin in their recent exhibition, titled 非礼勿言 (translation: No Indecent Assault in Speech), where over 800 unwanted lipsticks were donated and made into an art installation.
As a visually impaired artist herself, Seok Tin's feature speaks volumes about the life teeming within the special needs arts scene in Singapore. Now 71, she has specialised in various mediums such as printmaking, sculpting, ceramics, and mixed media, and is studded with accolades (most recently the 2007 Singapore Chinese Literary Award and Singapore Women's Hall of Fame in 2014). Her art has been displayed in 30 solo exhibitions and over 100 group exhibitions worldwide.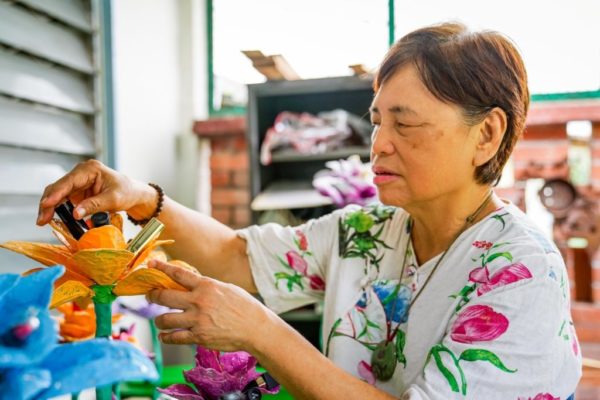 When handing over 800 lipsticks to an artist, you might expect commentary on the beauty industry, or the relationship between women and beauty in the modern era. But the idea birthed in Seok Tin's head stretched deeper than that, stemming from an genuine love for long-lasting, poetic wisdom — "When I thought of lipsticks, I thought of how the lips carry so much beauty — especially in speech."
"Many people of my generation don't quite know how to speak, speaking good words can be hard," she tells us. "I thought of how beauty is defined by speech — especially the idea of speaking no evil."
Indeed, her philosophies can be seen through the shapes and senses of the exhibition. She cites Confucius and Buddha as big inspirations, even having proverbial truths written all over the interactive art space, one of these being: "好言一句三冬暖" (translation: one kind word can warm three winter months)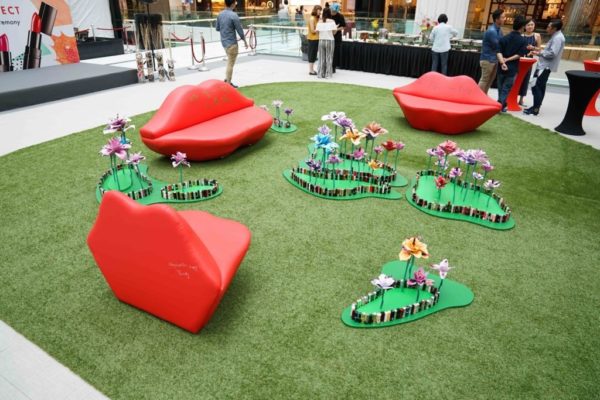 Being surrounded by big western brands within the mall, her works evoke the familiarity of eastern values. It is a unique inclusion of art in the heart of the city, and Seok Tin herself praised the increasing endeavours of corporations towards goodwill and art. The project alone raised more than $100,000 for VSA, which will be used to build classrooms for children with disabilities. Seok Tin remarked that "every big company has a social duty to uphold, and it is good to see them work more with artists. Meaningful art is essential for peace in society."
Having also been an art educator, Seok Tin was also asked for advice for the upcoming young artists in Singapore, to which she said: "Space is one of the biggest challenges for artists nowadays. It might take a lot of hard work to earn exhibition spaces. But keep pursuing. The reward is spiritual — it lasts longer than the material reward."
Chng Seok Tin's Lipstick Art Installation is located at Level 1 of Raffles City Shopping Mall and will run until mid January 2018.
Photos: Raffles City Singapore
—
Stay updated and social with Popspoken: Facebook | Twitter | Instagram