Known for her reinterpretation of the act of ink painting, Yeo Shih Yun is a full-time artist as well as the director of INSTINC.
Recently, INSTINC had an exhibition instinctive 1.0 : (in)visible that featured 14 homegrown artists, including Urich Lau and Sarah Choo Jing. The company was founded back in 2004 and kickstarted a Singapore-based artist-in-residence in 2009, growing into one of the few spaces that breeds and incubates art by local and international artists. It is definitely a force to be reckoned with.
Beyond the company, she has also exhibited her works and was resident artist internationally – New York, Tokyo, Munich and Shanghai, China. Being in the industry for a decade or so, she has witnessed the scene evolve as her own explorations in art continuously deepens. Popspoken speaks to Shih Yun to find out more her creative journey and the growing landscape of Singapore's art scene.
---
Popspoken: When you were younger, what was your dream ambition?
Shih Yun (SY): I wanted to be a doctor. There is something about the white robe that attracted me.
Popspoken: What made you choose the visual arts as a career choice?
Shih Yun: The closest career if I did not choose visual arts will be graphics designer, as I studied Visual Communications in Lasalle before that.
Though it's a creative industry, I just didn't enjoy sitting in front of the computer all day long and having to stick to the 'brief'. I love exploring and experimenting and doing my own stuff.
Therefore, the trigger was after I joined UOB Painting of The year competition the first time in 1999 and was awarded 'Highly commended entry' for a piece I created using IKEA shower curtain. I even sold my first painting during the exhibition in UOB Plaza! I took it as a sign and pursued fine arts painting seriously in San Francisco Art institute. The environment there was very conducive and inspiring and I was convinced I wanted to be an artist after I come back to Singapore.
Popspoken: Were your parents supportive? If yes, how did they show it? If not, what were their concerns?
Shih Yun: Yes and No. At first, my mum was not that supportive of me going to San Francisco to study. But I told her I will regret if I don't do that and eventually persuaded her to let me go. She was concerned about my safety mainly as at that time, there was the 9/11 and many rumors about more terrorists attacks. However, since I started INSTINC in 2004, she knew I am dead serious about art and since then my mum is very supportive. She comes to my openings in the beginning. But now after so many openings she has been to, she is now more selective and goes to the important ones only.
Popspoken: Did the landscape here shape the way you work with your craft?
Shih Yun: Yes! I am inspired by everything , be it consciously or subconsciously . Being in Singapore, and exposed to Chinese ink while I am in Lasalle, studying Chinese ink painting electives under late Mr Chua Ek Kay and all plays a great part in me falling in love with ink. Easy to access and buy good qualities ink and supplies also helped a great deal. One of my series "Conversations with trees" was created in Labrador Park and is inspired by our Green city.
Popspoken: Share with us your favourite exhibition you are a part of?
Shih Yun: In 2014, we had an exhibition, "Project 6581" in Japan Creative Center. Project 6581 is a collaboration of INSTINC Singapore and Youkobo Art Space Tokyo. Gaining its name from the phone codes of Japan and Singapore, this project involves the exchange of 4 artists from each country in a collaborative residence program. Each pair of artists immersed themselves in the city for a period of one month and created works inspired by the city.
Artists:
Ade Putra Safar Bin Fuad
Aya Murakami
Chihiro Kabata
Justin Lee
Kaoru Murakami
Muhammad Khairullah Bin Rahim
Yeo Shih Yun
Yuuri Kabata
Curator: Kelley Cheng
I really liked this exhibition, the curation, the beautiful black and white colonial house setting of the exhibition. The works that I showed was created with marks made by toy robots, after which the chosen marks were digitized, made into a positive film and then eventually into a plate. Using this plate and the old one colour lithography press, the final prints were printed by an old master. The whole process is very interesting as I get to see the printer and his machine. Also, we need to negotiate the boundaries of traditional vs experimental offset printing.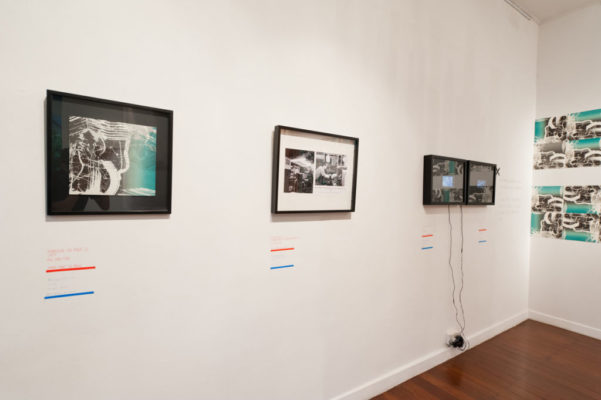 Popspoken: How has the scene changed from then and now?
Shih Yun: Since I came back in 2001, the scene has changed quite a bit. I felt that it is much more vibrant. More spaces to exhibit compared to last time. Also, we didn't have 8Q, National Gallery, National Museum, Gillman Barracks, Art Stage and all the art fairs, hotel fairs…we have now, there was only one fair one year in the past. There are much more opportunities for young artists nowadays.
Popspoken: What is one hope you have for the visual arts scene in Singapore?
Shih Yun: Can I have more than one hope? I hope people will respect art and artists more and not treat art/artists as an afterthought. I also hope that the Arts scene can have more exciting events being conducted, awareness being spread and finally artists being well respected.
Popspoken: What more can be done for us to move forward in The Arts as a nation?
Shih Yun: I think we need to encourage more people with a real passion for the arts to be involved in creating the vibrancy.
This industry cannot be primarily measure by the conventional KPIs approach, because Arts shape cultures and there are just so many intangibles tied to it that cannot be measured.
If truly passionate and capable leaders are making decision for our nation, and the people running the ground are equally passionate, great big things will fall into place and our nation can only get more exciting as an Arts destination! Artists in all forms should stick together and help each, collaborate! Collaboration is the key to move forward!
All images are courtesy of the artist.
---
Speaking Arts is a new series to shed light on individuals in The Arts scene in Singapore. Be it administrators, artists, performers and writers, we seek to share all stories and to help form a wholesome narrative of the scene.
Would love to hear from a particular industry professional, or have something to share? Drop us a mail here.
==
Stay updated and social with Popspoken: Facebook | Twitter | Instagram