Many would say that our childhood truly shapes who we are as people, and that it is the phase that we look back on the most. For Beijing-based artist Wu Qiong, childhood is the subject matter that he deals with for most of his works. Portraying serenity through the soft features of his sculptures, he portrays adulthood as a reminiscence of childhood. His paintings are also known for their idyllic quality and touching scenarios.
In an age where conceptual and performance art seem to strive effortlessly, his works balance the traditional with the contemporary. Constantly going back to people as a focal point of his works, he showcases what each generation goes through during their younger days; as much about culture as they are about art.
Popspoken asks Wu Qiong what about his childhood he remembers the most, and what is the difference between art education in China and Singapore
---
Popspoken: You graduated from Nanyang Academy of Fine Arts back in 2006. What was your experience like studying in Singapore?
Wu Qiong: The experience is totally different, since most of teachers in were educated in Western countries and then profess in Singapore. Such an experience provides them with both oriental and western concepts, so that we can keep an open arm and embrace artistic ideas.
Popspoken: Are there any differences in the fine art education between Singapore and China?
WQ: Personally, in my younger age, when I was pursuing study in China, I felt that traditional Chinese education was more rigid and stereotyped. It focuses more about techniques – techniques were repeatedly taught and practiced in senior high school, high school and even in university, which was necessary to improve students' skills to meet up the standards in order to examine their performance. However, the development of critical thinking was not taken into account in China then. I was wondering "Can art be wrong?". (Of course this was my thought when I was in school, the art education in China might have changed now). While in Singapore, they value student's ideas more. Teachers will discuss about art with you just like a friend, they won't get involved in the process to decide whether it's workable or not. For instance, if you're an oil painting major, you can also switch to different mediums to present your ideas such as performance, music and so on.
PS: Your subject matter seems to be mainly about childhood. What about your own childhood do you remember the most?
WQ: I miss all the good old days when I was not able to make dreams come true. In my boyhood, how I wish I could fly as a carefree bird, sleep soundly on a cloud bed which is as soft as marshmallow, and play with friends with without any worries. It's probably in my works that I can retrieve the innocent soul, simple past and vision of future.
PS: From when you first started your practice until now, how has your style or philosophy evolved?
WQ: I grow with time, likewise, art develops with life. From Made in China Born in the 80's to "Matching" and "Essence of Performing" which set specific plot and story line, to "Here and Now", and new concept "Traveling" which expresses emotions more directly. I am exploring more complicated feelings from simple ideas, and at the same time, to draw purity by the simplest way.
PS: What do you hope to give the world through your work?
WQ: Life proceeds like a journey which abounds with the unknown and never-ending destinations. We should experience the process, to enjoy both sweetness and sorrow. The result and destination do matter, but what really matters is the process which shows your attitude. Life is more fascinating when you learn to face and enjoy the process, and then the result won't bother you that much.
PS: Any other exploration you would love to venture in in the near future?
WQ: As a professional artist, what we should consider most is the ways to change and innovate. Meanwhile, we should also look forward and think all the time. So I would want to try more new and fresh things. Currently, I intend to combine technology and tradition together to create some stunning works.
---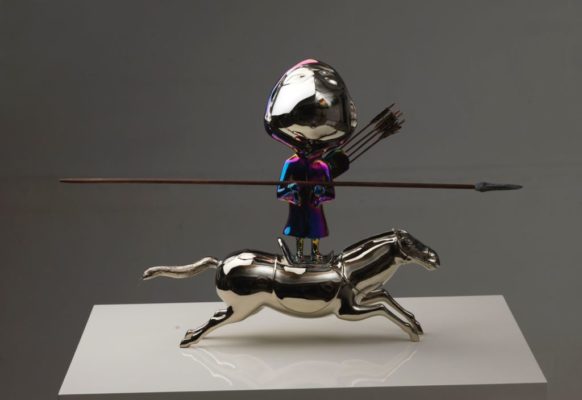 To check out his works, look up Ode To Art Gallery at Raffles City for more information.
==
Stay updated and social with Popspoken: Facebook | Twitter | Instagram