Besides the up-coming Singapore International Festival of Arts, In Source Theatre will be having their 15th Anniversary season this year. With two up-coming shows and one in conception, they would love for you to celebrate with them through theatre.
The two shows that will be staged this year would be Lone Journeys and Sleeping Naked, while Dream.Godot is currently in the works for the near future. Dealing with humanity and challenging the audience to reflect on life, these shows are definitely not just about mere entertainment.
Whether the plays were influenced by a personal experience, inspired by a favourite play or to reflect a certain sentiment with the audience, they are all derived from what the company really wants to do. Company founder, Beverly Yuen shared, "For this year, the plays were first derived from what we really want to do, what speaks to us most, without looking at the commercial value of it."
Popspoken speaks to Beverly Yuen, and Jacklyn Kuah, artistic director to find out more about the company's philosophy, and what to expect from this celebratory season.
---
Popspoken: What is the ultimate dream of forming this theatre company?
Beverly Yuen: The initial dream of forming this theatre company was a very simple dream—to continue with the training methodologies and philosophy that I have learnt from my teachers at Workcentre of Jerzy Grotowski and Thomas Richards, which benefited me significantly as an artist and a performer. From the training, I saw the craft of performing not just as a tool of entertainment but an instrument to understand the "being" which comprises the body, heart and mind. And when the "beings" (audience and performers) encounter each other in an elevated state beyond what is "ordinary" or "mundane", a truthful and sincere meeting which speaks right to the heart is formed. This, to me, is a form of spiritual experience in theatre.
The ultimate dream of forming this theatre company is shown in this mission statement of the group—"IST aims to develop and put in practice aesthetic principles and philosophy of humanism through physical theatre".
While "physical" seems to be an antonym of "spiritual", we use these two terms to describe the theatre we are doing intentionally. "Physical theatre" to us is about integration of body, speech and mind in performance, and not just about physical movement. Thus, "physical theatre" is not about seeing vigorous movement on stage. Organic expression of characters/intention through subtle movements is to me a level of physical theatre which could be more difficult to attain than the explicit big movements.
Popspoken: What makes theatre an art form you enjoy working with?
Beverly Yuen: I have a need to work with people and develop artistic expressions through this human-to- human interaction. While it is possible for an artist to put up a solo performance or to create a piece of music or art work individually, I value the aspect of working with human beings, and understanding human's needs, dreams and struggles in the process of creating theatre. While most performances I have directed are fictional, I believe that a part of us (director, performers and even designers) is portrayed through the characters and the work.
Jacklyn Kuah: It is different every time I do it, be it when I perform or direct.
I get to express myself and convey my message in a unique way when I direct a piece of work, but it will evolve every time I do it, because I will analyse it differently each time as I grow older and experience becomes richer. The message conveyed changes as well. I get to role-play and go through the lives and thoughts of another person when I perform. And each time I perform a same piece of work, it will also be different, because theatre is a form of collaborative art where we need to react to one another, to sounds, to thoughts, etc.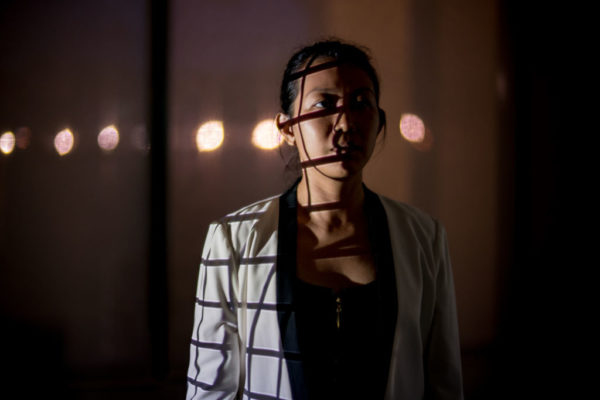 Popspoken: Your past works incorporate a lot of textural and traditional elements. What can we look forward to this season?
Beverly Yuen: You can definitely expect the incorporation of textural and traditional elements in Dream.Godot, an adaptation from Waiting for Godot. Chinese calligraphy, tai chi, Chinese philosophies will be incorporated in Dream.Godot.
Sleeping Naked is set in a contemporary society though the protagonist (the father of the family) draws a diversity of Eastern and Western philosophies and religions for his day-to-day living.
Lone Journeys is a futuristic play. However, there are small segments where Chinese dialect song is sung while the character is reminiscing about the past. Lone Journeys is set in a world of machines, where three humans seek to find a way to escape. To me, this symbolises a need for many of us to keep our hearts and dreams alive, despite living in a practical and materialistic society.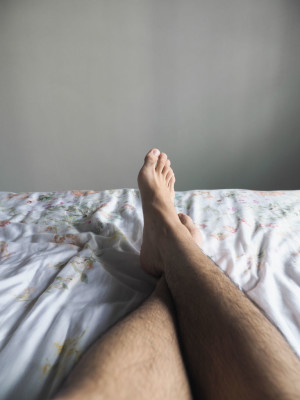 Popspoken: How are rehearsal processes usually like?
Beverly Yuen: I work on two key types of rehearsal process:
1. Freedom to create/propose/improvise
Based on a big topic/structure, I allow the performers to search for their individual actions/improvise the scenes, and then gradually create a script, followed by a performance based on the montage of their actions. Productions that I worked through this form of rehearsal process include Mediations/Mandala (2003), Cage (2004), Breathe! You are alive! (2005), Celebratory Song of the Dead (2006)
2. Work within a tight structure
I first start with the scripts or precise segments that I want for the productions, and I work with performers to attain that "vision". However, there are still small segments that the performers can propose how and what they want to do in those segments, as long as they are contributing towards the overall vision. Productions that I worked through this form of rehearsal process include Dreams Rhythm (2002), Ha-Ko (2003) and I Dance I Wander I Wonder (2004). The coming production Dream.Godot will fall under this way of working.
Normally, some forms of training will be conducted before the start of rehearsals/improvisations of actions/scenes. However, training elements may not be the same for all productions. For Mediations/Mandala, the first training session was actually to be silent (but not in sitting meditation) for 3 hours just to open the senses to the environment. Other training elements include physical training, work on songs, and our unique theatre training structures known as "Arising" and "Flaming" derived from our research on physical theatre.
Jacklyn Kuah: For Lone Journeys, we usually start with physical training, meditation walk and voice work. During the initial stage, it will be followed by devising work such as working on actions and sounds based on the structure I had written and sometimes, the performers would have to write their characters' thoughts or monologues which we would also use that to work on the characterisation to dig deeper into the characters. Last 15-30mins, I would usually have in-depth discussions with the performers regarding the theme, their characters and the story. At the later stage, after the playwright have put together what we have devised into a more refined structure, we would usually go straight into rehearsing the structure segments by segments after the physical training, meditation walk and voice work.
Popspoken: The themes in all plays seem to be dark. Any particular reason why?
Beverly Yuen: The themes seem to be dark, but they are about reflection, hope and keeping one's dream alive. While the three plays seem to be very different, the similarity is the characters' quest for spirituality and the quest for a better life.
In Lone Journeys, "spirituality" is represented by the three characters who want to keep their hearts and dreams alive by finding a way to free from the world of machines. I would not say that this "fight" is a pessimistic fight. In fact, many of us in this society have been fighting in this manner. We are constantly shifting between insanity and sanity; organicity and automatism; fitting into patterns and breaking out of boundaries.
There is this passage by Paulo Coelho that I really identify with about "the good fight" (in The Pilgrimage):
"The Good Fight is the one we Fight because our heart asks it of us. The Good Fight is the one that's fought in the name of our dreams. When we are young our dreams first explode inside us with all of their force, we are very courageous, but we haven't yet learned how to Fight. With great effort, we learn how to Fight, but by then we no longer have the courage to go into combat… We kill our dreams because we are afraid to Fight the Good Fight."
Sleeping Naked shows the extreme end of how being obsessive over one's belief, passion or what we call "spirituality" can lead to destruction of self and others. In Sleeping Naked, the father (Stony) is so obsessed with the different philosophies that he experiments with the idea of sleeping naked with his daughter to resist the temptation of a young nude body. This brings hurt to people around him.
In life, we may not have met someone like Stony. However, there are people who could be so passionate about something to the extent of screaming or throwing things at people they work with, or hurting themselves in the process of seeking breakthroughs. Or, there could be parents who love their kids to the extent of taking extreme measures to nurture the children. Thus, it is looking at how obsessive "love" or passion could go wrong if we do not handle these emotions with care by reflecting upon our own actions and thoughts.
Dream.Godot seems to be despairing, with a character waiting for the arrival of Godot. However, this whole piece provides a space for both the audience and artists to reflect.
Popspoken: What kind of theatre shows have you seen that really inspired you as a person, as well as your work?
Beverly Yuen: Works by U Theatre (from Taiwan) and Workcentre of Jerzy Grotowski and Thomas Richards (based in Italy) changed the way I viewed theatre. The works communicated with me beyond a cognitive level.
In terms of directorial style and aesthetics, I am inspired by many directors, among them are Ong Keng Sen, Alvin Tan, Goh Boon Teck and the late William Teo. Ang Gey Pin has been a great teacher to me during my journey as an artist.
Jacklyn Kuah: The very first piece of work that really inspired me was a video of Jerzy Grotowski's The Constant Prince.
Other works that inspired me:
U Theatre's performances, especially their drumming.
Traditional art forms such as chinese opera and ethnic dances
Buskers in Europe
Street dancers/bands/drummers
---
Lone Journeys
Date: 26th – 28th August 2016
Venue: Centre 42 Black Box
–
Sleeping Naked
Date: 1st – 3rd September 2016
Venue: Centre 42 Black Box
A special ticket deal will be available if you decide to catch both shows! For more information on In Source Theatre and their works, check out their website here.
Photography Credits: In Source Theatre
==
Stay updated and social with Popspoken: Twitter | Instagram | Facebook