Chances are, you are way more invested in a series on Netflix or a K-drama than a local production.
Why, though? It isn't that our local climate is less dramatic, or that we lack heart-breaking, mind-numbing love stories, is it? Why, then, does our local entertainment industry – and more specifically our film industry – seem more lacklustre than blockbuster?
In reality, two major forces hinder the growth of the local film industry: censorship regulations and the lack of a local film ecosystem.
Censorship is a setback for the Asian film industry in general, but Singapore remains the pinnacle of strict censorship. Censorship laws have prevented numerous local films, such as, Royston Tan's 15 and Tan Pin Pin's To Singapore, With Love, from airing in Singapore. Filmmakers have to tread lightly and adhere to the stringent regulations, often at the expense of their creativity, in order to get the green light.
This is where Viddsee comes in. A home-grown online video platform that provides users easy access to a plethora of unique local stories.
"I don't think our stricter censorship limit stories, I think there are even more interesting stories we can unearth to share with the world," Derek Tan, co-founder of Viddsee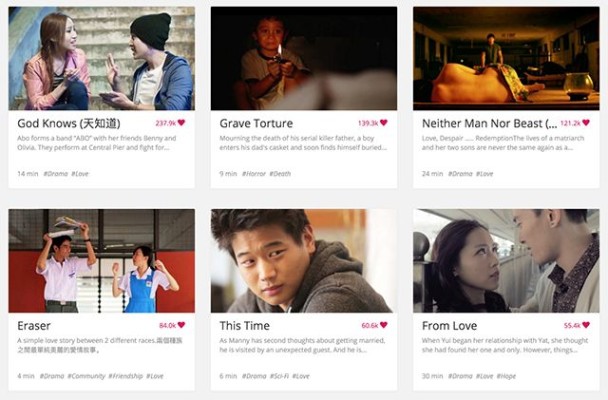 Setting itself apart from YouTube and Vimeo, Viddsee handpicks high quality films with a distinct Asian flavour. Specifically, films from Southeast Asia, South Korea, Japan, India, Sri Lanka, Taiwan, and Israel.
The alternative digital infrastructure Viddsee has chosen will hopefully further the Asian film industry. After all, the ways of consuming films have shifted drastically over the years – from video players to DVDs to live streaming via the internet. Mobile cinema is quickly emerging as the future of film.
And Viddsee is only just getting started. Looking to expansion, Viddsee hopes to one day build a film ecosystem in Southeast Asia that is supportive and open, by gleaning inspiration from the Hollywood and the Chinese film industry models.
Beyond that, Viddsee also works towards being an online community, a home, for independent filmmakers and audiences. Viddsee BUZZ is a feature that fosters a more direct relationship between the filmmakers and their audiences by providing additional context for the films, as well as other content like director interviews that audiences can share and comment on.
"It's not just grooming an engaged audience with local and regional films, it's also building this infrastructure to support sustainability for the filmmakers and to encourage audiences to have conversations around the stories," Derek
Viddsee has big aspirations for short films on its platform. Derek hopes that they will one day these budding short film makers will be commissioned for full-length features / TV series. This in turn gives filmmakers in the region a leg up to further their careers and empowers the local filmmakers voice for a global community. Think Netflix, but with an Asian twist.
Despite this tenacity, the core value of Viddsee remains a very simple one – to provide an avenue for independent film makers in the region to share their original stories.
"Our human association with stories doesn't change. We have centuries of telling stories and falling in love with stories, and this is universal across different cultures."  
==
Cover Photo: TODAY Online
Stay updated and social with Popspoken: Facebook | Twitter | Instagram