For those who believe that theatre knows no bounds, Skinned Knee Productions certainly is one such artistic entity that strives to prove it. Conceptualised by director Rayann Condy, Mind Map of Love is an original play that marries theatre with fine dining. It is written by Marcia Vanderstraaten, and is based on the book of the same name by Christian Zott, owner of the restaurant, Zott's True Alps, where the play is held.
Mind Map of Love is at its core a simple, ordinary love story. What sets it apart is its compelling delivery and witty dialogue. It traces the romantic journey of a pair of lovers from the day they meet to their wedding day and after. Needless to say, it doesn't leave out the rocky bits of relationships.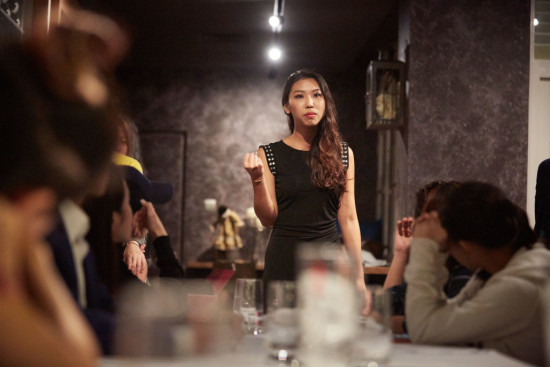 The dining spaces serve as makeshift stages, of which there are thus two – one on each level of the shophouse eatery. Every night of the production, there will be two shows taking place at the same time on each storey. Each show features a couple, played either by Brendon Fernandez and Elizabeth Lazan, or Amanda Tee and Rosemary McGowan.
It's a step up from The Woman Who Cooked Her Husband, staged two years ago in a dining setting as well. This time, the gastronomical production introduces an interactive element that allows audiences to determine how the plot progresses, what actions the characters should take. Having said that, not everyone gets to make a choice – otherwise, the story would go on forever.
Coupled with the show is a three-course dinner that features a specially crafted Alpine menu to complement the play. My personal favourites are the succulent tender veal variations paired with sun dried fruit and potato leek puree, and the fresh mixed salad with caramelised goat cheese. Rounding the meal up in the best way possible is the lime parfait with spiced orange compote and gingerbread crumbs.
With a format that requires a bit of multi-tasking, pacing is paramount. On this front, Skinned Knee Productions nailed it. It took breaks between acts, using the intermission to serve us another dish and allowing us enough time to savour them before the actors reassumed their positions.
Though the premises are pretty confined, which means that the simultaneous performances that can be heard on both levels of the restaurant may be distracting, it makes for an exceptionally intimate experience. Unlike a conventional auditorium, you aren't simply watching from a distance. You are very much a part of the scene.
As the characters weave in and out of the aisles, you can't help but follow their every move. The barrier between actor and audience eliminated, you are left with an honest, raw portrayal. Every little nuance can be picked up, which makes this truly an experience not to be missed.
—
Indulge in exquisite gourmet as you navigate through the serpentine Mind Map of Love in this novel theatre experience. Get your tickets here.
Event Details
Date: Nov 4-7, Nov 11-14, 2015
Time: 8pm
Venue: ZOTT'S True Alps
Admission: $160 + $6.70 Booking Fee (Includes 3-course meal)
Advisory: This show contains adult language and sexual content.
Photo credit: Skinned Knee Productions 
Stay updated and social with Popspoken: Facebook | Twitter | Instagram