---
This 52-year-old cult classic tells the tale of 6655321 and his Droogs.
Violently tearing through the streets of a future dystopian Britain, A Clockwork Orange explores themes of ultra-violence, sexuality and the age-old struggle between free will and control. When the film adaptation was released in 1971, it was banned from local cinemas. Since then, it has only been screened once at a 2011 film festival. Yes, it was that shocking. And that's what the theatre production promises – raw, unadulterated shock value.
The entire 2-hour production was outlined with strong hues of homoeroticism and seemingly glorified sex and violence. Moreover, with an all-male cast, it set the tone for an evening of high-octane testosterone filled night, determined to bring the classic tale to life.
Enter the world of a psychopath, who ironically associates art with violence, looking to make the world a better place to live in.

Intensity
Doesn't matter if you've read the book or not, the theatre production truly manifests how haunting and grotesque the story is.
Everything is dressed in the monochrome palette, with the occasional splash of orange. The actors, too, were clad in black and white – wife-beaters, pants and suspenders. The minimalist, no frills approach focuses your attention fully on the action.
Taking up the intensity tenfold, the all-male cast packed more than a punch.
Challenging societal norms, it was a slight challenge to tell if the actor was supposed to be acting out a female figure, or it was the director's plan all along to portray homosexuality. Instead of raping women, the Droogs sexually assault other men, feminised by aprons and high heels. Not to mention there was undeniably strong sexual tensions within the gang.
No matter what, this conundrum only served to add an extra layer to an already highly complex scrutiny of manhood and manliness.
And don't even get me started about that kiss at the end – think, an all-male cast.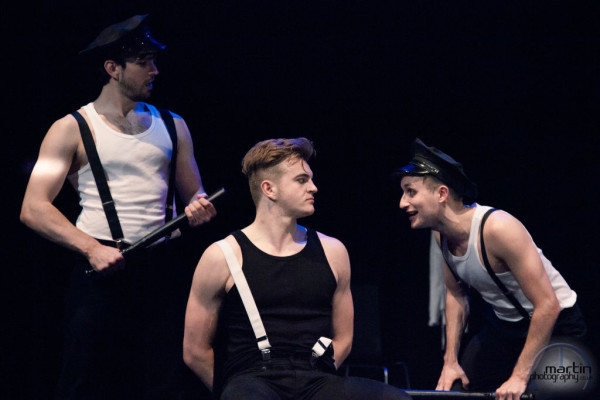 Not a strand of hair out of place
Staying surprisingly true to the book, the uninitiated would find the made-up secret language of "nadsat" strangely confusing and difficult to comprehend. But it doesn't take too long till you're fully immersed. It helps that the delivery was unerringly spot-on. Throughout the evening, you somehow end up deriving a similar satisfaction and awe from a good ol' Shakespearean dialogue.
The choreography was also immaculately conceived. From the gyrating hips to the graceful orchestration of ultra-violence – where Alex is a conductor of ultra-violence, the actors were sublime. They managed to straddle a range of emotions from tenderness right to the brutal murder of an elderly character. (Side note: I was so impressed that even the chairs and props were moved out of way in style.)
Soundtrack
Not enough credit has been given to the music that accompanies films and theatre productions. It elevates the body of work to an entirely different stratosphere.
With A Clockwork Orange, the soundtrack of the production was on-point. Selections came from David Bowie, The Scissor Sisters and Placebo. The common ground that tied these musicians seamlessly to the production was the queer effect. David Bowie has long identified as gay. The Scissor Sisters took their name from female same-sex sexual activity, tribadism, and lead singer Jake Shears came out at age 15. Stefan Olsdal of Placebo fame is also openly gay.
Not much of an argument here for coincidence.
And a bonus…
…for you girls out there (and boys too)…the all-male cast of A Clockwork Orange.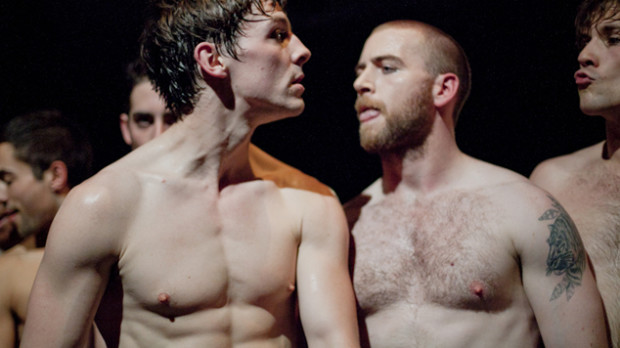 Verdict: Oh Yes, My Brothers
The all-male ensemble managed to bring to life the multitude of layers of the seemingly short 176-page literary masterpiece to life on stage within 120 minutes – a feat that is to be admired. The dark, cold and twisted soul of the book was perfectly captured.
With Jonno Davies anchoring the role of Alexander DeLarge, this adaptation was lifted to even greater heights. Davies' take and interpretation was eerily close to what I pictured in my mind when I read the book a couple of years back. It was dark, twisted and demented – allowing for the near-perfect adaptation of "Alex the Great".
Not to mention, his countless shirtless scenes and Herculean presence will make you sweat until your clothes come off.
A Clockwork Orange (M18) runs from now till Nov 8 at The Esplanade Theatre. Get you pretty pollies out and get them tickets from Sistic now!
---
Stay updated and social with Popspoken: Facebook | Twitter | Instagram