Remember Journey to the West? How about the Monkey King/Sun Wukong?
The Chinese classic tale from our childhood is visiting us again in the form of a stage adaptation by Wild Rice – yes, they're taking a break from Western fairy tales to get in touch with their Eastern roots.
Written by Alfian Sa'at, Monkey Goes West introduces a new character, Ah Tang, an orphan who flees from Jurong West into a foreign land where he meets Wukong, Pigsy and Sandy and adventures with them. But as always, there's a twist. The three disciples (Wukong, Pigsy and Sandy) think Ah Tang is Sanzang, the monk pilgrim.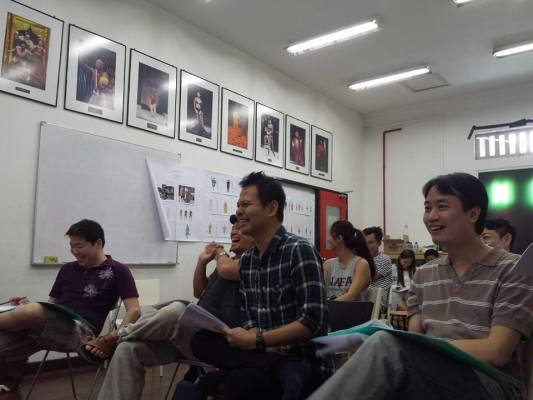 Featuring a colourful cast of Chua Enlai (Princess Iron Fan), Siti Khalijah Zainal (Sandy), Frances Lee (Pigsy) and Sugie Phua (Monkey King), this pantomime will mark Sebastian Tan's directorial debut as well.
Sneaking a peek at one of their rehearsals, we caught up with Sebastian and Alfian to chat about the show's concept and writing process, as well as what would happen if they switched roles.
Warning: Glitzy suits and cosmetics will not be a part of this interview because casual is cool.
https://www.youtube.com/watch?v=xjzuBfVwUUE
Bonus: Behind-the-scenes footage
https://www.youtube.com/watch?v=ltW-ZLcXVv8
Monkey Goes West opens tomorrow, so if you've not gotten your tickets, this is where you should be.
Event Details
When: Nov 21 – Dec 13
Where: Victoria Theatre
Admission: $45, $60, $70
Filmed by Shah Salimat
Photo credit: Wild Rice