His name is Teppei Kaneuji. He creates contemporary art. He's from Japan. And he's travelled all the way to Singapore for a collaborative effort with the Singapore Tyler Print Institute (STPI), a six-week residency programme. The result? A startling total of 80 fresh art pieces. "I spent every day experimenting and gradually that amount grew to 80. I did not imagine that I would make so many!" exclaims the artist.
Teppei has brought his art to cities like New York, Sydney, Los Angeles and this one right here: You might have seen some of his works at the 2011 Singapore Biennale. This year, he returns from Sept 20 to Oct 25 with a solo exhibition, Endless, Nameless (Constructions), his Southeast Asian debut.
On display will be the 80 compositions, inspired by the distinctive trappings of the lion city. Taking the seemingly mundane portions of Singapore, Teppei translates them into collages of a quirky, cheeky nature.
"[My artworks] come about as a result of the collision of different things, methods or creation or construction, and cultural background," the 36-year-old Kyoto native explains.
"A collage requires us to 'slice' first – taking an image out of one context in order to establish a new connection with another. That results in new encounters. It always feels like I'm creating a hole in the world. I'd imagine the hole itself is, in fact, my work. Recently, I feel that the act of collaborating is a collage in itself – it's very much a 'collage of bodies'."
"I use both fictional and real imagery in order to create that impact of collision and new connection between the two."
Among his inspirations were HDB flats and durians, the very fruit we introduce to foreign visitors almost every time. When it comes to places of attraction, it seems a natural inclination for most to look towards the iconic Marina Bay Sands. But for Teppei, Haw Par Villa was a bigger stand-out.
"I was fascinated by the absurd and imaginary statues made out of colourful concrete that gives weight and body to the space. The place also seems to have maintained its vibrant atmosphere and unique sense of liveliness, thanks to repeated restoration efforts. I also liked how Haw Par Villa overlooks a huge construction by the port."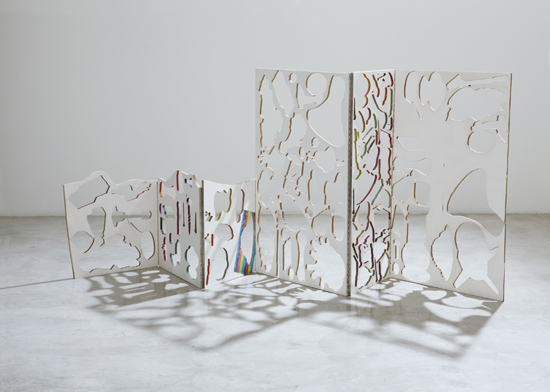 The overflowing inventory of STPI's workshop afforded his experimentation with mediums like acrylic, fabric and handmade paper. Another material he toyed with was plywood.
"Despite the impression that it's light, it actually does have weight. It's also a material that's associated with actual construction and brings to mind architectural and interior structures."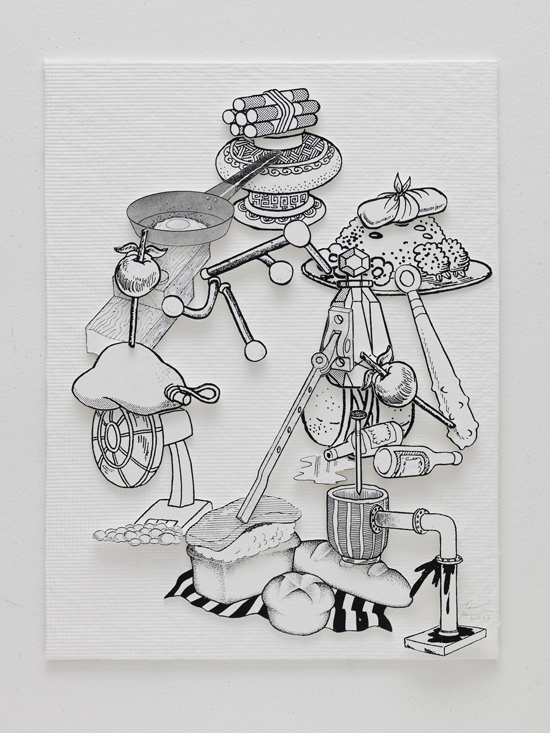 Eighty pieces in 42 days almost suggests that Teppei is a complete stranger to the artist's block, but au contraire! Occasionally, it makes a visit. "When that happens, I'd re-examine my life and creative style by putting some distance between myself and my work, or my own 'set of rules'. I'd also put myself in the shoes or mindset of somebody else – a sportsman, for example – in order to gain a different perspective."
"I want people to see and experience [my art] as they are. It's up to their interpretation and imagination."
—
Come experience Teppei's Endless, Nameless (Constructions).
Event Details
Venue: Singapore Tyler Print Institute
Date: Sept 20 – Oct 25, 2014
Admission: Free
Photo credit: Teppei Kaneuji/STPI