In this tiny island, where its people are considered one of the most reserved while sober, the rudest of remarks formed by our inner demons are often swept under the rug or muttered under one's breath. Well, the word "discreet" is not one that appears in playwright Neil LaBute's dictionary.
In Fat Pig, verbal abuse is the meat that coats the skeleton of this love story. And get ready; it comes raw.
With Pangdemonium's unshrinking streak of tackling taboo social issues right in the heart, some drama is to be expected from Fat Pig, an American romantic-comedy that centres on the outer appearance, or more specifically, obesity.
The story starts off innocent as Tom (Gavin Yap), a guy of short stature and slim build, meets Helen (Frances Lee), a heavy lady with a heavier appetite. Love unites them.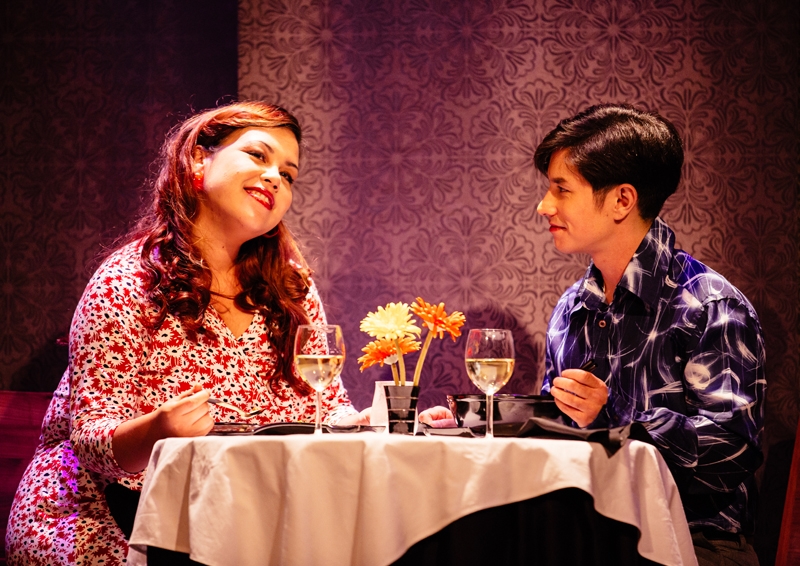 But as complicated as life is, Tom decides to keep the relationship from his misogynistic friend, Carter (Zachary Ibrahim), and his, for the lack of a better word, crazy ex-girlfriend, Jeannie (Elizabeth Lazan).
As with all first encounters, one must strive to get pass the initial awkwardness. For Tom, it was Helen's shameless self-deprecative nature, which manifested in inappropriate fat jokes.
A diamond in the rough, Lee has yet a long way to go before achieving greater theatre sensibility and technicality. Nonetheless, her unapologetic audacity and confidence as Helen was unlike any other.
Every so often, it was hard not to sense a slight lack of chemistry between the two, coupled with the seemingly swift progression of their relationship. That said, it did enter a much more realistic realm when vulnerability began to reveal itself during intimate moments.
Haunted by judgmental friends, Tom seeks the social acceptance the he cannot find by being close to Helen. And the internal conflict Yap portrayed was a befitting mix of frustration and hilarity. For the most part, Yap and Lee gelled to form the most unorthodox recipe for laughter.
At the same time, a fair amount of intensity has been injected into Fat Pig. This is where Carter and Jeannie come into play.
The obsessive on-off girlfriend of Tom, Jeannie wears an aggressive face when all she's looking for is love, albeit desperately. Like a psychotic mental patient dressed in office wear, Lazan's sheer ferocity dominated her delivery, from speech to body language. You could almost see a bulging vein on her forehead, on the verge of exploding.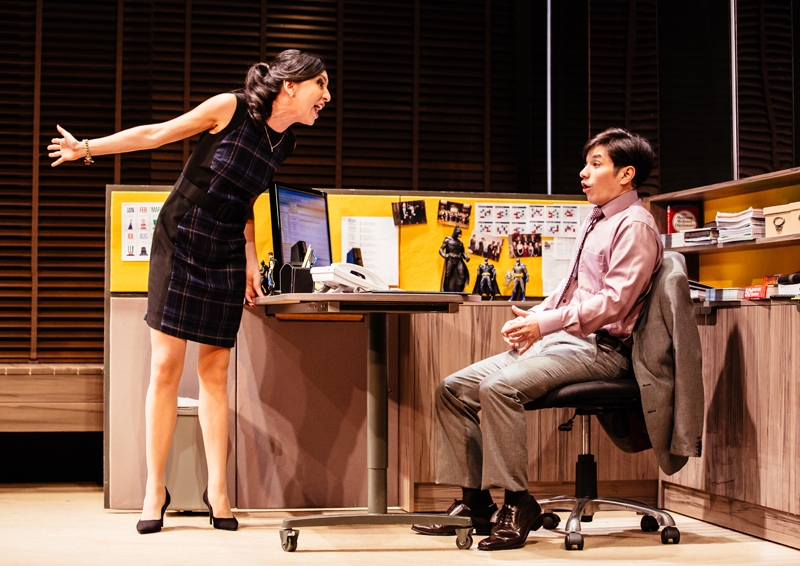 As for Ibrahim, he put on a convincing performance and made Carter a guy the audience could love and despise simultaneously. With a comedic instinct as sharp as his tongue, he was a perfect match for this crude character. It was hard to believe Ibrahim wasn't American by blood.
Carter and Jeannie's brutal words against obesity, as if under a Liar Liar spell, invaded many a comfort zone and left many a jaw wide open.
Eucien Chia has created yet another masterpiece for the set of Fat Pig. Despite spatial restrictions, the transition between the diner, the bedroom, the office and the beach was seamless.
On top of that, the incorporation of prop movers, disguised as domestic helpers, was an absolute stroke of genius. Instead of hiding them from the audience, they were given a mini spot light, embellishing the play with their own comical touch.
Like Pangdemonium's previous productions, Fat Pig offers no sugarcoating or proper closure we've all been taught to expect. It rebels against the proliferation of self-censoring, and blatantly challenges spectators to reflect upon the reality of the heavy issue at hand.
Nonetheless, one man's meat is another man's poison. If you can't sit through at least an hour of profanity screaming from lung to lung, maybe Fat Pig isn't the play for you. Or maybe, you're not gutsy enough for Fat Pig. 
—
Event Details
Venue: DBS Arts Centre
Date: 13 Feb – 2 Mar 2014
Admission: S$40 – S$55
Advisory: 16 years and above (Due to coarse language)
Photo credit: Pangdemonium Theatre Company