We sat ourselves down for Dream Academy's annual year-end pantomime, Crazy Christmas, having not watched any previous installations — this was its fifth — so thus was truly a greenhorn experience. Crazy Christmas is sort of a wacky combination of everything we love about Singapore theatre: song-and dance numbers, hilarious slapstick stand-up, poignancy as well as love and warmth as the holidays approach.
Naturally, we were expecting some hilarious comedy given the stellar cast ranging from host Hossan Leong to Selena Tan, George Chan, Adrian Pang, Karen Tan and rising starlet Judee Tan. They certainly gave us much to cheer, especially with Selena Tan's perfect delivery of a ditzy Marilyn Monroe with that now-infamous ingratiating voice and tendency to go whoopsie on the skirt every now and then. While Hossan Leong delivered some great physical comedy with his Charlie Chaplin rendition (read: silent) of, ironically, Silent Night, the evening went to Judee Tan for her character of Ms Teo Chew Moi. The traditional Chinese medicine doctor's stereotype was played out to every possible bit — from the excruciatingly-lame-that-it-is-funny dialogue ("What goes around… cannot be a square") to her frequent usage of "erm" and "yeah" end-sentence. After five minutes, you will want to throw her off stage or bring Dr K. K. Seet on for some English ED-U-CA-TIONNNN but once she does leave, she will be the only thing on your mind.
We also saw the incomparable Michaela Therese working her amazing pipes on some heartwarming numbers. Kudos to the main cast for a number we will truly not forget — the film soundtrack tribute, fronted by an acapella breakdown of the Paramount Pictures pre-roll soundtrack. (We hope someone paid royalties for that…) Jam-packing odes to Titanic, Mission Impossible and The Little Mermaid (my favourite, obvs), the cast were in unison, en-pointe in the dance numbers and delivered to great comic timing.
Also supporting the cast were the 9 'mistletoes' as the ensemble, including Glory Ngim, Mina Ellen Kaye and Seong Hui Xian, whom we met in Dream Academy's previous production, Company. While we cannot go out on a limb and say that they delivered perfect, in-sync dance routines, we can cut them some slack because they are actors after all. What they lacked up in synchronisation and vocal prowess was made up by a lot of heart and sass as the ladies engaged the audience with their intermittent cackles and witty banter. Those skirts though are short. Hella short. My gay best friend who was with me was visibly uncomfortable with the entire short business. That can only mean good things…
Supporting the cast were two heartwarming entries from acapella group Vocaluptuous as well as volunteers from Action For Aids to support World Aids Day, which was held concurrently on the show we went to. Vocaluptuous serenaded the crowd with some choice jazzy tunes and we were glad to see a healthy Simone Khoo on stage after her illness was outed by The New Paper. (But, of course, not a day goes by without some outrageous TNP 'scoop'.) We were also glad to see Hazrul Nizam back in action with the team. The AFA volunteers came together with the main cast to sing a 'touchy-feely' medley of songs in the hopes of non-HIV allies reaching out to HIV-positive people. The moment was genuine, heartfelt and poignant — not like your typical charity initiative that seems corporate-driven and out of touch with common realities.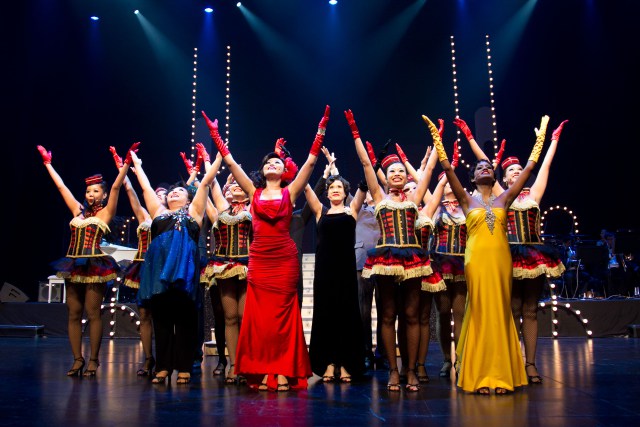 At the end, the entire cast and supporters came out on stage and partied with confetti and the brass band to a medley of familiar and yet simultaneously cringeworthy Christmas songs like "We Wish You A Merry Christmas" and "Jingle Bells". My friend commented on the lack of audience members singing along. I did get some second-hand embarrassment from hearing the same ol' Xmas songs but as I sang along while curling my toes, I did spot the coldness of the audience to such a warm reception from the cast members. We can only hope the audience will get more hyped-up and spontaneous with shows like this with such an outpouring of love and happiness.
With so much warm fuzziness at the centre of Crazy Christmas, we wonder how Kumar's R18 version will be like. We can only hope he does not recycle his old jokes (watch a couple of Kumar videos on YouTube and you'll spot the recurrent punchlines) and will continue to be the Queen Ferosha that he is, Lord bless the fella.
Crazy Christmas' R18 version featuring Kumar will run from December 4 to December 9 at the Esplanade Theatre. Tickets can be obtained from $17 via SISTIC.
Photos: Dream Academy