We got to have the first look at Burn The Floor, on their opening night at Marina Bay Sands Theatre, with Singapore being the first stop in this crew's Asian tour. Directed and choreographed by Jason Gilkison.
The lights dim and I hear a muffled commotion behind me, which was strange since the audience normally hushes up right before the start of a show. I turn around in my seat and realize what it is—Janette Manrara wearing only a bra and sheer flowy skirt struts down the aisles, stopping occasionally to tease the audience. She stops five rows from the front of the stage, and pulls a fortunate gentleman from his seat. The audience chuckles as she flirts with him. We learn that he's called Alan. We also learn that he's single, and a good sport, for he very gamely obliges when Manrara requests a kiss on her hand, then her arm, shoulder, and lastly cheek, which she sneakily turns into an opportunity to steal a peck on Alan's lips! She giggles, seats him down, asks the lady next to him, "He yours?" pointing with her perfectly arched finger at the visibly happy Alan.  The lady shakes her head, and Manrara gives a sly smile as she sashays to the stage. "I'll catch you later," she quips at Alan, winks, and disappears behind the curtains.
The night then kicks off with a high-energy cha cha by about half the dance crew who make excellent use of the stage space. As much as this opening number was attention-grabbing, the next item though slow-paced, was truly captivating. Faye Huddlestone looks like a fairy performing the Viennese Waltz. If I was a wicked witch I would shrink her and put her atop my musical box and make her waltz forever…
Later, we see some really cute costume, like when sailor boy Santo Costa and Kallyanne Brown lindy to a swingy, jazzy upbeat rhythm played by the live percussionists who are positioned upstage on elevated platforms. Man, I love jazz. And throw in a sailor?! Yes, please!
The next number is kind of strange. Stephen Vincent and Dianne Buswell, perform a slow rumba. They are dressed in sky blue, loose flowy, hippie clothing, complete with flowers in her hair. I thought this was really adorable and very pretty in an airy-fairy kind of way. Plus it's the first time I've seen a rumba choreography that invokes imageries of stoned lovers embracing in a vast field of wild flowers. Oh, and they call this number "Angels". Hurhur.
Okay, so moving on to the next piece. From my notes, I have "no idea what this genre is but it's fucking hot". Performed by boyishly charming Robbie Kmetoni and petite bombshell Janette Manrara.
I know some of you might be confused by all the dance terms and other jargon. Speaking from personal experience, I recommend youtubing "foxtrot", "jive", and perhaps "samba". Even if you don't intend to identify genres, these few dances are extremely entertaining and visually pleasing, and basically fun to watch. Not to mention, if executed well, these dances exude contagiously happy vibes. And for those who think ballroom and latin dance sound like a bore, Burn The Floor features choreographies with a contemporary touch, so as to present a more relevant performance that can also appeal to a younger audience.
The next remarkable set was the Magalena samba performed by Trent and Gordana. Impeccable footwork throughout, perfectly on time with the impossibly quick rhythm, finished off with a breathtaking move where Trent Whiddon swiveled Gordana Grandosek 180 degrees upside down pivoting from her hips. I was half expecting her head to hit the floor. But the only BAM came from the visual explosiveness of this daring choreography. We loved it.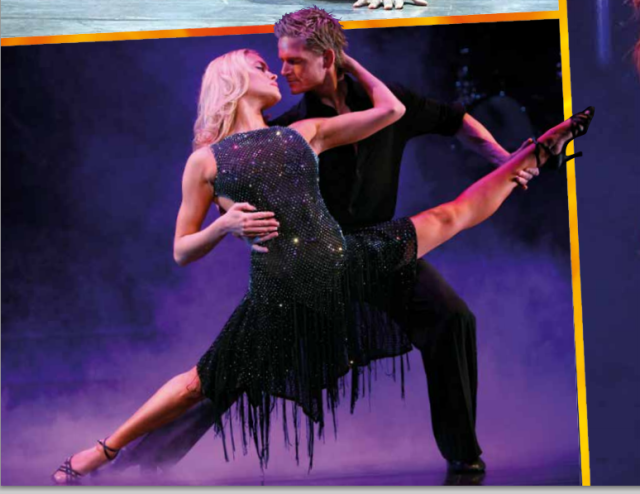 Just as I thought that the climax was over, the dancers bring the show to le niveau suivant, with the next piece called Weather Storm/The Ballroom Boys. Kallyanne Brown slow rumbas with her partner, who is topless, sweaty, and wearing tight black pants. Imagine a steamy, intense, sexy scene. Every detail is executed to perfection—hands, fingers, deliberate hesitations. A second topless gentleman glides onto stage. They share the lady. I don't remember how long it has been since I last exhaled. And now I gasp—a third topless man appears. And then a fourth! And I am thinking oh my goodness, too much aphrodisiac tonight, but please don't stop! And stop it does not! A fifth, and a (surprising) sixth topless, sweaty, beautiful bodied man all join the passionate five-some. The music slows down, and I get the impression the number is ending, but to my delight it does not. One of the men blindfolds Kallyanne with a sequin sash that matches her dress. For the next minute, she dances blindfolded with uncompromised grace and emotion. And I have not much else to report on for this number (besides that I cannot take my eyes off Keoikantse Motsepe), because I abandoned my notes to admire this transient masterpiece.
The next routine (Fishies) is lively, cheeky, and fun, and not to be missed! Hold your pee if you have to. In order to prevent spoiling it for potential viewers, details will not be discussed. My next favorite number looks like a scene from Chicago the musical. The gentlemen are dressed in white shirts and black suspender pants and bowler hats, and Jessica Lingotti sings Sway while the dancers perform a medley of genres. To end Act I, Ding Dong Daddy spoils the audience with catchy tunes and a humorous storyline. Robbie once again takes centre stage, and gets tossed around by his fellow male dancers because he does not have a partner and goes around harassing the already-taken female dancers. At one point, Robbie lands his face in the cleavage of Faye because of their height difference.
And that pretty much sums up only the first half. The Latin Quarter of Act 2 packs truckloads of passion and romance. My personal favourite is Si tu Supieras, which depicts a sad love story of two people who cannot be together because of other engagements. Beautiful, intense, and flawless performance starring Keoikantse and Kallyanne, both technically-excellent and expressive dancers.
What follows are tango numbers, pasa doble (another favorite that got the crowd cheering– I loved their exit, watch out for this one), a very contemporary rumba, and waltz. The waltz garnered amazing response from the audience –the clever use of a stage screen along with perfectly coordinated moves between two pairs of dancers on different sides of the screen gave the illusion of mirror imaging.
Up to this point, I had not much to complain about. Then the next set really baffled me with the choice of costume. The ladies were clothed in such hideous black halter dresses. I was starting to get really frustrated with how aesthetically unappealing the dresses looked, when the male dancers probably decided they've had enough too, and ripped the dresses off! Okay, costume designer, you're forgiven. The ladies now wear white, shimmy mini dresses and are shaking their treasure to Rolling On The River, dancing a disco-incorporated jive. They come off stage to dance in the isles for a while, and the audience is thrilled! The dancers' energy level is just impossibly, consistently high. Someone should install seatbelts for over-enthusiastic audience members like me, who have to try very hard not to join in the dancing. Everyone else was enjoying themselves. I was miserable. I just wanted to dance!!!
Overall, the show used simple but effective staging and lighting, saw some really good choreography, and sold mainly on the excellence of the dancers. For someone who's spoiled by chain watching of So You Think You Can Dance highlights on youtube, I still enjoyed this opening night thoroughly. I would definitely recommend seeing Burn The Floor live at MBS. Catch it while it lasts!
Faces to watch:
Janette Manrara (finalist in USA So You Think You Can Dance)
Robbie Kmetoni (winner of Australia's So You Think You Can Dance)
Keoikantse Motsepe (South African winner of many Latin Dance Championships, competed internationally as well)
Kallyanne Brown (Australian, 10 time Australian Ballroom Dance Champion and South Pacific Champion, and winner of many other international championships)
Jemma Armstrong (sports bright pink hair, Australian finalist of So You Think You Can Dance)
—
Date: Oct 09, 2012 – Oct 14, 2012 
Venue: Sands Theatre, Marina Bay Sands
Show timings: Tuesday to Friday: 7.30pm, Saturday & Sunday: 2pm & 7.30pm
Prices: $165, $135, $95, $55 (Ticket prices exclude booking fee)
Get your tickets from SISTIC now!