Everyone remembers that iconic giant blow-up bunny, Walter, guarding the entrance of the Singapore Art Museum with his pensive, yet surprisingly evocative presence. Now Dawn Ng, the brainchild behind WALTER and various other works such as BlackOut 2009's I fly like paper get high like planes, is back once again – this time, to show case her solo exhibition: Everything You Ever Wanted Is Right Here at Chan Hampe Galleries' Raffles Hotel Arcade space.
Educated at the equally prestigious Georgetown University and UCL Slade School of Fine Art, in both visual art and journalism, Dawn Ng has had an exceptionally nomadic life. Despite having spent the last two years based in Paris, while still shuttling back to Singapore on a relatively frequent basis, Ng has become a prevalent and increasingly recognisable personality in the local art scene. In 2010, Ng became one of the youngest artists to be commissioned to design the Singapore Art Musuem's building façade for the Art Garden show. In addition to the mixed medium works she produces for private galleries as well as museums, Ng has recently collaborated with jewellery designer Mallarino Bijoux for their 2012 catalogue, as well as local multi-label emporium, A Curious Tepee.
Her current solo exhibition, Everything You Ever Wanted Is Right Here, takes the form of a series of archival prints, with hand-cut typography by the artist herself. The photographs and words are a visual play on each other, allowing the viewer to 'see through' the two to discover and understand the tensions, idiosyncrasies, and hopes which pervade Singapore's cultural landscape. The act of carving out text from these photojournalistic images, is akin to the act of slicing through a façade, revealing the attitudes and opinions of those who exist in Singapore's high-context society, as it continues to develop its identity as a city.
Having spent a significant part of the last ten years away, this too is an opportunity for Ng to explore what it means to call Singapore 'home'. She acknowledges her struggles to reconcile the idea of being an outsider along with the desire for nostalgia for wanting to belong. Indeed, Ng's childhood memories of Singapore, heavily tinged with a nostalgic resonance, features greatly in her body of work at large, further fuelling her "obsession with the idea of who you are, where you are from, and ultimately what is the intangible of it all that is worth remembering". The influence from her advertising background adds another facet to her visual vernacular, resulting in a pop art feel to her work, making it more accessible without compromising on the message within each piece.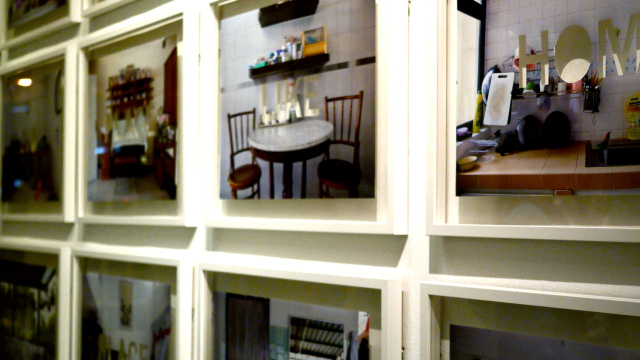 We take some time to speak to the artist herself to find out more about her work and peer into the inner-workings of a curious mind.
5UESTIONS X DAWN NG 
Popspoken: Tell us a bit more about your solo exhibition 'Everything You Ever Wanted is Right Here'. How did the idea for this series of works come about?
Dawn: 'Everything You Ever Wanted is Right Here' is a series of massive photographs with text hand-cut through. It began as a 4-month project that involved both photo-journalism and interviews with locals. I had been away in Paris for 2 years and I was confronted with this country's growing sense of cultural tension and coming-of-age issues when I returned. I wanted to document the bubbling sentiments beneath this country-in-the-making and tell a pointed and honest story of home.
Popspoken: In a lot of your work, such as Walter and Wonderland, your art seems to draw heavily from the innocence and playfulness of your childhood. However, for your current exhibition, your work has taken on a slightly more serious tone. Is there a reason for this?
Dawn: I think a large part of my work is anthropological in nature. I am obsessed by the idea of home, self and memory. You are right in pointing out that my art is often expressed in a way that feels playful and innocent but they are all pretty loaded barrels. I believe that naiveté is one of the most powerful tools which disarms people. 'Everything You Ever Wanted is Right Here' is the core statement and counter-question, which this body of work poses. I see this current series as a mirror of our times. It explores the inherent contradictions and idiosyncrasies of this country in a way that is both candid and guileless.
Popspoken: As a creative, do you feel that it is more important to produce work that is easily understandable or that challenges the way we think? Has this affected your creative process in any way?
Dawn: I have said this before – I never have the desire to make work which is purely aesthetic. I measure a work's success in it's ability to spark discussion, question, argument, myth and story because you know it exists beyond itself in making people think or feel something.  I believe art has a responsibility to be understood. Otherwise, pardon my French, it's just self-indulgent wanking.
Popspoken: Having worked in the advertising industry, do you think that it has had an influence on your ideas or aesthetics? If so, how?
Dawn: If there is one truth about advertising that I took over into my art practice, it is this: Ideas are cheap, execution is everything. 
Popspoken: Finally, what are your current views on the Singapore art scene? Do you have any aspirations for it to develop in a certain direction?
Dawn: We are young. That makes it exciting.
For more about Dawn and her work, visit her website, www.dawn-ng.com.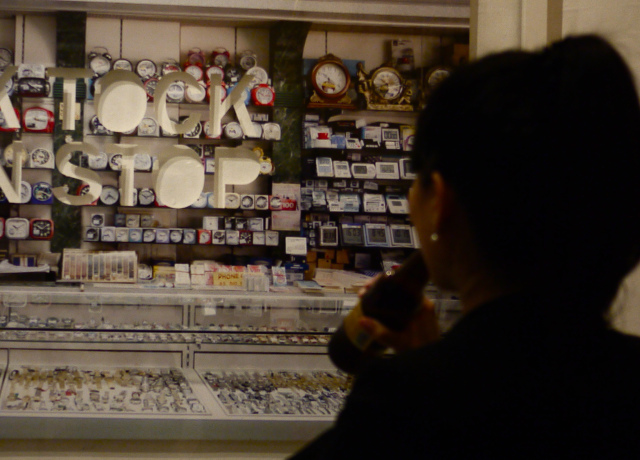 'Everything You Ever Wanted is Right Here' is now on show from 7th – 24th September 2012 at Chan Hampe Galleries, 328 North Bridge Road, #01-20/21 Raffles Hotel Arcade, Singapore. Opening hours are 1100 till 1900hrs, daily (closed on public holidays). For more information please call +65 6338 1962 or visit www.chanhampegalleries.com. Admission is free.