One of the most recognizable GIFs from the classic episode "Homer Loves Flanders" (Season 5, Episode 16) of "The Simpsons" has made its way into the fashion world through an unexpected collaboration. The ongoing partnership between "The Simpsons" and Adidas has resulted in a unique twist on the iconic Stan Smith silhouette almost three decades after the episode originally aired. The episode, which can be streamed on Disney+, features a moment that has become a modern-day symbol of disinterest and detachment.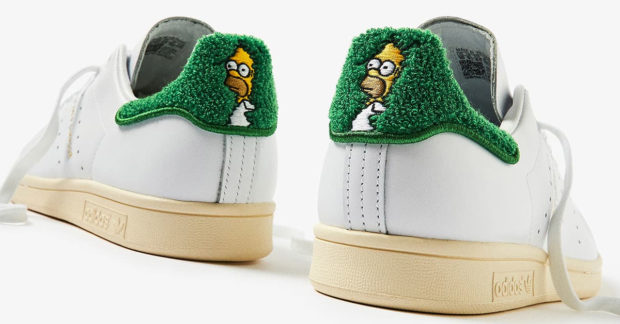 The choice of the Stan Smith silhouette seems fitting due to its timeless and versatile nature. Additionally, the green color scheme of the Stan Smith aligns perfectly with the collaboration's focus on Flanders' hedge.
The collaborative sneaker boasts a range of distinctive features, including a chenille heel tab inspired by hedges, adorned with an embroidered depiction of Homer Simpson. On the lateral side of the shoe, the words 'Homer Simpson' are emblazoned in gold lettering. The tongue logo deviates from the norm, replacing the traditional portrait of tennis legend Stan Smith with an illustration of Springfield's beloved beer-drinking character, Homer Simpson.
In addition to the standout design elements, the release includes a special-edition insole that maintains the collaboration's green theme. The insole is lined with leather and features a dual-branded stitched label. The sneakers are packaged in a unique green shoe box, adorned with the iconic image of Homer backing into the hedge, as well as the Adidas Three Stripes, Adidas Originals logo, and The Simpsons logo.
This collaboration brings together pop culture, fashion, and a touch of nostalgia for fans of "The Simpsons," providing an opportunity to wear a piece of iconic television history on their feet.
The iconic shoe goes live on 18 August, go to Adidas or selected sneaker retailers to find out more.