Pretty with a touch of Asian indulgence, the designs of New York-based Thai designer Pimdao Sukhahuta's Sretsis label have not only been seen on everyone from Zooey Deschanel and Katy Perry, to Rachel Bilson and Beyonce, they're one of the most popular fashion brands in Asia.
The brand was launched in 2004, by three sisters – yes, the brand's name is basically 'sisters' spelled backwards – after Pimdao graduated from Parsons. Although they had little experience, Pimdao and Klyduan were dedicated to getting the brand up and running. Third sister Matina, a jewellery designer, joined the company a little later, and the rest is history.
Sretsis is now sold worldwide, has a staff of more than 140 employees, and has launched Little Sister, a childrenswear sub-brand that also features swimwear. One of the reasons the brand has done so well, is the investment spent on creating a strong commitment to e-commerce early on, and also working with micro-influencers, before influencing was even really a thing.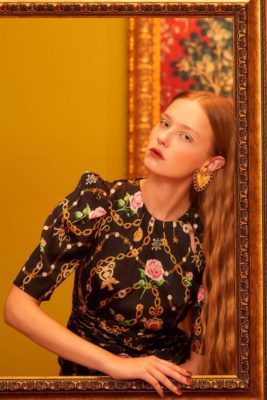 The label has five stores in Thailand including the magical world that is Sretsis Parlour, launched a store in Tokyo in 2015, and now the youngest sister of Sretsis, Matina Sukhahuta, is working with top developer Nichada Group on a fabulous complex, the Tropical Magick Villa.
The brand's central strength has always been its use of Thailand's talented seamstresses with their delicate techniques and culturally based embroideries, alongside original fabric prints. These details have always featured in Sretsis' work, and the most recent collection for Autumn Winter 2021 shows this off clearly.
Entitled 'Sretsis Archive: Heritage Collection', the pieces are a fabulous walk down the brand's history and features iconic shapes and historic prints from the brand's most popular pieces. The brand describes it as being: "… a retelling of Sretsis' past with reiterations of the things that – in spite of the nearly 20 years – we still hold dear and near, further ingraining our beliefs of sustainability in design".
"The ever present Gentlewomen touch", the brand references, has always been an underlying theme in the Sretsis collections. For Autumn Winter 2014-15, the brand entitled an entire collection 'The Curious Club of Gentlewomen'. As a celebration of the brand's 10 year anniversary, that particular collection was full of sheer shirts, ruffled short skirts, printed faux fur and pom-poms.
Using classic shapes with a school uniform feel for shirts, despite being constructed of sheer organza, sweaters, princess coats, pleated skirts – think 1950s cheerleaders – the almost "kawai'i" styling of knee-high boots designed to look like socks and ankle boots with floppy socks gave the collection a very young feel. There were also soft interpretations of the "tuxedo" which added a touch of the tomboy to the collection; the boxy pants and button-up shirts were offset with white-fronted mini dresses in chiffon.
All these silhouettes and shapes are now echoed almost 10 years later in the recent collection: "Strong, sharp silhouettes are juxtaposed with delicate lace or boyish New York '99 tees – the year Sretsis came to fruition through creative director Pim's fantasy in her apartment in the East Village – for the constant push and pull of formal and free-spirited, and the eclectic mix that has been ever-present since Sretsis' first collection."
All this means that fans of the brand have been treated to Sretsis' signature frothy feminine tea dresses, embellished and embroidered in pretty details, and some fabulous jackets and blazers – Sretsis has always done a great jacket. The fabrics are sumptuous in colour and texture – rich velvets and softly textured laces. The colours are a mix of neutrals and muted gemstone shades like amber and old gold; classic Sretsis prints of ribbons, chains and roses imbue the pieces with a very vintage vibe.
The collection, however, is not all frills and froth, there are also sexy bodysuits, a fabulous mini made only of shining star-spangled lace, and crop tops matched with skin tight bike shorts. The Sretsis girl is all grown up now.
For more information about Sretsis, go to www.sretsis.com and follow the brand on Instagram at @sretsisofficial.
Discover more cool, Asian fashion brands in our Style section.