Scotts Square recently played host to the Harper's Bazaar Asia New Generation showcase, where three Singaporean designers put their creations up on display.
The event, that ran in conjunction with SG50, was a lovely gathering of friends, fashion editors and designers. The three designers, Benjamin Neo, Lionel Low and Sylvia Tan, displayed ensembles that represented the ancient cultures of Asian countries with a dash of modernity and practicality alike. "There is a lot of richness in the Singapore history and how we are a melting pot of so many different races and nationalities" explains Benjamin Neo, the third runner-up.
His collection, one that embraced the weather in Singapore with its choice of fabrics and volume, was inspired by Peranakan culture with its floral motifs and prints taken from traditional pottery and other decorations. As a blooming Singaporean designer, he is finding it a challenge, but believes that Singapore can help out by bringing the arts into our everyday life more.
"I think in Singapore, the challenging thing for designers is choosing whether or not to get a conventional job or step out of the box," he admits.
The second runner up, Lionel Low (designer of now-defunct label Lion Earl), represented a collection that was structured and had an emphasis on textures and a monochromatic colour palette; a very contemporary collection in that sense.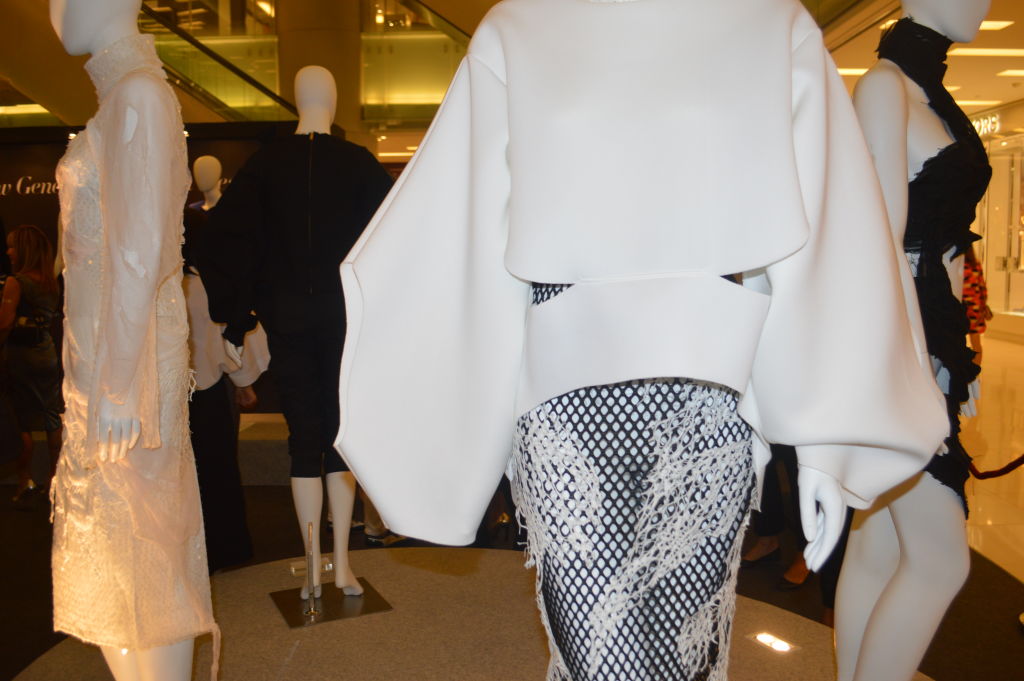 When asking him about his inspirations however, he explained that it was influenced by a Chinese tale of a snake demon called Madame White Snake. This enforces the general theme of contrasting the new with the old, and he feels very inspired by contemporary Singapore as well.
"Primarily it's architecture, because of the colours and textures, I can translate that into fabrication. Mainly it's buildings. Sometimes when I walk past a construction site I take pictures and convert it into a silhouette".
His influences represent his perception of the Singaporean aesthetic as well; he feels as though different styles mix together here to form a new identity.
The winner of the Singapore division, Sylvia Tan, created a collection with intriguing holographic prints made with overlapping fabrics and batik details. She wants to create collections that pay homage to the vast traditions and printing techniques from countries around Asia, but represent the transformation of Singapore from a jungle into a modern cosmopolitan city.
Sylvia feels that Singapore has talent that should be recognized on a global scale and also has a solution to this problem:
"Maybe it's because of the lack of exposure, but it's very rare for you to see a Singaporean designer being mentioned overseas and I feel like what we need is the support from the local government and international bloggers as well."
After seeing these young entrepreneurs with big ambitions and pure craftsmanship skills, it seems surprising and almost like a waste of talent to not have these designers recognized on a global scale. With the support of bloggers, media and the general Singaporean public, we can finally show the world what this new generation of creatives has to offer.