I don't want to accept the fact that the days of individualised style are over.
I refuse to believe that as The Coveteur says:
"The show pony—that put-on-for-Phil-Oh's-camera peacocking, where the clothes look more like costume than, well, clothes—is, if not dead, than certainly over. (And over in the sense that sneaker wedges are over: O-V-E-R)".
I would like to believe that even if couture seems to have become less present in everyday wear, we can bring it back with couture-inspired ensembles.
Most of us may be thinking that while couture shows — traditionally held before ready-to-wear shows at major fashion weeks globally — are wonderful to look at, they do not offer any real-life style inspiration. However, they do present themselves as great inspiration for personalising a style and standing out from the crowd.
While it may be more difficult to rock a floor-length, diamond-adorned couture gown, there are always ways to interpret these trends for everyday use. You will avoid the risk of looking like you overdid it, but still look like you're in-the-know of the latest musings of haute couture designers.
These looks were best interpreted by the front-rowers of the recent couture week in fashion capitals such as Milan and Paris, trotting around town in their designer pieces. They managed to showcase their individualism with the help of playful clutches and colourful pom-pom decorated stilettos. (If you do not believe me, just look to fashion week experts Anna Dello Russo and Susie Lau for evidence).
Here is a guide to looking fabulous in couture-inspired looks on the streets, because it is never a bad idea to bring some extravagant glamour into your everyday life.
1. Say it with a head accessory
Whether it's showcasing your inner middle eastern goddess with turban or an elegant Blair Waldorf inspired cloche hat. Such a simple yet effective way to perk up your everyday look.
2. Invest on an elaborately-fashioned coat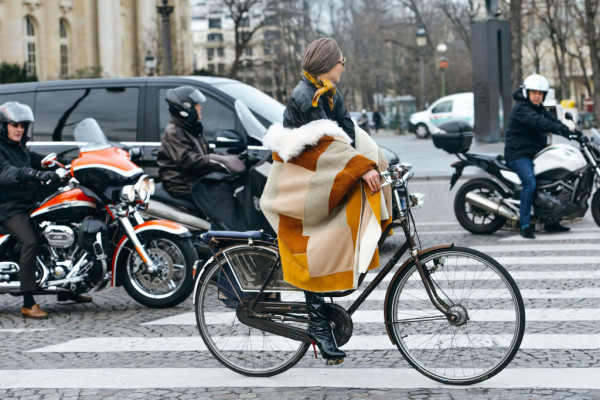 This can be a great way of bringing out a folkloric cape or a divinely-crafted tailored jacket. An almost art-like coat is not a bad idea to invest in.
3. Paint the town in all colours of the rainbow…
A pop of colour in the form of arm candy or a full on rainbow look, this will help you stand out from the all black masses. It may be a given, but don't underestimate the power of colour in the gloomier months.
4. …or head-to-toe in one colour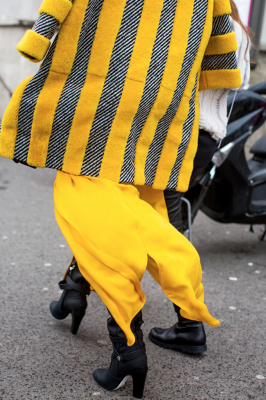 All black everything is one thing, but daring to trot down the streets in all yellow is another. Daring to go all out will really show your inner dare devil and attract like-minded experimenters.