I arrived bright and early at the Raffles Hotel Shopping Arcade, took the elevator to the 45th floor, and eagerly positioned myself outside the inconspicuous venue for Celine's annual family and friends' sale. Under the stewardship of fashion darling Phoebe Philo, the French label went from being a near-obscure fashion brand to a multinational success story within a matter of years. Their luggage totes have become the epitome of chic, effortless style the world over. Their clothes are heralded as one of fashion's finest interpretations of minimalism.
And yet, when I entered the sales space, all I could see were generic silk blouses in muted tones that originally went for $2000+ a pop. I continued to scan the sales racks, hopeful that I would find something that could justify its price. I left the sale empty-handed (a first for me); with one burning question in my mind ― how is any of this "luxury"?
From an industry that used to hold private presentations of collections that include elegant taffeta dresses at $3000 and up, it has now transformed into an effigy of its former self with generic $2000 silk blouses that hang forlornly on sales racks inside crowded, busy boutiques. It became apparent to me that luxury no longer embodies its cardinal values of exclusivity, exceptional quality and above all, purpose. In the words of renowned fashion journalist Dana Thomas, luxury has lost its lustre.
Luxury, commoditised
The luxury goods industry is a €200 billion business that manufactures clothes, leather goods, shoes, watches, jewelry, perfumes and cosmetics that all aim to personify status and a pampered life ― a "life of luxury". Luxury used to be an intimate, elegant business for a select few. The modern consumer now sees luxury as an extension of their claim to fame, be it widespread or personal. Synonymous with exclusivity, the classical notion of fame has since taken a beating. The dream of the majority has transformed into an everyday banality for almost everyone, leaving those few "real clients" of luxury devoid of any reason to continue patronizing their favored brands.
Think about it. How many times have you heard someone say, "I don't want to carry my Chanel bag anymore! Nowadays, all the aunties have one."
True connoisseurs of luxury fashion care little for such trivial matters. They appreciate the deep, illustrious heritage behind the simplest of leathers from the most decorated of fashion houses. The notion of luxury has since changed for the general public.
Fashion doyenne Miuccia Prada explains that to fake luxury today is easy.
"You put some details from the brand's past, you put a little bit of gold, and that's it. I can't bear that! Real luxurious people hate status. You don't look rich because you have a rich dress. When you look at a person, do you see the spirit or the sexiness or the creativity? Just to see a big diamond, what does it mean? It's all an illusion that you look better because you have a symbol of luxury. Really, it doesn't bring you anything," she explained.
Walk along the Orchard shopping belt and ask anyone what they think of Louis Vuitton, and you'll probably encounter a few people that think its brand image has cheapened thanks to the "unfavorable" demographic of people that buy their bags. I find this odd, seeing as their goods are still quite exorbitantly priced. The phenomenon of fashion democratization means anybody with the right financial means can be part of the "dream (of luxury)". By going mass market, luxury has capitulated to the unyielding pressure of becoming more accepting of everyone, regardless of whether or not they understand what luxury really means.
In the words of fashion's leading luminary Karl Lagerfeld, luxury is the ease of a t-shirt in a very expensive dress. In that vein, buying a Chanel 2.55 bag for the sake of its brand image is akin to buying a grand piano when you know nothing about piano playing. But that's exactly how today's luxury executives have monetized the situation: instead of offering the best money can buy to the socialites and aristocrats, luxury is now in favor of the ever-growing middle class market. After all, that's where the money is at.
"Made in Italy", sewn in China
What people fail to understand is that this problem trickles down to the rest of the fashion world.
By commercializing luxury, brands end up forgoing quality and design for cheaper production quotas. In a bid to lower production costs, some luxury brands even assemble the entire bag except for the handles in countries like China. The bag is then shipped to Italy to have the Italian-made handle attached, followed by the leather embossing of the "Made in Italy" stamp.
According to Dana Thomas' book titled "Deluxe", Valentino reportedly began to outsource its $2000 men's suits to a factory in Egypt, where they were produced by veiled Muslim seamstresses who picked up their craft by watching videos on televisions in their workshop. In reality, very few luxury items are completely made by skilled artisans in Paris or Milan. Were those silk Celine blouses I saw at the sale really made in Paris? The process of production has become hazy and unsure, whereas customers are still blindly biting into whatever luxury item they can find.
Production problems aside, the biggest issue as a result of this is the blatant misinterpretation of style. We spend a lot more time in clothes than naked in a lover's arms, which explains why we associate status with clothes. By opening up luxury to the masses, consumers with enough income have developed this mentality whereby they think that by donning the most expensive shirts from Givenchy or by carrying the latest reiterations of the Lady Dior bag, they possess style (I'm looking at you, Jamie Chua).
Wearing luxury from head to toe is regarded as a fashion faux pas to begin with. And while all this may come off as elitist, we need to reconcile with the fact that luxury was never meant to be spread so thin.
Take our local socialites for example.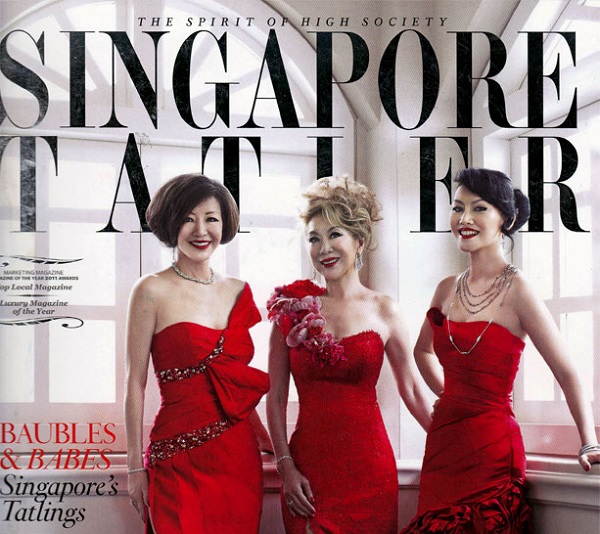 True luxury is not about brand image
Those beehive-haired tai-tais that litter the glossy pages of Tatler are ostentatiously good at glorifying their display of wealth. It's almost as though they believe such a blatant display of their fortune in the form of Chanel tweed jackets and Hermes bracelets automatically assimilates them to "fashionista" status. It is thanks to the democratization of fashion — anyone with the money can be a fashionista — that we as consumers have developed this misconstrued perception of what style really represents. Our tendency to aestheticise every aspect of our life has placed us on the verge of completely overlooking the true purpose of fashion.
More importantly, has fashion lost its relevance from a design perspective? If so much of fashion's value was determined purely by the nametag it bears, what real value does the actual design have? Through ingenious marketing ploys, luxury brands have managed to convince their patrons that instead of buying their wares for its high calibre of quality and design, they should choose to buy into the brand image instead.
True luxury is something that, over time, becomes the repository of your memories. It exists as a piece of fashion because you choose to include it into your own personal universe. It lives because you live, its own heartbeat entering into symbiosis with yours. Like how the moon reflects light from the sun, luxury reflects the self-worth of its owner. Luxury can be a pair of jeans and a plain white t-shirt, or it could be a crystal embellished floor-length dress that gleams in the sun.
One thing's for sure, a $2000 silk blouse that I can easily find for under $60 at Zara is not luxury.
Feature image: W Magazine