Marina Bay Sands will be transformed into an international fashion hub this year-end as Women's Fashion Week and Haute Couture Week 2012 hits our shores. WFW will showcase the Fall/Winter collections from international labels and HCW will showcase the works of 8 Parisian Haute Couturiers, 5 of whom will be in Singapore for the first time.
The first press conference for these events took us to Marina Bay Sands where we were treated to an exclusive sneak peek (as well as shameless self-promotion on the part of Marina Bay Sands) into what to expect at this year's Haute Couture Week (Women's Fashion Week seems to have been not-so-sneakily swept under the rug at the moment. But then again, Haute Couture is where the VIPs (& the moolah) are at, so no surprise there).
First up on the catwalk were models of Julien Fournié, who has been touted at being highly adept at pushing the boundaries of fashion in an understated manner.  His 6 creations that he showcased to the press came in hues of white and beige, appearing minimalistic at first glance but very intricate upon closer examination.
Clearly, Fournié enjoys experimenting with revealing cuts, all done in a tasteful yet playful manner – the epitome of "business in the front, party at the back" (The second dress on the left actually had a black strip going down the middle to act as strategic coverage!).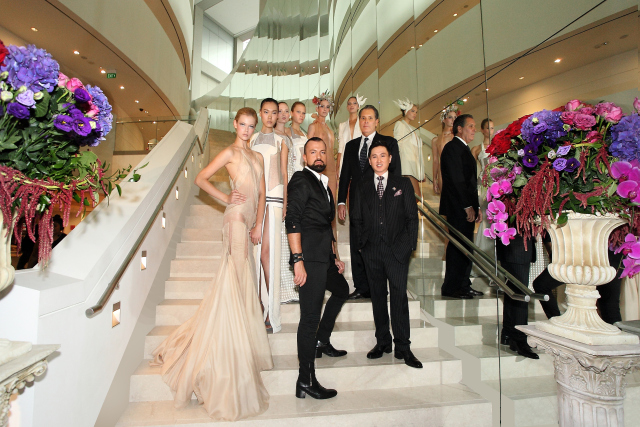 & here's the man himself, workin' it in his own best catwalk pose with his models, Frank Cintamani (founder of Fide Fashion Weeks) and Mark Juliano (Senior Marketing VP of Marina Bay Sands).
The second design house presenting was On Aura Tout Vu, whose name pays homage to a famous French phrase, "You think you've seen it all". Well, we definitely have not seen it all and that point was proven when the first thing they brought out on stage were 2 man-horses (I almost expected to see the first model walk out dressed as the White Witch from Narnia).
This collection is the total opposite of Fournié's. It makes its statement by going against the grain of "less is more", and chooses instead to adopt a whimsical, "more is crazier and therefore more fun" approach. Embellishments and bright colours are more than enough to go around and every piece is distinctly different from the other. At the end of the presentation, it is clear that the man-horses fir perfectly into a collection that is inspired by "somewhere else kingdom", to quote the official name of the full collection.
===
My sentiments are at the end of the event are mixed. On one hand, the designs were quite exquisite but on the other hand, neither designer showcased the best pieces of their collections (& I should know, because I love both these design houses). Julien Fournié showcased a collection one season old albeit with slight tweaks to his designs and On Aura Tout Vu did not show off their most amazing pieces (trust me, Google their F/W collection. You will not be disappointed. These guys have designed for Lady Gaga).
However, to look on the bright side, there's no sense in bringing out the big guns to a small fight right? This was probably just a teaser and perhaps these design houses and the other 6 to be showcased at Haute Couture Week will wow the crowd with their best creations at the actual event instead, where it is estimated that 6000 guests will be present. To get in on all the action, watch out for Women's Fashion Week from 23 – 25 November and Haute Couture Week from 29 November – 2 December, at the Rain Oculus, Marina Bay Sands.
(All images courtesy of : Word of Mouth Communications)