In 2009, I attended an exhibition called A Passion for Creation in Hong Kong. It introduced plans for the Fondation Louis Vuitton pour la Création museum in France, designed by architect Frank Gehry. Due for completion in late 2012, it will house Bernard Arnault's (CEO and chairman of LVMH) vast art collections. The exhibition tracked Louis Vuitton's dialogue with the 'Other', in the context of its exotic location and collaborations with exclusively avant-garde artists over the years. Inducted into the hall of fame are Stephen Sprouse, Richard Prince, Takashi Murakami, and now, Yayoi Kusama. German philosopher Hegel was one of the first to contend that self-consciousness and knowledge cannot be derived from introspection. In order to understand oneself, there is a need to recognize the 'Other,' by examining relationships around and distinct from the self.
Yayoi Kusama (born 1929) is a renowned Japanese artist at the forefront of the avant-garde. The most recent collaboration with Louis Vuitton consists of 7 concept stores in key markets – Hong Kong, Shinjuku and Ginza in Tokyo, Paris, London, Singapore and New York. The inspiration of nerves is expressed in the contorted form of these sculptures, which Kusama covers in brightly hued dots. I see these surface coverings as a form of truth making, an idea better expressed by Picasso: "Art is a lie that makes us realize truth." Kusama intends for customers to immerse themselves in her artwork, and as she puts it, "self-obliterate." Supported by Louis Vuitton, Kusama's retrospective exhibition has travelled worldwide from Paris, London and finally to New York.
If you notice, Kusama's rabid dots have invaded Singapore before. Strangely, her presence in nature seems much more free-spirited.
Kusama lives in a mental institution till this day. Plagued by hallucinations since young, she translated them into art, documenting them in her sketchbook. She repeats symbols of fear to obsessive proportions. Common themes in her work are that of compulsion, accumulation and aggregation. The perfectly rounded painted dots show her intense concentration and attention to detail. Controlled strokes reflect a meditative state and pronounced effort to transcend the shackles of the self.
Kusama: "The only way to elude these furtive apparitions, was to recreate them visually with paint, pen, or pencil in an attempt to decipher what they are; to gain control over them by remembering and drawing each one." – via Art in America
Being an artist requires one to accept the human condition of being afflicted by worrisome thought, burrowing ceaselessly throughout one's entire life. A thought that lingers to the point where if one cannot manifest the essence of something only tacitly felt, only opening all doors in the corners of one's mind and descending into insomnia will help. In the stages of obsession, one no longer views thought as a helpless affliction. It becomes a necessary blessing that leads into action, giving awareness and comfort. In Compulsion Furniture, which is a part of the Accumulation series, she covers an entire room in phalluses to overcome her fear of male anatomy.
Wherever art makes a statement, it confuses. This does not mean one has not thought enough, for there can never be enough thinking. People will always be dissatisfied, even if they mounted a tower of questions to the sky. They can rummage through all cabinets of the mind, only to turn up empty. We can only obtain self-knowledge by coming to terms with the 'Other,' like Kusama did with her inner demons. Like a Minotaur, the 'Other' is monstrous. We sense it is there, outside of us, but we do not know how near or far. Soon, it might grab us without warning. After exploring the Escher labyrinths ad infinitum and biting dust, the quest is to place the mythical Minotaur somewhere accessible, where the Protagonist (a super future persona projected in place of the current self) dares an attempt to know it and conquer it. To solve this conundrum of doors and cabinets, picture on the other side of the Designer's Door, a grand plan for a meeting point where one hybridizes with the Artist.
Imagine Louis Vuitton designer Marc Jacobs in a circle. Enter the avant-garde artists Yayoi Kusama with Takashi Murakami, Stephen Sprouse and Richard Prince in another, in a Venn diagram. Their frequent experimentation and challenges against the norm makes their circle extremely dynamic. It is constantly shifting, disappearing and reappearing. When the circles intersect, they create something unknown, a hybrid half-man half-bull beast called the 'Other,' which is the essence of collaboration. Traditionally, Louis Vuitton remained only in the designer's circle, but it now lies at the intersection. Our circle remains somewhat static, outside of the other two. This circle sometimes meets theirs more infrequently, when we come into contact with any news about them, regarding their shops, shows, exhibitions, work or objects. The artists are the architects who build the labyrinths, and the walls are their artworks. They personalize each maze by adding their own obsessions, doors and cabinets. We on the outside are wary of navigating, but channel protagonists to face our apprehensions. We step out of the self-paradigm, but trust its thread to pull us back in. We like to test how strong this thread really is, and how tense it can get. We are curious to see how much of the 'Other' we can withstand, and how much of the 'Other' we can actually recognize as being a part of us.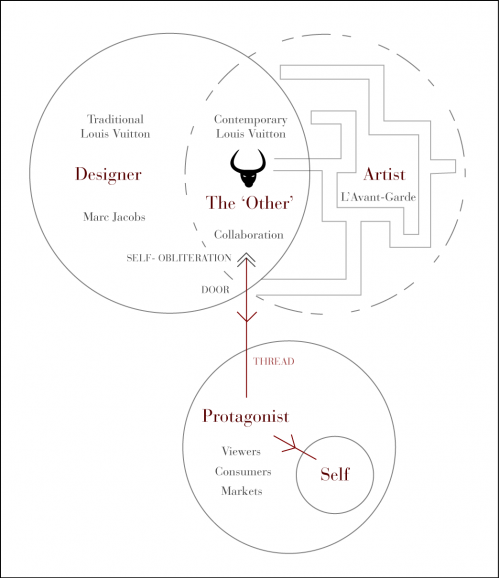 We have reached the Door. The retrospective exhibition is being received well at the Whitney Museum of American Art here in New York, judging from the long lines snaking around the block. We envy those in Untitled, feasting away on their brunch. There is a glass separating us from them. They have warm pancakes and glossy eggs benedicts, while we have none. Already, we can see the 'Other' and self-obliteration starting to take place.
Tickets to Fireflies on the Water sold out within a half hour of the museum's opening, but ushers informed that it would be on view for longer, past the duration of the retrospective exhibition. Part of the Whitney Collection, it is the first time being shown since the Biennial in 2004. We begin our journey into the maze, where the otherworldly beast awaits. The installation has 150 lights hung over a reflected pool in a multi-mirrored room, producing a hallucinatory effect of infinite space. It is kind of like Disney's Space Mountain… There is no end and the ground is magically stolen from beneath your feet.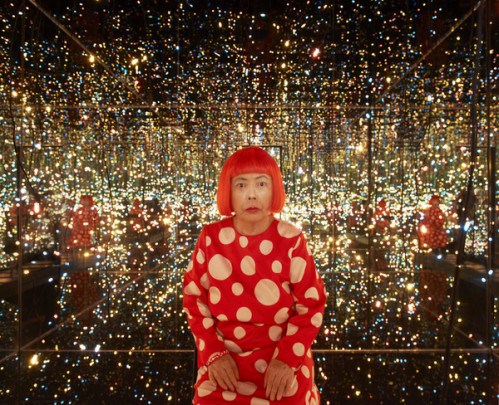 As we find our way, our own circle shifts into that of the designers and artists. Upon approaching, we engage in another layer of dialogue, adding a new dimension to this distinctive and volatile entity. The unpredictable nature of the 'Other' is disorienting and frightful. Its voice whispers, sending ephemeral visions. Everything is intentionally laid flat, with nothing overlapping. Each element and shape records a strike in battle. The struggle for stability continues.
We are left impassioned with an overwhelming desire for control that can only be quelled by consumption. We slay it and flaunt its pelt, toting limited edition Speedys to proclaim, "We are victorious! In this moment, we have earned our right to dwell here. This 'Other' you speak of, it is now ours. We possess it."
We have achieved a greater self, with more knowledge, status and power. We long to lie in the common intersection, in the lair where it is calm, but the illusion never lasts. For a brief moment, we savor the spiritual silence. Only for a while, until another tug of the thread. We are all grounded in a self that constantly expels the 'Other'. Once our circle retreats, the next beast is released.
The Global Radar series examines activity in New York, Singapore and around the globe. The writer is currently a student in Design and Management at Parsons the New School for Design in Manhattan, NYC. She has a natural affinity for spotting trends and thoroughly appreciates diversity and internationalism.