One of the six Singaporean designers showcased in the first ever Digital Fashion Week is Ownmuse. The two young ladies behind the brand are best friends Johanna and Shu Juang, and as the name suggests, they want to inspire girls to be their own muses through their creations. This, they surely did, as the show left me inspired to emulate their distinctive style of casual cool.
At the Tent in Ritz Carlton, the duo presented a collection that embraces feminity in a boyish yet chic manner. The pieces are loose-fitting and roomy, featuring slouchy tops paired with high waist shorts or crop tops matched with loosely cut pants. Dresses are kept short with a slight flare at the end, giving them a sporty and playful feel. Despite the slouchy style, the pieces look tailored and the perfect use of colour blocking in various shapes also subtly adds form to them.
Sophie Summer, winner of the latest cycle of America's Next Top Model, is seen here in a shift dress with a boxy frame reinforced by the grey and black tones across the shoulders and arms.
Personally, the outfit that I did not like as much is this pale pink midrift top and black loose pants, as the strips of white running down the sides of the pants are in my opinion too thick which makes it resemble a pair of track pants.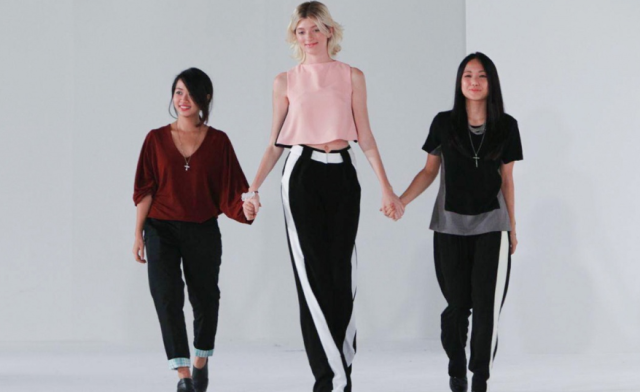 This piece epitomizes slouchy chic in black and olive brown, but wait! When she turned around, what followed was a flurry of camera clicks hurriedly capturing the stunning V shaped bare back.
I absolutely love how the designers create clothes that are simple yet sophisticated, basic but quietly bold. It is clear from the collection that they understood what most girls yearn for – simplicity and comfort with style. These simple pieces are versatile and can be mixed and matched so that a girl can easily recreate her own style.
This is Ownmuse's first runway show. It was a little short but still a success nevertheless. I look forward to seeing more of their creations! They have a store at Parco Marina Bay and an online store.