When Dharni Ng returned to Singapore early last year, he was determined to prove naysayers wrong.
Throughout a decade-long run of building his career overseas, the beatboxer has returned with two championships under his belt. His travels across the globe gave him the opportunity to score multiple brand deals, on top of cementing a name for himself in the international beatboxing community.
Having been hooked to the beatboxing scene since his early teens, his desire to pursue a career in the field was met with pushback and doubts. Multiple questions plagued his every day, with no easy answers.
"'What is beatboxing? 'I don't even know', 'You aren't going to get a job', something like that," Dharni shares with Popspoken on his early days. "So I was like, I'm going to show you'."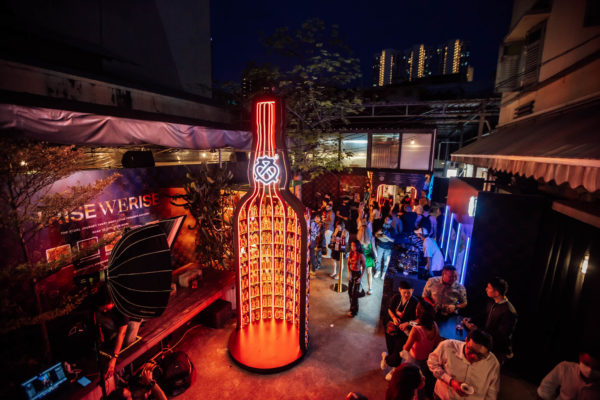 This, along with his feeling "trapped and sheltered" in Singapore, led to his decision to relocate. He left for Poland for a gig in 2011 and stayed on, participating in competitions and televised talent shows, before going on to win the world-class championship Grand Beatbox Battle two years in a row. Dharni also immersed himself fully in beatboxing camps and conducted workshops for emerging talents.
"The process is actually more rewarding than the achievement," Dharni quips. "There's the networking, also the inspiration that I got, experiencing different cultures and different types of people who I work with. It helps to inspire my creativity. I basically found that my skill is not just beatboxing, but found ways to actually create and innovate. It makes sure I go beyond beatboxing with my creativity."
Poland is also where he met his now-wife, Weronika Heck, who is often featured in his social media pages. Known as @mamiczka on TikTok, she went viral in December for her Singlish accent.
"She tends to predict trends of fashion and beauty," Dharni says proudly. "I think that's really cool, because as an influencer, you need to have that skill set [sic], to be the first few people to actually adopt something that people haven't adopted yet."
Boldness is something that Dharni values, especially now that he has been invited to become a part of Chivas Regal FC's creative council. Bearing the slogan "I Rise, We Rise", the brand champions creatives and artists being elevated by their tightly-knit cultural communities.
"I see there are a lot of creative people in Singapore, but they are really afraid of risk," Dharni says. "I think this is part of the Singaporean culture. It's a bad thing when it comes to creativity."
I am one of those people that have moved out and come back – we have a duty to help give people courage. And I think right now we're actually doing something really, really good. I see the progress, compared to 10 years ago."

Dharni, on giving back to Singapore's creative scene
One way he hopes to support the creative community locally is through his new edgy project, TEZAREKT, an NFT marketplace that he co-founded with four friends. One of the initiatives is a set of digital beatboxing cards developed in partnership with Grand Beatbox Battle, with the revenues being distributed to the artists and the championship organisation.
"I see beatbox world champions still struggling to get by just for views," the 35-year-old says. "They may not be fit to be influencers but they [are] very strong musicians. I think they should get what they deserve. To equate their skills and what they are truly valued. TEZAREKT has the mission to do this."
He also strongly identifies with Lisa, Chivas Regal's first female brand ambassador and global superstar who definitely has turned many heads. Joni Na, Brand Manager at Chivas Regal describes the BLACKPINK member as "a cultural force that's broken boundaries" and "successfully elevated herself through hard work and determination".
Dharni praises Lisa's success as a Thai artist working in Korea despite cultural differences. "She's proving a point, and she made a statement," he continues, "it inspired people to be more diverse. It shows that you need to believe in your forte and embrace it, just grab it, and take pride in it."

The future certainly is gleaming brightly for Chivas, with cultural-shapers leading the way to break new creative ground for the brand.
__
"I Rise We Rise" at Chye Seng Huat Hardware at 150 Tyrwhitt Road, runs from now till 18 May. Stand a chance to win Chivas swag bags here.

Catch an NFT art exhibition curated by CTRL:Unit, Mojoko, Kristal Melson, Jonathan Liu, O$P$ and Assthrowknot. For those uninitiated in art, there are panel sessions for NFT newbies as well as cocktail masterclasses by Anna Mitchell, brand ambassador of Chivas Regal. Sago House, No Sleep Club and Junior The Pocket Bar, have also created pop-up exclusive cocktails for the Chivas Pop-up Bar, in honour of the "I Rise, We Rise" event and LISA.