Following their musical departure back home to Oklahoma in Mama's Boy, the arrival of the gg bb xx era promises a return of signature LANY. When Paul Jason Klein, the pop trio's frontman was asked about the band's artistic direction, he makes an unexpected comparison, likening it to dating someone.
"[Mama's Boy is,] you know, when you're dating somebody and you're like, "Hey, you should come back home with me and meet my parents and my friends and see where I grew up." It's an important step to take in any relationship, and that is exactly what we did with our fans. We took them back home in every sense of the word. I mean, we sounded different. We looked different, and it was a departure from LANY. And so if that was a departure, [gg bb xx] would now be the arrival or the return of LANY."
Unlike LANY classic 'ILYSB', the album's title gg bb xx is an acronym that is open for interpretation. To Klein, any other word in the dictionary would distract from the depth and array of emotions evoked by the music. Hence, the made-up phrase reiterates the open concept of the record.
The carefully curated 12-song album comes from many writing sessions' "end of day demos" and "working tapes". For LANY, being their fourth studio album, the decision-making of what makes the record has become intuitive. This allows them to release only their best, but also make artistic decisions that showcase their musicianship. For instance, 'DNA (demo)' is the exact demo from the day the song was written. As for the remaining tracks, Klein confirms a deluxe version of the album.
Of the 4 already released songs, 'Dancing in the Kitchen' was the first single. Nonetheless, it was not the first or the last to be written. Instead, its writing had been organic, spontaneously created while writing 'Till I Don't', another song on the album. 'Till I Don't' revolves around the idea of loving someone with all of your heart, for as long as one can. While writing the bridge, Klein came upon the line, "we fly around the world just to dance in the kitchen".
"And John Ryan, who I was writing with was like, bruh, we have to write a song called 'Dancing in the Kitchen'. And so it's the first and only time in my life that I wrote and recorded two songs in one day."
As a band, LANY desires to be the "Most Improved". And to Klein, the greatest improvement in gg bb xx would be their songwriting and production. Songs evoke deeper emotions, while production is more detailed, with seamless transitions between verse and chorus.
Advancements in LANY's sound also come from working with producer Andrew Goldstein. Having worked with other class acts like Maroon 5 and Blackbear, Goldstein's hand in producing all 12 songs concretise LANY's place in pop. With hard-hitting drums and heavy bass, Klein says that gg bb xx is a pop album – a pop album created with artistic integrity, identity, conviction, and most importantly, distinctly LANY.
In the visual department, stunning designs complement LANY's sound, creating a coherent aesthetic that sets apart gg bb xx from previous work. When asked about the ideation of the album art, Klein shares a vision of a head and brain he had while up late one night.
"It took me about a week and a half of drawing, sketching and trying certain ideas. We eventually landed on the album art, and I must say it's been four or five months, but I've looked at it every single day and still can't get enough of it."
With things opening up, LANY is excited to return to what they do best: live shows. 18 months since their last show, the gg bb xx tour would feature songs across their discography. Thus, when asked about the process of organising a show, Klein points to the setlist. With so many songs to choose from, this would be the first tour they build multiple setlists. Each night would have a different set, making each show unique.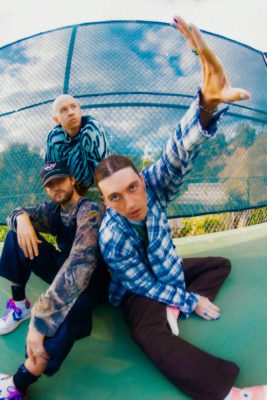 When preparing for a show, performance, delivery of the songs and musicianship are top priority for LANY. Klein explains how they ensure these by remembering their early days.
Back before their first live show, they locked themselves in a concrete room for 20 days to practice. They videotaped themselves, studied, and made notes on how to improve their performance. Therefore, Klein aims for their performance and his energy as a front man to always be enough to immerse and captivate the audience even without the lights and production.
If you are fortunate enough to have ever been to one of these transformative shows, you may also be aware of the barricade "holy ground". During shows, Klein leans far into the audience. Hence, fans stand in line for 24-hours or more for a place there. Joking that he has in fact almost fallen over a couple of times, Klein remarks how this LANY tradition reflects his absolute trust in his fans. In those moments over the barricade, there is a bridging between performer and audience. To him, this communicates an unspoken trust where he literally puts his life into their hands.
Every LANY show is a spiritual experience, and for Klein, it is where faces are put to stream numbers and usernames. When asked about his wildest tour experience, Klein remembers LANY's 2019 Singapore show.
"I remember being in Singapore and having strep throat, not thinking I could perform. But I somehow did. The crowd gave me love and energy, and I was able to make a sound with my voice. I think the craziest and most memorable moments are when these little miracles happen on tour; where we pull off a show when it felt like we couldn't, and the crowd was really there. It will always make for very, very special nights."
Stay up to date with LANY on www.thisislany.com, and follow them on Instagram at @thisislany
Discover more exciting Asian musicians in our Music section.