Picking up their instruments out of practicality, such as bands needing a drummer or being able to scream better than sing, Glassmouth came together after getting to know each other through playing for other bands. The band first started out with a slightly different line up, founded by C (guitarist) and after a couple of changes, these will be the musicians that will grace the stage for Baybeats this year.
When the line up has to change, how does one know that the musician will fit in well with the rest of the band?
JL (drummer) shares his considerations, "Firstly we look at convenience – who is in our circle and plays the instruments that we need. Then secondly we look at technical skill and if they are up to par. Not that we play really difficult music, but if they are not interested in the genre, it will be hard for them to learn the songs. C has sourced for guitarists through the music forum Soft but many turn away when they listen to the kind of music we are playing because it is a pretty niche genre. So we prioritise those we know."
R (vocalist) chips in: "The changes to our previous line ups are mostly our friends, people that we know who can appreciate the music that we are playing. So technicalities aside, even in performance we move aggressively on stage so they would need to be comfortable to adapt to that kind of playing style as well."
But beyond all these, chemistry within a band is important though it can be an aspect to build over time. For Glassmouth, they believe that all their line up changes do share a sense of synchronicity in playing so they count themselves lucky. "It is just something that you know from the first jamming session, whether you will 'click' or not," L (bassist) says.
Sensible and not overly concerned with the line that is drawn between being friends and bandmates, they just let it go and this has worked for them so far. Perhaps it is also the passion that they have managed to keep at for over ten years – each member having integrated music into their individual lives.
Even L who left the music scene entirely – selling off his gears and the bass guitar, even – came back: "For five years I stopped playing. Over that period, I did miss music, specifically playing live music. Playing live music is just different. It is this output that you get when you are on stage. It doesn't matter if it is one person watching you or a hundred. When you get into the music, it is almost like the whole world doesn't matter. It is a feeling you cannot get anywhere else. I think that is why I find it addictive, almost. So when I got asked to join Glassmouth, I didn't want to miss the opportunity."
Popspoken meets Glassmouth to talk about the way they approach music – from anonymity to the album art.
---
Popspoken: Talk to me about your aesthetic – trippy cover art and mainly going anonymous with your band member names online.
JL: The band isn't entirely anonymous, but we rather not have us as indivduals, be the focus. We like to have the listeners associate our music with whatever images/emotions that it invokes.
R: We not only go anonymous with our names online, our faces were even blurred out with formal photoshoots. That's because those are not important, those are also not the things to be focused on. Glassmouth is about the music and our art on stage.
L: I feel like Glassmouth is its own entity.
C: I designed it to make other people's eyes hurt the longer they stare at it.
PS: Do you think the general impression of a typical musician in Singapore is accurate?
JL: There are many great bands and musicians in Singapore, but not enough platforms to showcase them and even lesser platforms to bring these musicians/bands together.
L: There're tons of amazing bands, but sadly almost all of them treat it as a part-time hobby. I believe that with this current period that we're in now, there are quite a number of avenues for funding or social platforms to release your music on for bands to actually pursue it properly and to at least hope to be self-sustainable if they're able to market themselves right.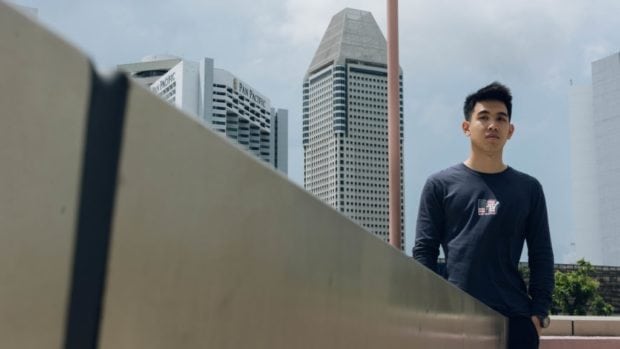 PS: How do you write your music – from lyrics to riffs.
JL: We think of a cool riffs and figure out the arrangement. Lyrics are not written with the riffs in mind and are inspired by various subjects.
R: I will usually create the melody of the screaming, after JL and C completes the instrumentals. I will keep recording down all the humming into different small parts on my iPhone and after I realised I ran out of ideas, I'll scale down to those that best suited the song. I use Audacity to cut and combine all the different parts into a complete song and that will be the final version to be on repeat to fill in the words.
C: I get angry at life and then proceed to bombard the keyboard brutally with my fingers, complaining about how the Starbucks employee got my order wrong. I use random number generators for the tempo and bar count. No actual musical skill involved.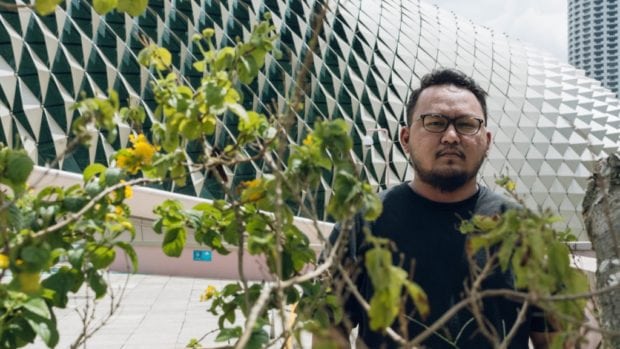 PS: Share with us what makes a great live music performance, by your standards.
JL: Bands that let the music take over and taking the stage with pure emotion.
R: Play at your 110% on stage, not just the playing and the tightness. How you present yourself on stage, what mood or feel you are creating, how you going to let the audiences leave with their jaw wide open.
Performance is not just about the right notes you strum or the right timing you hit on the snare but is like a theatrical play for the audience to be amazed by both audibly and visually.
L: When you just do your thing and be totally engulfed in the art that you are presenting sincerely to the people watching, be it just one person in the audience or a concert hall of 10,000.
C: A broken equipment by the end of the show and the crowd reluctantly clapping while looking confused.
PS: Does Baybeats help push underground music to the mainstream public for you?
JL: It definitely does. There are many music enthusiasts that attend Baybeats but aren't aware of smaller shows. Baybeats opens up this avenue for bands to reach this audience.
R: We have seen heavy bands that played Baybeats before, who got more noticed and new followers and listeners. So as our music is even more niche than the usual metal or hadcore bands, hopefully the public will experience a different or fresh sound. Hopefully it will make them think: "Hey! This band is not bad!"
---
Glassmouth will be playing at this year's Baybeats Festival that is happening from 17 to 19 August 2018!
They will be on for 19th August 2018, 7pm at the Powerhouse.
Featured image: Glassmouth's Facebook page
Photography credits: Darren 'Merovign' Tan
==
Stay updated and social with Popspoken: Facebook | Twitter | Instagram