"I remember before Decipher started, we had another band la and I was playing keyboards. I was really bad at it so when our bassist left, Wira asked me to play bass. So I had to learn from scratch. That's how I picked up (the) bass," Gary (bass) got the ball rolling on the interview.
"Mine is 'cause no one in my secondary school knew how to play drums, in my secondary school jam band la. During my era." After the band shared a laugh at the use of 'era', Niki (drums) casually continued, "During my time la, then I just took the initiative. Like that lor."
Willing to talk about how they all got into music, learning multiple instruments before settling and sharing about hardships with long hours of no rest, Decipher is a melodic hardcore band that just released their EP in April. Titled Strange Comfort, it has been deemed heart-wrenching and is music to guide your late night musings. It is no surprise that their music speaks so well to their listeners, since the musicians behind them are passionate as well as aware of their craft.
Would parents share similar sentiments with their fans and show their support?
Besides helping to purchase the first guitar, Darryl (guitar and back-up vocals) shared about his parents, "I said I want to play music, so my dad went: okay, just try la. But, they are not exactly like, supportive la. My parents My parents weren't really supportive at the start, about being in a band, because I didn't exactly tell them and I didn't show them any results la. Then when I told them I'm playing Baybeats, they went: ah, okay, so you are doing something with your life. I mean, because all the while we all fund our own music."
"If you see on Facebook right, you will see my mum liking all of our Decipher posts, so she's quite supportive. And when you had our first merch, my dad liked to wear our shirts and post on the account. It's quite cool," said Ahmad (vocalist).
Even though the level of support differed from one member to another, from how they got their gear to listening to their tracks, everyone still make it work and proves that they are serious about making the music they do. However, it seems difficult, still, to want a career based solely on doing what they love in Singapore. Despite the fantastic work done by various local bands across most genres, Singapore seems too small for musicians to be picked up by record labels – local, regional or otherwise. Citing The Caulfield Cult's interview with Bandwagon, Darryl gave his thoughts:
"Part-time jobs in Singapore don't pay well. Full-time jobs will not understand why you need to take long leaves. Even successful bands like Wormrot have to work so hard to pay off the tour and all that. It is really hard for bands to have a career, but I am hopeful. Some bands, like False Plaintiff recently got signed to an overseas label. But money is one of the hardest to find in Singapore."
Their own members, too, easily work over time and six days a week to upkeep their instruments and pay the bills.
However, they do not think having a record label is the key to success but would be helpful in alleviating the aspects of marketing as well as giving a platform to the band  to reach a wider audience. Still, as a believer in hustling and that hard work will eventually pay off, Decipher is a band with a lot heart.
Popspoken meets the band and discovers their musical evolution, how National Service affects their process, as well as what they would love to see more of in the local music scene, through Wira (guitar and vocals).
---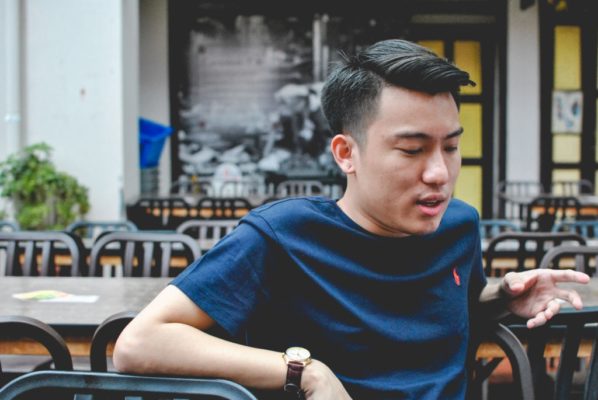 Popspoken: How did you guys know each other, and decide to come together to form a band?
Wira: Decipher started out approximately four years ago. Ahmad, Gary and I (Wira) grew up together as friends from the same school, Darryl and Niki came in somewhere in the middle of 2014. Fast forward a few years later and these guys are easily some of my best friends.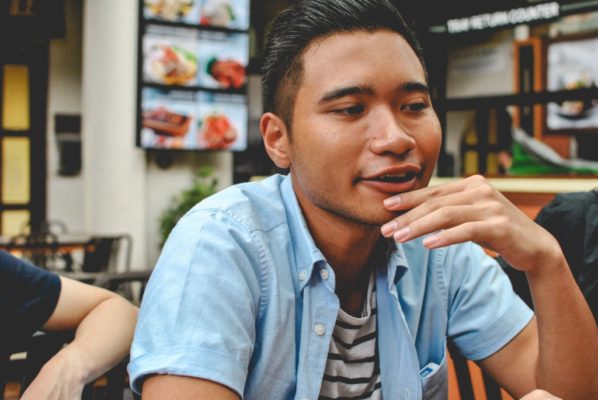 PS: Since formation in 2013, how has the band sound evolved?
W: When we started out, there were bands we wanted to sound like, effects and vocals that we wanted to mimic. I mean we did have a goal in mind but I guess as we all grew older, we learnt certain things about ourselves as individuals a little more and this in turn, affects the way we look at music.
Right now its fair to say that we were a post hardcore band, these days everyone finds it hard to label us by a genre. We sort of like things that way, I've always felt that a piece of music does not have to be bounded by a genre/label. If its something that we like, its good with us. The simple way to explain our music now would be that we've grown up quite a bit and "strange comfort" is our story.

PS: You guys recently released your second EP, talk us through how the process went and how it is different from the first?
W: It was an absolute roller coaster ride. All of us were juggling NS and work commitments, making it even harder to schedule recording sessions or even to meet up for a discussion. Regardless, we decided to put aside our issues and do justice to what we created.
We spent a couple of months tracking with Phoon Zi Xiang of Typhoon Studios. Best recording engineer we've ever worked with and I have to be honest with you, we owe it all to him. He pushed us beyond our limits and we love him for that. We then headed over to Melbourne to get the tracks mixed and mastered by Callan Orr of Avalanche Studios, who also plays guitars in one of our favorite bands, Dream on Dreamer.
Needless to say, it was one hell of a ride. The first EP had its fair share of love and hate but this one was just different. Each of us had an equal amount of input into "Strange Comfort" and we're all just overjoyed with what we have right now. We're proud to call this ours.
PS: Now that some of you are in the National Service (NS), how does it impede your progress as a band, if at all?
W: Here and there, I guess. But if you want to make it work, you will make it work. We try to not look at NS as something that will hinder us from what we want to do. At the start, we were pretty bummed out whenever someone has to book in when we want to jam. I feel like it is more of a stretch on the marketing side of things. Our marketing calendars go out of place, and if we want to post on Facebook at a specific time, we cannot do that. Or simply ask someone else in the band to do it.
There's a point in time that we couldn't jam for about five to six months?
Darryl: No la, not so long. But it was a few months. And he (Wira) is the fittest out of all of us so he has the worst schedule, even though he wants to make it work the most. The tension during NS was the worst. We fought a couple of times from all the tension we had, because of the conflicting schedules.
Niki (when other four members were in NS): I didn't feel as much because I thought we had enough time to practice, but I did feel really tied for the writing process. That did have a strain.
Niki will be enlisting this year, and unfortunately will not be able to join the rest of the band at Baybeats, as well as other shows such as Ignite and 100 Bands.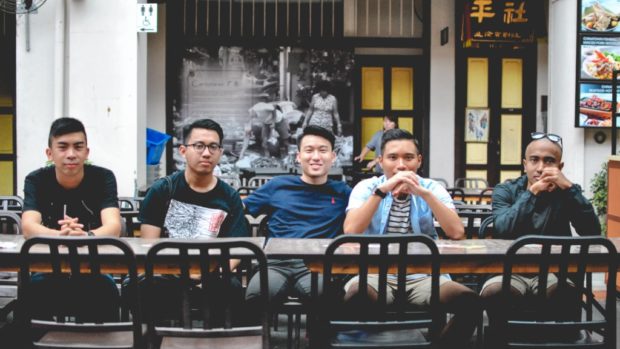 PS: What is the one thing you would like to see in the local music scene?
W: We'd like to see a bigger amount of support from the local community.
Without a community, it'll be almost useless playing music to empty venues. At this point of time, a bulk of the people in the crowds are actually those who play in bands too. We'd like to see more initiatives being taken to spread local music beyond jamming rooms and bandcamp.
PS: What can we expect during Baybeats?
W: You can expect an emotional and intense experience. We'll play with our hearts on our sleeves and we want you guys to feel and maybe even understand what we're feeling when we hit the stage. It'll definitely be something worth remembering, to us at the very least!
---
Decipher will be rocking it out at this year's Baybeats Festival that is happening from 14 to 16 July 2017!
They will be on for 14th July 2017, 7.30pm at the Powerhouse.
Photography credits: Darren 'Merovign' Tan
==
Stay updated and social with Popspoken: Facebook | Twitter | Instagram