For the third time, Singapore's largest EDM festival returns to Marina Bay Sands in the form of Ultra Singapore 2017. Decked out with a stellar lineup from the likes of headliners like KSHMR, Pendulum, tchami to world-class DJs Dash Berlin, Don Diablo, Hardwell, Martin Solveig and many more.
With electrifying hits such as "Hello", "Intoxicated" and "+1", Martin Solveig is a household name in the international EDM scene. Although he initially trained to become a classical musician, Solveig begun DJ-ing at the tender age of 18.
Today, he flies the French flag high and proud, representing his country in the international EDM scene with his unforgettable pop-electro beats.
We caught up with Ultra Singapore 2017's headliner Martin Solveig to discuss the EDM scene in Asia, the inspiration behind his music and what puts a smile on his face.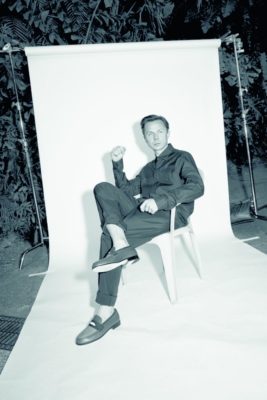 Popspoken: EDM in Asia has seen a huge boom over the years, which has led to a rise of DJ costs in this region. What do you think promoters should do to stay ahead of the curve? 
Well, it's always about supply and demand. I'd say it would be a good thing to develop and bet on local DJs/producers. Asia is full of promising talents, no doubt.
Popspoken: With the digital boom, the attention span of consumers is getting much shorter. How has your marketing strategy evolved over the past year? 
Well, it's undeniable that we keep a very close eye on the evolution of digital strategies. Studying the trends is now a key element of a successful music campaign.
Of course, you have to adapt to meet people's expectations and habits but I never depart from my original artistic vision. I take into account that people's attention is hard to catch. Finding new ways and ideas to arouse their curiosity is a challenge I love taking up.
Popspoken: How do you decompress after a gig? What is your guilty pleasure?
To me, sport is the best way to keep a healthy balance. Running fits my way of life when I'm on tour, a pair of trainers and it's all set. I don't really have guilty pleasures. I kinda assume everything I like happily. I'm a smoothie addict by the way.
Popspoken: Are there any artists that you would like to collaborate with?
It would be unfair to name only a few, there are so many who are talented I'd like to collaborate with. I have to say I was really willing to work with Alma who is featuring on my next single, it'll be released in early June. Her voice is unique, very emotional.
Popspoken: Which movie have you re-watched the most times and why?

Favorite question of this interview! I'm a cinemaholic, just love movies, directing one would be dream – it might even happen one day, who knows!
My close friends will tell you that I spend my days adding movie quotes to my everyday conversations. It's become a trademark of mine. There are so many I've watched again and again, choosing only one wouldn't be fair to the others. Well, "La Piscine" by Jacques Deray. The atmosphere, the actors; it's quite unbeatable.
Popspoken: What is your creative process like? What is the best situation for you to reach creative flow? 
I'd like to have a recipe but there's no working template. Creativity and ideas are not things you can master. Melodies and beats patterns can pop up in the most unusual moments.
This being said, I like the quietness and the soothing natural environment of my house in Ibiza, those revitalising moments are ideal to get in creative mood.
Popspoken: Why do you like Bill Murray? Are there any iconic quotes / moments in his films that particularly strike a chord with you? 
This one in "Lost In Translation" – "The more you know who you are, and what you want, the less you let things upset you."
Popspoken: Complete this sentence: "Music makes me…"
I know it'll sound cliché and cheesy but it makes me deeply, truly happy.
Popspoken: If there's someone dead or alive you could have dinner with, who would it be, why and what would you say to that person? 
I'd choose Woody Allen and I'd ask how he found the energy to direct one movie a year with most of them being masterpieces.
---
Catch Martin Solveig at Ultra Singapore 2017. Ultra Singapore 2017 will take place at Ultra Park (Marina Bay) on 10 and 11 June 2017.
Get your tickets here, or win a pair of tickets in our giveaway.
==
Stay updated and social with Popspoken: Facebook | Twitter | Instagram