More than just a throwback to the glory days of MySpace, eyeliners and skinny jeans, EMONIGHTSG: The B-Sides is a celebration of all things Alternative.
"[Emo Night] was the first time I had the experience to see a bunch of people cheering on a DJ as much as they did a band at a live show," Mark Hoppus from Blink-182 recalls to Rolling Stone about Emo Night in the States.
In the Singapore installation of Emo Night SG 2016, organisers Look Ma, No Hands! brought Ryan William Key, lead singer of Yellowcard as the guest DJ for the night:

Look Ma! No Hands member Edwin Waliman told POPSPOKEN that the inspiration behind Emo Night SG was simply to recognise the bands that took such a significant place in their formative teenage years.
"We actually didn't even know there were already Emo Nights in the US and UK. Bryan and Amelia were cleaning out his wardrobe full of band shirts and got inspired to do something that captures that era of music," said Edwin, who plays with Bryan and Ritz in local pop punk band The Summer State.
Essentially, the four party planners behind Look Ma! No Hands saw that there wasn't a night for alternative / emo rock music in Singapore, then decided to parallel the concepts of Emo Night already spontaneously taking place in US, UK and Australia.
According to Look Ma, No Hands!, #EmoNightSG and its B-sides events are meant to be for the misfits – a midweek breather to escape the clutches of convention for the Michael Ceras of the real world, the skaters with tattoos and mohawks and anyone who doesn't quite feel like they can sit with Regina George at the 'cool kids' table.
Ppl can hate on emo night all they want. Seeing ppl come together and rage to their favorite songs is rad. Dont knock it til you've tried it

— Ryan from Yellowcard (@williamryankey) October 1, 2016

In essence, expect to be caught in the midst of a bunch of screaming kids who are not okay.
"The past few EMONIGHTSG: The B-Sides have been nothing short of amazing," said Bryan Sta Maria, ¼ of Look Ma, No Hands! and lead singer of The Summer State.
"We're really excited to take this forward as we move into our new home at Refuge."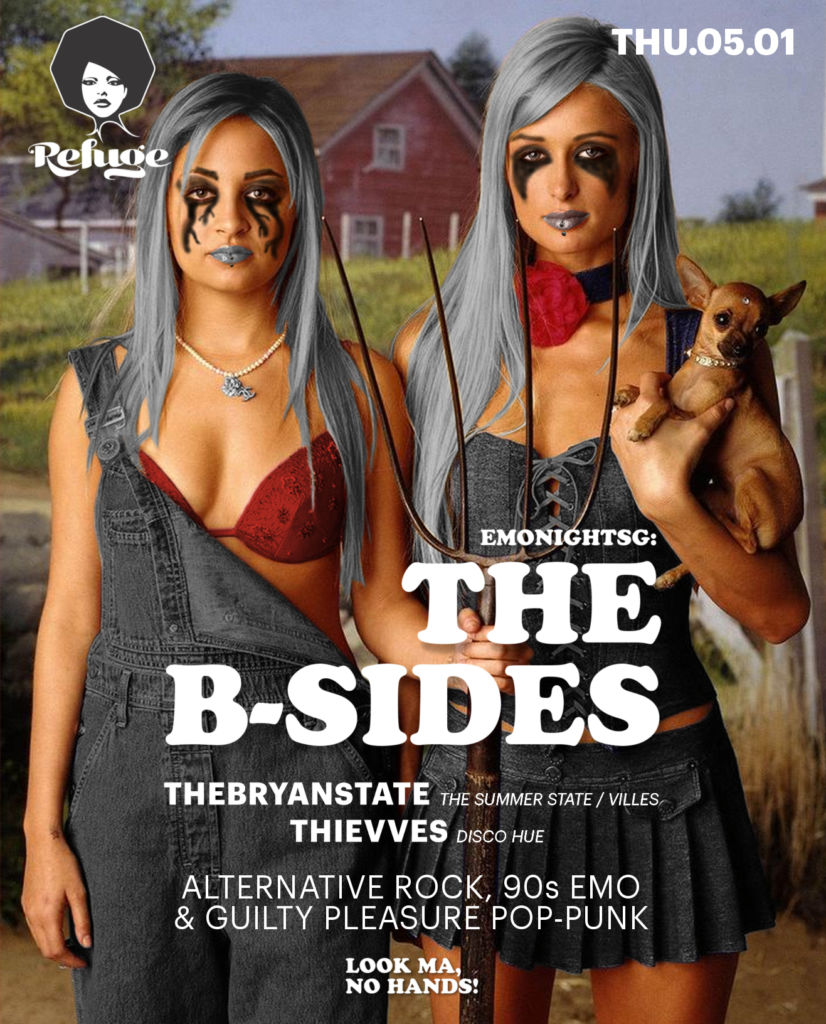 Look Ma, No Hands! are bringing EMONIGHTSG: The B-Sides to Refuge (new location at CHIJMES, 30 Victoria Street, B1-03, Singapore 187996) as a monthly event in 2017.
The first EMONIGHTSG: The B-Sides series of 2017 will take place from 9pm on January 5th , and subsequently the first Thursday of every month.
Entry: $10 (Includes 1 FREE Drink)
1-for- 1 Beers and House Pours ALL NIGHT
*Standard club rules apply
==
Cover Photo: Rueven Tan (www.rueven-tan.net)
Stay updated and social with Popspoken: Facebook | Twitter | Instagram