Trouble is brewing (again) for local musicians in Singapore.
The opening band for Funeral For A Friend: Last Chance To Dance Tour – Singapore this Friday, Tacit Aria, has lashed out on Facebook hinting that bands in Singapore are "taken lightly".
This is in response to the decision of gig organisers LAMC Productions to cancel the opening act for Funeral For A Friend.
LAMC Productions organised a competition on 29 January 2016 for local bands to audition for the opening act. Bands who participated in this competition include boxchild, Heir Of Hounds, Victoria Street, Tears Of Chrome, and Terrestrea.
This already received a mixed response from concert-goers, who did not understand the need for having local bands to compete against each other in the first place.
As interpreted from comments on Facebook on this issue, cancelling the opening act altogether further marginalises efforts of local bands to be recognised.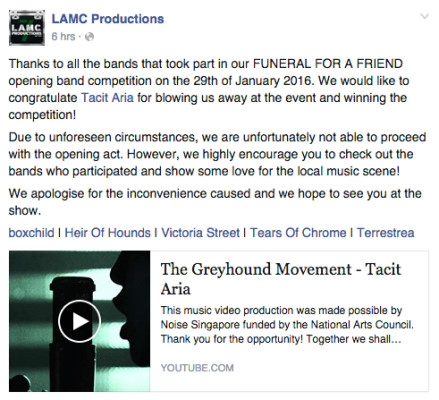 Popspoken understands from Hydhir Ramli's Facebook page that the opening act had to be cancelled to "technical difficulties", or "unforeseen circumstances" according to LAMC Productions' Facebook post.
LAMC Productions has been reached for comments.
Funeral For A Friend: Last Chance To Dance Tour – Singapore is planned for this Friday, 8PM at *SCAPE.
==
Stay updated and social with Popspoken: Facebook | Twitter | Instagram