I am sitting opposite the lads from Circa Waves. Enter half the band – Kieran Shudall, the Dan Auerbach-looking lead singer, and Joe Falconer, the shaggy haired lead Guitarist of the band who bears a tad resemblance to Ron Weasley, protagonist of the widely read Harry Potter series. Both are amicable and friendly – despite flying from Jakarta to Singapore in the wee hours in the morning. The lads played an electrifying show to a crowd of nearly 300 boozed-out hipsters on Friday night, showcasing music from their debut record, Young Chasers, for the Dr. Martens Stand For Something Tour.
Before the debauchery that began at 8pm, I had 15 minutes to chat to half the band about Liverpool Football Club, British indie electronic band Bloc Party, new music, and a certain pasty-faced individual called Pete Doherty.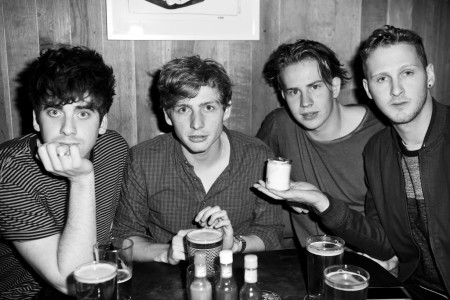 What's up guys. What are some of the bands that have influenced your sound?
Kieran: I like bands like the Maccabees, Arcade Fire, The National, bands with high energy and great songwriting that feature a New York sound.
Joe: I've been listening to a lot of Pavement when we wrote this album.
With hip-hop and EDM music on the rise, do you think that there is a decline in guitar music?
Joe: I think it's the complete opposite. Dance music has always existed and always will. It goes up and down. There have been a lot of bands embracing the EDM sound, but I feel the last couple of years have been really good for guitar bands. If you look at how big Royal Blood are, and there's Slaves and there's us. There's quite a young scene for guitar music bands, which is cool to be a part of.
You guys hail from Liverpool. So the next question is obviously going to be about football. So Jürgen Klopp, Yay or Nay?
Kieran: Well, I support Everton, the greatest team in Liverpool (laughs). I don't know much about Klopp.
Joe: I'm not from Liverpool, I'm from Birmingham. I don't know much about football, I stopped watching football 20 years ago. I can only guess from the TV that he seems like a nice guy. He seems quite effective and I quite like that so I imagine him to be the typical German stereotype – very efficient. Well, best of luck to him.
Kieran: I hope he fails massively (laughs).
https://www.youtube.com/watch?v=xe7uutnarWE
I am personally a huge fan of Bloc Party. I'm not sure if you guys heard the newest single, but it kind of has this weird EDM vibe to it, which kinda sucks. Do you think your band could go down that road in a few years?
Kieran: I've always felt that Kele's been into a lot of dance music when he did his solo record. His solo stuff is very EDM.
Joe: Yeah it's quite obvious when you hear songs like (Bloc Party song) Flux. I think that bands feel the need to do something different, and that's cool. It often seems to be the go-to for a lot of people is the electronic instruments. I see that the first instrument that gets added in every guitar band is a keyboard.
Kieran: It happens in indie music all the time, the first record being much better than any other record. The first Bloc Party record Silent Alarm is one of the best, and we'll always have that. If they want to go and make something else that's fine, but I'm fine with that because we've got the first record.
So what's the story behind your song "T-shirt Weather"?
Kieran: I can't remember what the story is all about. It's a funny song that I wrote quite quickly before we toured with the Libertines. I sent it out to people and we finished the record already, so we had to record it as an extra. It was fortunate that we recorded that song otherwise we wouldn't be where we are now.
It was based on nostalgia and when you think back about your childhood you always imagine it to be better than it probably was. It was based to themes of the grass being greener I imagined it to be the perfect summer of my childhood.
You guys have supported The Libertines back in September 2014. So how is Pete Doherty like?
Kieran: He comes across as someone who's in his own world. He sort of goes on about his day, and has a lot on his mind. He's a very charming, very English, very poetic person. He's incredibly talented, but he has a lot of demons. He's obviously brilliant.
Joe: He was lovely.
Kieran: As they all are (laughs).
How did you hook up with Dr. Martens Stand For Something tour?
Joe: I'm pretty sure I was having a drink with our friend from Dr. Martens. He watched us before and he was like "we should get them on the tour". He emailed whoever was in charge. And the next thing we know was that we got an email saying that we were going to South East Asia.
Kieran: Doctor Martens has been our standard issues ever since we started the band, and I say hell yeah, free shoes.
Any new music you're digging right now?
Joe: I like beach house's new record, I like the second one more. I like this Liverpool singer called Bill Ryder-Jones, he was in The Coral. I like this band called Bully as well.
Kieran: I haven't really been listening to new music. I've been listening to old Ryan Adams records, Taylor Swift, old classics, and anything that gets me asleep on the plane.
Joe: I've got a record you should listen to, it's called Magical Clouds. The vocals are so forward and present, it quite electronic and soothing. You should listen to it.
I'll definitely check them out. Thanks for the time guys!
Circa Waves new record Young Chasers is out now. You can check them out more on www.circawaves.com.
=
Stay updated and social with Popspoken: Facebook | Twitter | Instagram