If you are a late-80s or 90s kid, music from Andrew McMahon would have most likely been your jam at some point in time.
Having fronted both punk rock bands Something Corporate and Jack's Mannequin, Andrew McMahon is changing the game of his music career. Despite having won many awards and much recognitions for tracks like "I Woke Up In A Car", "Dark Blue" and "Punk Rock Princess",  this is Andrew's first time visiting and playing in our little red dot.
Armed with a new music direction and his new album Andrew McMahon In The Wilderness, Andrew played for Singaporean fans for the first time ever this August 2015 at CHIJMES Hall. Much of the crowd were fans in their 20s and 30s, probably a sign these fans grew up with his music over the past decade, and were undoubtedly greeted with waves of nostalgia when Andrew played songs from his previous bands.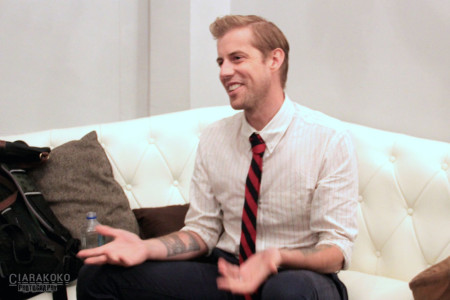 Andrew was decked in a crisp white shirt, quirky red tie and casual pants when Popspoken met him backstage. This was the same outfit that he will be wearing on stage later during his set. Being a friendly and sincere individual, Andrew was a pleasure to interview as we asked about his music career, cancer foundation, and his newborn daughter:
Popspoken: Hi Andrew, welcome to Singapore! Apart from having visited Marina Bay Sands which you posted on your Instagram, what have you been up to here so far?
Andrew McMahon: Yesterday we had mala steamboat, and it was so spicy I was literally sweating all over. My sister has some friends here in Singapore, so she decided to use my trip out here as an excuse to come along and visit them. Her friends have told us that Americans would love Singapore, they've all been having an amazing time here.
Popspoken: Which Asian country has left the biggest impact on you so far?
Andrew: Honestly, I've only ever played live shows in Japan if you're talking about Asia. Back in the Something Corporate days we would play for many punk rock Japanese fans, they were really loud and would mosh and stuff. I remember the first night, we were so afraid because the fans didn't react much to the opening bands — you could hear a pin drop. I remember going "Oh my gosh, what are we gonna do?" But then I just jumped into the audience and from that moment on it was great. I tend to find music as the one language that connects everybody, so the little things from country to country may be tricky but it's all fun.
Popspoken: In your new album Andrew McMahon In The Wilderness, you wrote a song about your daughter called "Cecilia and the Satellite" that has gained much popularity around the world since its release. Congratulations on that! How is your daughter doing?
Andrew: She's doing good! I miss her a lot, I've been gone for a week and a half now and that's the longest I've been away from her since she was born. It's awesome to have a little girl, and now to have a song that so much heart in it. It's magical.
Popspoken: You've started a cancer foundation called the Dear Jack Foundation — can you tell us more about it, and what you hope to achieve with the foundation?
Andrew: The initial thing that got us started was that I was diagnosed with cancer at 22, and I had awesome fans along the way who wanted to contribute to cancer foundations just because they wanted to show some support for the cause. If there's people who are willing to be more active about cancer foundations because of me, I might as well start an organisation that would focus our attention on young adult cancer.
People of 15 – 39 years of age have the lowest improvement in survival rate than any other age group. They tend to be overlooked and underfunded, and also quite uninformed about real stuff like medical insurance and finances. So we try to help them by giving out scholarships, organising support group camps, and basically just building a community for them to know that they're not alone. This is the age where most people are getting out of school, getting a job or starting a family. For us, a lot of what we are trying to do is to wave our hands and say we want to help these vulnerable individuals — I know this support is needed, because I was there.
Popspoken: Being a cancer survivor yourself, do you have any practical advice for young adults who may be struggling with a serious illness?
Andrew: The biggest thing for me was breathing. When I was in the hospital I would do breath work and meditation, these were things that were really complimentary to the Western medicine I was on. Just take the time everyday to relax, so you don't get tense. This is always the first thing I tell people. Breathe, and try to find some form of meditation. Peace is the best form of medication you can have.
Popspoken: Was there any main reason why you chose to embark on a new journey in your music career with Andrew McMahon In The Wilderness?
Andrew: At the end of the day, I want what comes off the speakers to be something that I sign off on a hundred per cent. Part of the reason I move on from projects is when I start feeling like I'm losing some of that energy, or I feel that I might get to a point where I might lose it soon. That's I re-steer and try something new, because I have to keep things fresh.
Popspoken: If you woke up in a car, what car would it be?
Andrew: (laughs) Just probably the most sleep-able car I have at home, I prefer one with some good space.
Popspoken: Of all the things that you have done so far, how would you like Andrew McMahon to be remembered?
Andrew: As somebody who did his best to tell the truth with his music, and somebody who tries his best to be a good dad and a good husband.
–
Cover Photo: Dawn Chua
Special Thanks: Upsurge Productions