Ben Gibbard of Death Cab for Cutie is one of many artists who have not only refused to swallow any of TIDAL's propositions, but has also chosen to spit out the gooey embellishment in protest.
"This thing is going to fail miserably," he said in an April interview.
Harsh words.
It's hard to blame Gibbard – he's been through both the Struggling To Break Through and Selling Out Stadiums phases with Death Cab for Cutie. He's basically synonymous with the indie genre and has probably seen it all.
On the other hand, Jay Z is taking the phrase "put your money where your mouth is" way too seriously. On 2001's The Blueprint, "I'm a hustler baby, I sell water to a well" was to be an adequate foretelling of Jay's most recent business venture TIDAL. In a market saturated with perfect substitutes that people already use and love, Jay Z was always going to be swimming against the current with TIDAL.
TIDAL aims to deliver more revenue back to artists (especially independent ones), something that competitors Spotify apparently doesn't do too well. But we get the sense that this unique selling proposition is being misrepresented.
There are certainly better ways to exemplify TIDAL's artist-first policy, and one of them isn't chucking multi-million dollar artistes on stage bemoaning the shaky financial infrastructure for independent music.
TIDAL Discovery, the streaming service's raison d'etre, actually sounds pretty decent if we ignore the careless promotion strategy employed by Jay Z and his multi-million dollar troupe.
The celebrities endorsing #Tidal are worth over $2.5 billion collectively, but yeah they deserve more. Poor underpaid wee souls.

— Josh Dean (@thejosh_D) March 31, 2015
"With TIDAL Discovery, unsigned artists can upload their original music using PHONOFILE or Record Union and be heard for the first time," its page reads. In other words, TIDAL allows for independent artists to upload material without the hassle of going through distribution services. Mumford and Sons, in keeping up with the Gibbard ethos, have also slammed the music streaming service. "We wouldn't have joined it anyway, even if they had asked," frontman Marcus Mumford said. What these indie figureheads chose to ignore was the TIDAL framework behind all that tacky promotion, one that will greatly help (at least in positioning) fledging artists showcase their music on the same platform as their more established counterparts. All these tirade against TIDAL then comes across as unnecessary, or is this a demonstration of an unspoken rule amongst indie artists to fire at will whenever it comes to big money mainstream acts?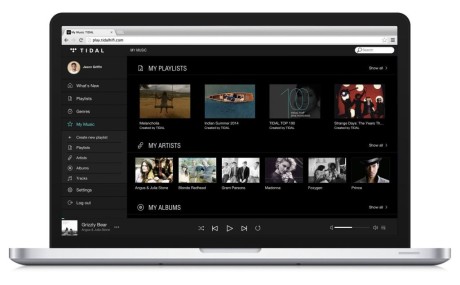 On the business side of things, it seems like TIDAL's strategy and target group are going two different ways. Unlike direct rivals Spotify and Deezer, Tidal does not offer a free version of its service. Users only get to listen to 30 second previews of all tracks on its platform. With all of the exclusive content that TIDAL promises, this closed environment approach ensures that TIDAL exclusives receive no exposure to users who have not committed to its premium plans. Assuming that TIDAL's management really does have a pro-artist stance, such a model relegates Jay Z and co.'s plans to give artists "a platform to connect with their most loyal fans "to an elusive promise.
We are human (even Daft Punk ha). We aren't perfect – but we are determined. #TidalFacts — Mr. Carter (@S_C_) April 26, 2015
If we look at the entire TIDAL narrative, it seems as if TIDAL has the artist's interests at heart and it keeps its service competitively priced ($9.90 for standard sound quality and exclusive content). They say hindsight's 20/20, and one can't help but feel that Jay Z will be feeling hard done by the gaudy approach employed to promote TIDAL.
Perhaps Jay Z isn't the hustler everyone is making him out to be, but it takes more than mere determination (read: understanding new enterprises) for TIDAL to take off.
Featured images from The LA Times, The New Yorker and Inside CI.
Stay updated and social with Popspoken: Facebook | Twitter | Instagram