In the space of less than a year, Meghan Trainor has seen her star rise almost astronomically. Bringing her distinct doo-wop flavour to the melting pot that is pop music, the "All About That Bass" hit-maker scores with her clever lyrics, a result of her practised ease in songwriting.
Having released three albums before her major label debut "Title", the 21-year-old Massachusetts native has definitely paid her dues as an artist, and now reaps the rewards in the form of a No. 1 album, 2 consecutive Top 5 singles, 9 Billboard Music Awards nominations, and a 33-stop world tour to boot!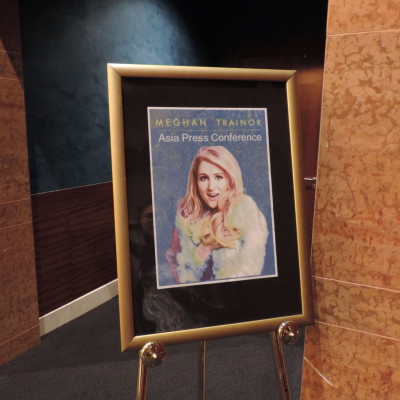 We'll get to her press conference answers in a bit, but here's something to listen to while you're scrolling: we caught Meghan's band rehearsing a sweet instrumental of "Close Your Eyes" at The Coliseum @ Hard Rock Hotel a few hours before her show!
https://www.youtube.com/watch?v=tJ3Yz5vep8s
Here's what Ms. Trainor thinks about…
On one thing that she would change about Singapore: "The HOTNESS. (But) I love Singapore. It's adorable. You guys have the best buildings!"
On stories from her fans, the Megatronz, and how they have impacted her: "After a small show in Florida, a father yelled at me and said, "Meghan, you saved my daughter's life!". That shook me to this day. I've got a lot of meet-and-greets where the mothers come up and tell me, "You saved my daughter's life, she was very suicidal and depressed because she didn't like how she looked, and your song helped her". There are a lot of very emotional fans that really connected with the song, which means everything for a songwriter. That's all we want to do."
On the inspirational theme of her songs: "My goal wasn't to write really inspiring songs and inspire people! It just happened, and a lot of fans have expressed their stories and how they feel with my lyrics. I've realised the power of a three-minute song. I wrote "All About That Bass" in just 45 minutes. That's all it took to save these lives and help these people."
On the pros and cons of social media: "I think it's important that we have (inspiring music), especially with Instagram and Twitter, (which are) hurting a lot of people. (Social media is) very powerful for a pop star but it hurts a lot of kids, with all the comments and everything. I think it almost makes people harsher because they can comment and they think, "I'll never meet this person". Social media can really hurt. I had a lot of comments that are outrageous, so I choose not to read YouTube comments anymore, and I'm a lot happier."
On being labelled one of People's Most Beautiful Women of 2015 and how to feel that way: "I think if you're a good person, if you're a kind person, that's really beautiful. That's what I try to be every day. Speaking out loud saying "I look beautiful today" every day, that helps significantly because then you start really believing it. So every time I'm in (front of) the mirror I'm like "Mmm… I look great today!""
On her musical direction and writing for other artists: "My uncle's from the Caribbean so I like to think I have Caribbean blood in me… even though he married into the family! I love soca music and I would love to explore that. I know Rihanna's going in a very… non-Barbadian direction, but I would love to write for Beyoncé!"
==
Get Meghan Trainor's album "Title" on iTunes here.
Send Meghan some good vibes to change her mind about social media: Twitter | Instagram | Facebook
==
Many thanks to Sony Music