It's been nearly FIVE YEARS since her breakout debut single "Jar Of Hearts" brought her to the forefront of the pop stage. Christina Perri has since gone on to release even more hits, such as the Billboard Top 40 singles "A Thousand Years" and "Human".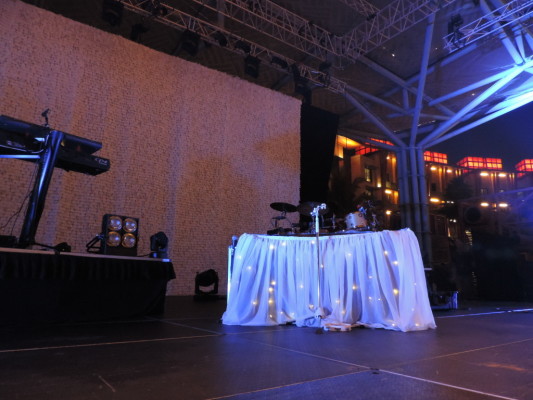 The 28-year-old singer returned to Singapore last Friday as part of her "Head Or Heart Tour", which will also be brought to Taipei, Malaysia, Philippines, and Indonesia, among others. Armed with a new album/hair colour since her last visit here back in 2012, Christina played to an intimate crowd at The Coliseum, Resorts World Sentosa.
Local singer (and all-round darling of the SG music scene) Joel Tan a.k.a. Gentle Bones opened the two hour-long set with almost his entire discography. Accompanied by violinist/musical director/wingman Josh Wei and Naz a.k.a. NAztykeys on keys, the trio played tracks from his self-titled EP "Gentle Bones" as the breezy evening gave way to night.
Starting her set with high-energy numbers "Shot Me In The Heart" and "Arms", Christina bounded about the stage (much to my camera's chagrin), tambourine in hand. With her powerful belts being delivered seemingly effortlessly, it's hard to imagine that the singer once suffered a vocal scare which required surgery back in 2011.
Jumping back and forth with tracks from both albums, Christina offered up "Distance" and "Burning Gold", from her first and second albums respectively. With a change in the lighting being cast on that giant carpet-y backdrop, the set transited into a more sombre, acoustic mood. Performing one of her latest singles "The Words" with the help of her keyboardist, even Resorts World Sentosa "applauded" her vocal performance.
Her band may have caught a breather but it's back to #werk for Ms. Perri. Diving straight into a short cover of 50's barbershop quartet The Chordettes' "Lollipop", she travelled 60 years in time by picking up a guitar for "Lonely Child" off her sophomore album.
The first major karaoke moment began when she launched into the familiar strains of "A Thousand Years", followed up by her exuberant collab with Ed Sheeran, "Be My Forever". The crowd suddenly surged forward with loud screams as a heavily-tattooed man entered the stage, guitar in hand. The lights quickly caught up with the smiling ginger-haired figure and revealed the mystery guest to be none other than… ED SHEE– nah, I'm just kidding. But you can catch Ed LIVE in Singapore in less than two weeks!
A cover of Coldplay's "A Sky Full Of Stars" (complete with a lot of heavy flirting with her guitarist) brought us back from our Ed Sheeran fantasy, with Xtina P commanding her way through the anthemic "One Night" after.
Nailing the technically-demanding performance of "Human" from behind the piano, we were reminded of the humbling fact that we were, indeed, only human while this goddess was in our midst.
Following "I Believe", Christina performed an ode to her friend and contemporary Ed Sheeran (nope, still no surprise appearance) by covering his hit "Thinking Out Loud".
At the performance of "Penguin", the audience was asked to take selfies – and the best one would be reposted by Christina on Instagram! Side note: the lighting was near-perfect for selfies. We seized the opportunity and indulged.
It was only at "Jar Of Hearts" when we managed to get the best photos of Christina (because she wasn't prancing/skipping/twirling about)! Yes, the crowd went crazy with the mass sing-a-long.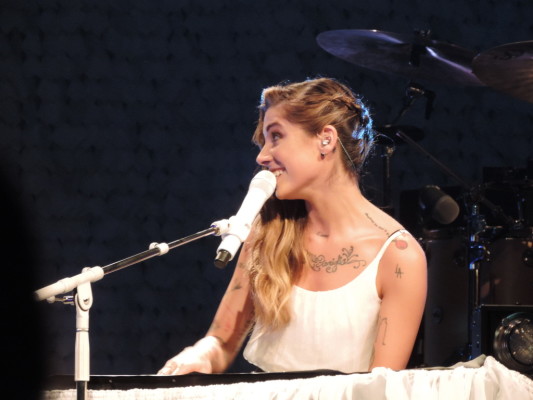 Ending with "I Don't Wanna Break" off her new record, the pirouettes returned in full force as Christina thanked Singapore. Come back soon!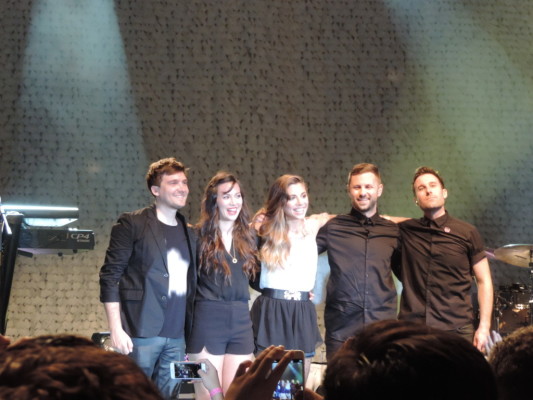 BONUS: Here's a couple of lucky fans who nicely asked the stage crew for the setlist Christina was using… and got it! Congrats!
==
Check out the full #HeadOrHeartTourSINGAPORE setlist:
Shot Me In The Heart
Arms
Distance
Burning Gold
The Words
Lollipop (The Chordettes cover)
Lonely Child
A Thousand Years
Be My Forever
A Sky Full Of Stars (Coldplay cover)
One Night
Human
I Believe
Thinking Out Loud (Ed Sheeran cover)
Penguin
Jar Of Hearts
I Don't Wanna Break
==
And if you're having a hard time trying to visualise the concert in your head, here's something that might help you: we put together a video of highlights from the whole concert, including a bit of Gentle Bones! You're welcome.
==
Many thanks to Midas Promotions.