Picture this: Gig venue. The lights are dimmed, the doors are closed. Your heart skips a beat waiting for your punk rock heroes to come on stage, making small talk and exchanging glances of anticipation with your friends in between.
It's an all-too familiar scene for concert-goers. At New Found Glory – Live in Singapore last Friday, the curtains were drawn when the projector starts to screen an timeless anthem of "Glory, Glory, Hallelujah", inevitably drowned out by the tons of Manchester United fans in the audience who screamed along "Glory, glory, Man United". It took me a while to actually get this peculiar song choice – New Found GLORY! Right…
As a 4-piece band from L.A. since 1997, New Found Glory has been considered as one of the pioneering bands of the punk rock industry. Last week, they found themselves in Singapore as part of their Asia tour, their second time on our sunny island since SingFest in 2008. Armed with crowd favourites such as "My Friends Over You" and "Hit Or Miss", this time also with sick tunes from their latest album Resurrection, the band members of New Found Glory knew they were ready to tear it down at their Singapore concert at the *SCAPE Ground Theatre.
Popspoken sat down with Jordan Pundick (vocals), Chad Gilbert (guitar) and Ian Grushka (bass) at a roundtable interview at Goodman Arts Centre's Café Melba, where we managed to catch some of their raw thoughts on what we would consider as punk rock essentials – all while trying not to stare at Jordan's kitty T-shirt the whole time. Here's meow – I mean how – the interview went:
POPSPOKEN: Thanks for taking time out, you guys! How is Singapore so far?
Jordan: We just had satay at Lau Pa Sat last night and it was fantastic. It's been great, we're on our Asia tour and just came from Bangkok. We love playing at places so far from where we were originally from, to know that there are people out here actually listening to us.
POPSPOKEN: New Found Glory (NFG) has been around for a long time, what would you say are some of the defining traits of the band?
Chad: We've never tried to fit what was popular, not be a sell-out. While things got more gothic and poppy, other bands started to change but we didn't. Punk rock is always NFG's heartbeat– trends have come and gone but we remain our own sub-genre. In punk rock it's important to be creative and not just rip off any other band. The newer band The Story So Far have evolved their sound, you can hear their influences but they have their own sound. You have to grow the sound and not just re-create what somebody else made. I think NFG definitely has our own sound as well, and that's how we would like to define our band.
POPSPOKEN: It has been a couple of years since NFG had one less band member. Based on your personal experience, do you think these revision of band members would change any of the band dynamics, especially live?
Ian: I think that when the bands are on stage sincerely, and for the right reasons, it'll just be very good vibes and that always results in a great show for everyone.
Chad: It's always up to the band. Tom [DeLonge] left Blink-182, but let's be honest, if Blink-182 gets another lead singer and recorded it it'll still be awesome and people will love it. Change can be for the better. Tom isn't perfect, he sometimes sounds sh*t live. It all depends on how the fans react. It doesn't have to be the same it used to be, and that doesn't mean it can't be good.
POPSPOKEN: Do you think marketing bands like 5 Seconds of Summer as punk rock, when they are blatantly more pop than punk rock, will lead to a dilution of the punk rock genre?
Chad: I think that it always happens– people can be fed what people want to believe. I don't think the labelling of genres is going to affect anything. Good Charlotte is poppy but they look and dress the part of a rock band. I think people try to make it a bigger deal than it actually is.
Ian: I actually like 5SOS more than some other bands in our genre, so.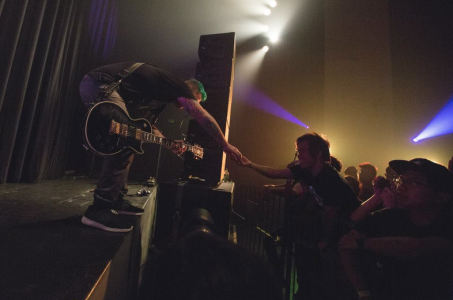 POPSPOKEN: You guys are heavily-clad with tattoos! Can you show us your personal favourite?
Jordan: There's this MXPX logo on my elbow. It was the first band that let NFG play on their show in 1998, and to me it's a symbol of friendship.
Ian: This picture of a restaurant. We had a tattoo guy on tour and he asked what I was gonna ink that night. I was just like, "I don't know, let's just do this" and pointed to something random about a picture of the restaurant we were at. *laughs*
Chad: This heart on my arm, I got it when I was in freshman year in college. Definitely a word play about keeping my heart on my sleeve.
POPSPOKEN: Chad, congratulations on your recent engagement with Hayley Williams! We all know that the Paramore hit single "Still Into You" was about you. What was your first reaction upon hearing the song?
Chad: Well, all I can say is that all the lyrics are 100% real. From meeting my mom in Kentucky, to having survived through the worst nights. The part where Hayley sings "to your favourite song we sang along to the start of forever", we were actually relaxing one night together when she was amused at how I was trying to figure out the lyrics to my favourite song, They Might Be Giants – Birdhouse In Your Soul. All in all, it's nice to have people relate to Still Into You. The way Hayley writes her songs is kinda for everyone, not only just me and her.
POPSPOKEN: Looking forward, do you think that the popularity of punk rock music is fading, considering how other genres such as indie or electronic dance music are taking the spotlight nowadays?
Jordan: I think punk rock has bigger than it has ever been in a long time, behind all the commercialism of the music industry in general.
Chad: Well I think people will always need punk rock. If you grew up listening to Katy Perry or One Direction when you're a child, when you grow older say 14 or 15, you'd be like "sh*t I'm starting to feel real sh*t" – that's when you relate to a punk band over a pop band, it's just as catchy but it actually makes you feel so understood. Punk music exposes true feelings, pop doesn't. That's why there will always be a demand for punk rock, and so naturally I think there will always be a punk rock scene.
–
Cover Photo: Nor Asyraf
Special Thanks: Impact Live