The recent Future Music Festival Asia 2014 that was held over 13-16 March 2014 in Kuala Lumpur was touted to be one of the biggest festivals in Asia. Organizers Livescape Asia pulled out the big guns to accommodate 85,000 festival goers by relocating to Bukit Jalil Stadium and wasted no expense at flying in acclaimed artistes and providing visually stunning sets that were worthy of its Western festival counterparts.
Day 2's ASOT 650 was a trance lover's dream. Featuring stalwarts like Marlo and Paul Van Dyk, Armada Music's Prince Andrew Rayel and of course none other than 5 time DJMag's Top 100 DJ Armin Van Buuren, ASOT650 was heart thumping and adrenaline filled. Nevermind the sweaty bodies, no one lasted a minute being dry in the crowd. The visually spectacular signature space ship themed ASOT shot lasers so frequent and mesmerizing that we were (with all due respect) thankful Earth Hour was going to take place 2 weeks after.
The Ugly Real Side of Festivals
FMFA 2014 was however, marred by the ugly incidents of drug possession, consumption and tragically, deaths by overdose of the drug methamphetamine (commonly known as "meth") for six individuals at the close of ASOT650 during Day 2 of FMFA. When ASOT650 moved to Jakarta the following day, news report of another two deaths including one Singaporean surfaced. Raves and drug usage (usually ecstasy or MDMA, commonly known as "Molly") are historically synonymous. Last year, heavyweight festivals like Defqon.1 and Electric Zoo were dealt with heavy PR blows and criticism when drug-related complications were reported. The last day of Electric Zoo 2013 in New York City was also cancelled after reports of drug overdose resulting in two deaths. As a result, the inaugural TomorrowWorld (a spinoff of the godfather of all festivals, TomorrowLand) held at Chattahoochee Hills, Atlanta, Georgia was under scrutiny from the international media to see if it could avoid drug-related deaths. This is what TomorrowWorld did:
– It increased the minimum age limit for participants to 21+ years and above (age limits are usually pegged at 18 years and above, the legal drinking age)
– Participants had to exhibit legitimate forms of identification
– A non-profit drug education group to dole out advice (DanceSafe)
– A whole section on "Your Safety" on their official website where the following was stated:
"Drugs like MDMA (I.e. Molly, ecstasy) can make the low electrolyte level worse and increase your chances of harm. TomorrowWorld does not endorse or condone their use, but if you or someone around you has taken something that you are concerned about or need help, it is important that you tell our staff.  We are here to help and never judge."
With these safety nets in place and a tagline that said "Celebrate, but Celebrate Safe!", TomorrowWorld saw a crowd of 140,000 strong that impressed naysayers and was lauded for its "preventive measures" put in place. That's not to say that TomorrowWold was drug-free. Atlanta's local news channel 11Alive went undercover at the festival grounds conduct some "investigative journalism". What they uncovered was nothing surprising – drugs were still readily available to those who were looking.
The Real Losers
The real losers (with all due respect who those who were victims of drug abuse) are actually the organizers and the festivalgoers. For one, organizers spend sleepless months tying down details from the artistes to the showgrounds and who can miss, the stage sets that can make or break the festival. Our sympathies go to Livescape Asia, whom we knew had worked really hard to make sure the 4th instalment of FMFA would've been the biggest ever, with full support from the Malaysian Tourism Board. They had to make the painful decision to cancel the event on its last day after flying in artistes like Pharrell, Martin Garrix and Knife Party just to name a few.
The second group of losers is most definitely, the festivalgoers. Many ticket holders (especially those who flew up for the last day) lamented on the wasted trip and those who had remaining credits in their RFID tags were left stranded. Festivalgoers who thronged the entrance of the showgrounds were barred from entering.
Livescape Asia has addressed concerns about refunds that have since closed. While we applaud their real-time updates and concerns being addressed efficiently, it remains to be seen if the negative publicity and the potential government clampdown will scare of corporate sponsors and bar the 5th instalment of FMFA. We're crossing out fingers that this doesn't happen.
(Read about the festival organisers' side of the story here)
The Real Problem
Frankly, the root of drug problems can never be weeded away. Security guards and sniffer dogs conduct searches at festivals like Stereosonic (in Australia) and TomorrowWorld before festivalgoers are allowed on the showgrounds. But how do you stop the guy who took drugs before entering the showgrounds? Some organizers have mulled over the thought of on-site drug testing, but ultimately the age-old solution seems to point towards educating would-be ravers from taking drugs. As Rahul Kukreja, Livescape Asia's director told The Star Online:
"There's only so much organisers can do. From our end, we do our very best in terms of safety, health and security. At the end of the day, festival-goers need to be responsible for themselves, too. Education goes a long way in this. People need to be aware of the dangers of drug abuse. There's got to be more awareness on this and we as a society have to address this issue together."
Last year following the spate of deaths from drug related incidents; DJs stepped up and vocalized their concerns on various social media platforms. We can only hope that fans would heed the advice from their favourite DJs.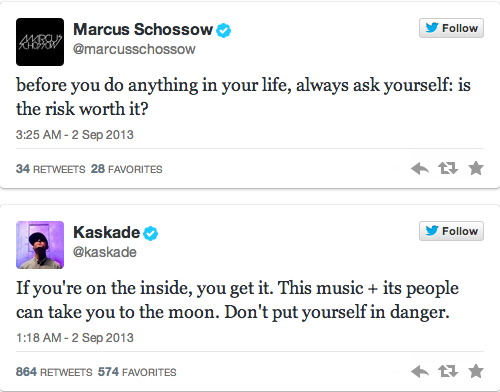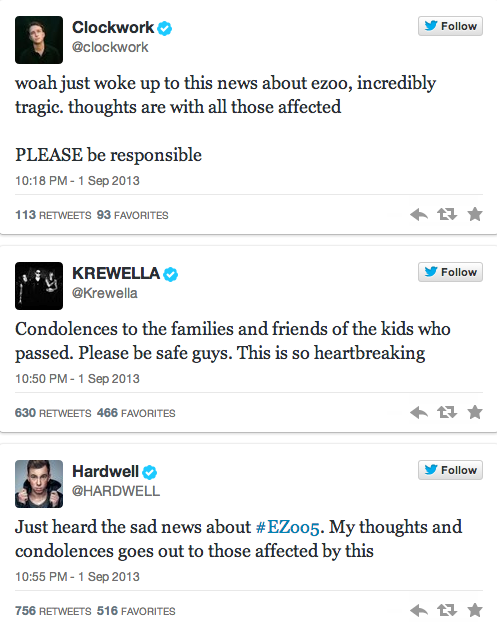 Ultimately, question the purpose of attending such festivals. Is it not for the love of the DJs and their music? Why then, be irresponsible and deprive fellow festivalgoers a chance to rave with their favourite artistes when tragedy strikes? We hope that this is a sombre lessons for future festivalgoers to respect the lives that were given to them, be thankful for the artistes who have finally discovered Asia's untapped potential with its raver fans and just, for god's sake, enjoy the damn music. Because that's what it's really all about.
All FMFA 2014 Picture Credits: Livescape Asia
For more pictures, click here.