We are one question to the end of our phone conversation with Yuna when she asks us to "hold on the line". We politely agreed. Murmurs were heard in the background. When she returned back to our call, she apologised.
"I had to charge my phone battery," she sheepishly admits.
It's this realness about herself that has many attracted to Yuna's work. She is not what you expect of a typical pop star: no gratuitous baring of flesh, no mindless lyrics, no trashy gossip surrounding her life.
Instead, you get positivity. She embraces her identity as a Muslim woman wherever she goes, sings uplifting messages of hope and love and is a positive role model from her entrepreneurial spirit to her anti-bullying tweets.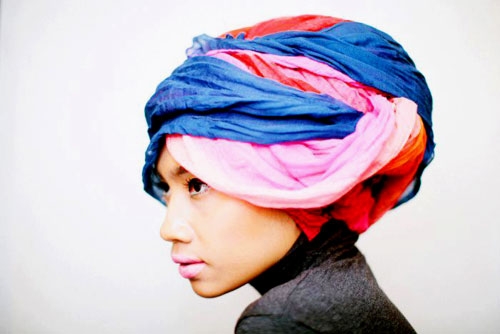 We spoke to Yuna via phone Wednesday, in the midst of her press tour for current album Nocturnal. Despite what looks like a non-stop schedule (it was nearing midnight in New York City when we ended our call to her), her voice was still sprightly and alert as she gamely conversed with this writer.
She had just recently wrapped up an interview on Al Jazeera's show The Stream, which covers news trending on the Internet. The show zoomed in on Yuna's appearance and religious belief in a country that is still recovering from Islamophobia. She said on the show that she had not faced any discrimination from others because of the way she looked in the States.
She explained this further with Popspoken, "I don't try to hide my identity, but I don't push it out so much. I am who I am — a musician, an artiste. I don't try to take the music out of the concert. (The questions about my identity) come along but I don't try to avoid it; I answer them diplomatically."
Part of this identity is openly wearing the headscarf. In posters, videos and gigs, Yuna is seen everywhere with her turbans on. If one might think she got flak for it in the States music market, you are sorely mistaken.
"When I first started out in Malaysia, a lot of people wouldn't sign me (as an artiste) because I was wearing the hijab. It was my decision to wear the turban in the States; nobody told me to change the way I look."
"A lot of people now tell me to wear the traditional hijab but I have a strong sense of self. I know what to wear, how I want to wear it and how to present myself," she asserts.
The web is where Yuna found her audience, after uploading demos to her Myspace account. After being scouted by Indie-Pop Records, she was brought over to the States to sign a contract with FADER Records soon after.
Now, she is signed to Verve Music Group, which is creatively headed by music maven David Foster. Her new album Nocturnal is decidedly more pop than her previous EP which sounded more indie. The change of pace is what excites her.
"Nobody wants to be an indie artiste forever — indie means broke," she laughs. "Maybe it doesn't mean that, but it's difficult to make a living as an indie artiste. It sounds cool and mysterious but I'm trying to live in a real world. Making music that only the creator will understand would not really pay your bills."
Yuna clarifies that she is not being money-minded. "I love making pop music; that is who I am. I'm not on the guitars 100%. Why would I limit myself like that when I could go all out? I'm really happy that I took a risk."
That risk is evident in Nocturnal's first single, Rescue. A pop ditty, Yuna sings about female confidence in a straight 4/4 rhythm with synths and what sounds like the gamelan, a traditional Malay drum-like instrument. She even belts out straight in the second chorus — none of that intentional vocal pull-back you hear in most indie artistes.
"I'm glad Rescue is out there; it has such a positive message of self. My current album is one of my greatest achievements," Yuna says.
Yuna is going places. After booking performances on Jimmy Kimmel Live and Conan, her Twitter feed blew up with mentions and her name was trending on the microblogging site. It is a testament to all the hard work pushing her demos and performing at gig after gig.
"When you work so hard, you want things to happen. I'm thankful to get buzz out there. For the past three years, I've never taken a holiday. My manager would say "You're going to London" and I'd say "Yay!" but when he says it's for work, I'd be like "No!"" Yuna lets out mock exasperation.
The buzz has spilled to the EDM community, which remixes her songs with pulsating beats. Yuna appreciates the vote of confidence and wants to do more with her music. Stepping out of her ambition to do "jazz and singer-songwriter stuff", she is now open to placing elements like hip-hop beats and electronica synths.
Her rise to fame is the source of many Malaysians' pride and joy. There is never one video of her without an upvoted comment of how proud the country is of her. She takes it in her stride but refuses to show it off.
"I don't boast about it and wear the label like a crown. It's not the kind of person that I am. I come out here and it just so happens that I'm Malaysian and South-East Asian. Anyone could be in my place right now," Yuna reveals.
"I appreciate the support from my country. It just shows there are a lot of things you can do to be happy with your career and to be successful."
Having lived in Los Angeles for quite some time, does Yuna still introduce herself as a Malaysian?
"I tell everyone here that I'm Malaysian. I don't try to run away because I live in LA. Being Malaysian is part of who I am."
—
Catch Yuna live in Singapore on Feb 24, 2014 at her one-night-only concert at the Esplanade Concert Hall. Grab your tickets via SISTIC. Stay tuned for more news on Yuna, in the lead-up to her concert.
Popspoken is proud to be the official online media for Yuna 'Nocturnal' Live In Singapore.