October 4th 2012; probably just any ordinary Thursday evening for many; but for the few privileged enough to be at Avalon, that night would probably be a night to remember for a long time. For whatever your reason, you decide. But to us, that night gave us something that we'd always hold onto; a glimpse of the future.
Renowned very much for their chic sense of style and fashion as well as their unique sound, it was only fitting that Universal Music Singapore and Topman were proud to present Spector, famed to be "East London's answer to The Strokes". The five-piece indie rock band have gathered much accolade and it is no surprise as to their growing popularity with the local fare here. The time was 7.30pm and already, there was a snaking line of people anticipating an enigmatic debut showcase from the London boys. Spector left that anticipation a tad bit too much as time passed excruciatingly slowly for most of the charismatic crowd. One could simply tell that this was not going to be ordinary.
If there was one thing that Spector managed to do, it was to prove the old cliche; 'good things come to those who wait', true. We waited and waited, occasionally feeling more and more hyped up thanks to the in-house indie music that got many bouncing and singing along. After a lengthy wait, the boys from Spector; all decked out in fine suits and only the best from indie chic fashion label Topman, made their way to the stage to a resounding backing track. The crowd cheered and greeted with much excitement and Spector jumped right into it; kicking things off with the harmonic dance track 'Friday Night, Don't Ever Let It End'. It was simply the best song to open the night. Whilst it was not much of a perfect start due to the delay, they made up for whatever time lost by playing with oozing charisma and energy.
Before moving on to their next song 'Grey Shirt And Tie', Spector added a nice personal touch to the night by tributing the song perfectly for the people at Topman, who had a big hand in bringing these guys here and also in dressing them up.
However new Spector is, the Avalon crowd showed these boys from London much love, singing along to anthems like 'Twenty Nothing' and 'What You Wanted'. Frontman Fred Macpherson affirmed the love they were getting in a brief monologue mentioning how Spector has "played in terrible places." Playing shows in countries like Belgium, Sweden, Denmark, Poland, Germany, Spain and America, it may be safe to say they've seen crowds of all shapes and sizes but he went on to say this about our Singapore crowd; "You know what, Im rambling but I just want to say this. Not a single country on Earth, even our native England and Tom's native Wales, havent given us the sort of welcome that we've had tonight." One may say that it is a cliche statement; something band's will say to their crowds to hype them up. However, at this instance, it felt particularly honest. Speaking of which, an emotionally honest performance took over when the band played 'Grim Reefer'.
Taking the tempo, volume and temperature up by playing hit single 'Celestine', the crowd simply went wild. Fred's singing was drowned in the choruses of the fans singing along to the entire song but the symphonic guitar riffs and funky drum beats ensured that everyone was just having a good time. "I'm surprised to see so many of you know the words!" Easily said, frontman Fred stole the spotlight with his husky voice and an attitude worthy of a top rock star. Compared by many to be like Morrissey of The Smiths, Fred showed much flair in his singing as well as his overall performance. Just tell me, how can someone who constantly combed his hair throughout the show, grabbed the audience's attention by almost reaching out to them, and never failing to fix any fashion mishap; be it an untied shoelace or an unbuttoned suit, not shy away from such swag?
Somehow it felt like much of their performance boiled down to their interaction with the crowd; even asking them for what song they wanted the band to play next. Ideally, whether coincidence or pure rock n roll luck, the audience screamed 'Chevy Thunder', the next song in the set list. The droves of dancing went to a whole new level when the band played this. It was a rendition worthy of a night to remember; with guitar solos by guitarists Chris Burman and Jed Cullen respectively.
Fittingly, the guys from Spector decided to end the night with a hauntingly beautiful version of 'Never Fade Away'. As the crowd clapped along throughout the song, all we could do was step back and admire the beauty of what was happening before our eyes hoping, it would not fade soon. Our fears were not allayed as they played their final notes of the night.
Playing only 8 out of the 12 tracks in their debut album, Enjoy It While It Lasts, much of the crowd was left reeling, hoping that a surprise encore was on the cards but it was never to be. I guess we did have to enjoy it while it lasted. However, all was not all down as we look back on that very night. This debut performance may just be one of those special nights where we witness a star.
Many draw similarities between them and wonder-kid-boy-band One Direction. Ironically, One Direction has drawn similarities to bands even like The Beatles. Call me bold, but I have a gut feeling that the boys from Spector have a big future ahead, possibly even resembling the legendary rockers on Abbey St. A refreshing boy band that plays instruments, all decked in suits and all singing into mics on mic-stands; could the similarities be any much closer? It may be a meagre comparison now but it sets up a huge platform for Spector's future. Yes, they have been likened to so many artistes but having the words Spector and Beatles in one single sentence would definitely be mouthwatering, at the very least to the Spector faithful.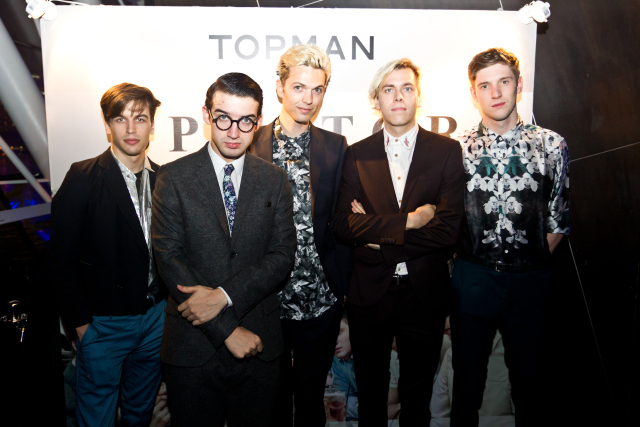 On one of his monologues, Fred spoke this about Spector; "This is our first time here and it is a wonderful country and you are amazing. You may not find this special but one day you would be able to tell your kids 'I was at the first ever Spector show in Singapore' and they would be saying 'Who the hell are Spector?'" I beg to differ. Spector are going to be big one day. They came, they rocked Avalon, and left us hoping they would never fade away. Now we just wish that they'd come back.
SET LIST
1.    FRIDAY NIGHT, DON'T EVER LET IT END
2.    20 NOTHING
3.    WHAT YOU WANTED
4.    GREY SHIRT AND TIE
5.    CELESTINE
6.    GRIM REEFER
7.    CHEVY THUNDER
8.    NEVER FADE AWAY
Grab Spector's debut album, Enjoy It While It Lasts at all HMV stores and head on to Universal Music Singapore's YouTube page to view 3 exclusive clips from this special night:
Never Fade Away http://youtu.be/2OjwwkrVnuo
Chevy Thunder – http://youtu.be/0me2L-wxXr0
Grey Shirt & Tie – http://youtu.be/EGu_087y1VI
Photo Credits: Dominic Chua, Universal Music Singapore