UltraLuxe Festival is an exceptional event that celebrates niche luxury, craftsmanship, and purpose-driven luxury in an immersive and inclusive setting. It showcases the finest independent designers, artisans, and luxury brands while fostering connections and collaborations among those who appreciate the artistry and meaning behind luxury items.
Angela Loh's journey in the jewelry industry began when she was invited by the Singapore Tourism Board to lead JewelFest as its festival director from 2013 to 2016. In this role, she played a pivotal role in developing the creative concept and transforming JewelFest into a world-class event. Under her management, it became Singapore's first multi-million dollar jewelry retail exhibition.
Popspoken: UltraLuxe Festival aims to promote community, culture, and sustainability. How do you envision luxury playing a role in fostering these values, and what impact do you hope the festival will have in this regard?
Angela: A new era of luxury is emerging, one deeply rooted in purpose and a consciousness to give back and pay forward. This shift represents a return to a more meaningful and holistic approach to living the good life, reminiscent of the patronage of independent artists and creators in the 1960s New York scene.

Throughout history, artists have depended on the support of wealthy patrons to nurture their creative talents and bring their visions to life. This practice has ancient roots, dating back to Greek and Roman times, where affluent individuals would commission artworks and architectural marvels. The Renaissance era witnessed some of the most iconic instances of artistic patronage, with influential families like the Medici in Italy championing artists like Leonardo da Vinci and Michelangelo. As time progressed, this tradition continued through various art movements, with patrons playing a crucial role in supporting emerging talents and influencing the content and direction of art.
Popspoken: What criteria do you consider when selecting participants to ensure a diverse and exceptional showcase of luxury products?
Angela: We seek out participants who are recognised for their artistry, innovation, and cultural diversity in the realm of luxury. We look for creators and artisans who are well-recognized and successful in their home countries is a key facet of our approach.
This initiative serves a dual purpose. Firstly, it enriches the UltraLuxe experience by bringing a diverse array of artistic influences to our festival, creating a more dynamic and culturally rich atmosphere. Secondly, it offers these talented individuals the opportunity to expand their reach and gain international recognition. Through this exchange, we foster cross-cultural connections, celebrate the richness of global craftsmanship, and contribute to the globalisation of niche luxury.
Popspoken: Sustainability is a growing concern in the luxury industry. How does UltraLuxe address sustainability within the context of luxury products and design?
Angela: Sustainability isn't just a trend; it's a cornerstone of our ethos. We firmly believe in the power of luxury to make a positive impact, and this begins with a commitment to the environment, philanthropy, and cultural preservation.
We prioritise brands, artisans and designers who employ sustainable production processes. For example Autore South Sea Pearls is a shining example of a luxury brand that places sustainability at the heart of its operations. Their sustainable initiatives encompass various aspects of their pearl farming and jewellery production, reflecting a holistic commitment to environmental and ethical responsibility.

Our festival actively supports philanthropic initiatives. We have several "invitation-only" events where ticket proceeds go towards causes that matter, ensuring that our celebration of luxury is also a catalyst for positive change where we celebrate the ingenuity of sophisticated beauty and unparalleled craftsmanship.
Additionally, we champion the longevity of luxury products. We celebrate impeccable craftsmanship and timeless design that will be passed down generations, inherently aligning with sustainability.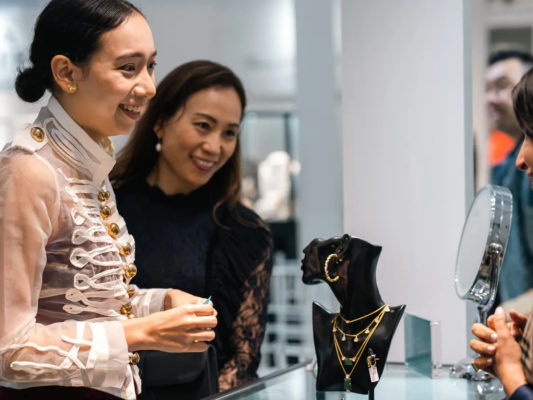 Popspoken: The Singapore Watch Fair is making its debut this year at Resorts World Sentosa. What motivated this expansion, and what can watch enthusiasts anticipate from this specialised segment of the festival?
Angela: Expanding Singapore Watch Fair (SWF) to Resorts World Sentosa heralds a significant milestone in UltraLuxe's relentless pursuit of excellence. This expansion not only exemplifies our steadfast commitment but also signifies a prestigious partnership. Resorts World Sentosa, an esteemed venue sponsor, recognises the unique value that UltraLuxe imparts to Singapore's shopping landscape.
SWF takes centre stage as a platform for watch enthusiasts to converge at this prestigious venue. Connoisseurs can anticipate curated showcases, interactive exhibitions, and exclusive interactions with renowned brands and experts. As we unite with partners who share our vision, pillars like the Singapore Watch Fair not only enrich the festival but also provide a space for enthusiasts to interact, admire, share, and immerse themselves in the world of timepieces.
Resorts World Sentosa is excited to be the presenting partner for the inaugural offshoot for Singapore Watch Fair. Hotel Equarius is the perfect setting for these exquisite timepieces from around-the-world, under one roof. The festival aligns with RWS' promise to offer visitors a year-round vibrant and sophisticated lifestyle offerings that also include Michelin-starred dining and world class attractions.

Chang Chee Pey, Senior Vice President and Chief Experience Officer of Resorts World Sentosa
Popspoken: Looking ahead, what is your long-term vision for the UltraLuxe Festival? How do you hope it will continue to evolve and impact the luxury landscape in Singapore and beyond?
Angela: We envision UltraLuxe Festival as a global beacon of luxury innovation and inspiration. We will dedicate ourselves to building a purposeful collective that connects creators, enthusiasts, and brands worldwide. Through curated experiences, dynamic collaborations, and thought leadership, UltraLuxe aims to reshape the luxury landscape by championing authenticity, sustainability, and craftsmanship. As we continue to grow, our aspiration is to leave an indelible mark, setting new benchmarks for luxury experiences on a global scale.
UltraLuxe that will take place from 13-22 October 2023 casts a spotlight on niche luxury from around the world a pioneering lifestyle social festival offering guests from around the world curated exhibitions, red carpet events and networking tête-à-tête.