Since the lockdown, dining experiences have evolved to show a shift towards the personal, including virtual experiences, intimate menus, and home dining.
While more restaurants are adapting to the "new normal" of the dining landscape, some are trudging ahead with the support of their steadfast fans to release new menus decked with seasonal ingredients and exciting dishes. "It's the one good thing that came out of this pandemic," Chef & Co-owner Lim Yew Aun of Cicheti shares.
Since what self-isolation showed was the importance of making the best with what we have, enjoy a bit of everything since there is so much to choose from. The choice is yours, from guilt-free work from home (WFH) snacks to full-fledged meals—ranging from South Brazilian to Cantonese flavours—to quirky statement mooncakes to usher in next month's celebrations.
MEALS FOR ALL 
The reopening of SIRI HOUSE after the circuit breaker sees a more diverse new menu helmed by Head Chef Leo Pang, formerly from New York's seafood citadel Le Benardin. Aside from the rotating gallery space, now occupied by cult-favourite Mojoko, the dining space now encompasses the showroom and expands into a charming alfresco area suitable for pet parents.
The small sharing plates draw together unpredictable components, such as the Burrata, which pairs red chilli salsa to tomato honey and crisp papadums; Biscuit 2.0 with curry spiced cream, chicken skin and turmeric mushroom dust; and Chicken Oysters, which are delectable tender morsels marinated with Szechuan peppercorns, grilled on bincho-tan, and served with an intriguing sauce of pasteurized egg yolk that has been sous vide at 57 degrees for three hours. The excellent Unagi Risotto is an unexpected presence in the menu, but encapsulates the restaurant's ethos of surprise perfectly: creamy Japanese rice infused with a mixture of burnt onion dashi and clear tomato consomme, buttery mushrooms, and sweet, grilled eel.
When? Now until otherwise specified
Blk 8D, #01-02 Dempsey Hill, Dempsey Road, Singapore 249672
Bold attitudes and strong unions are what make The Butcher's Wife a force to reckon with. Brazil-born, Paris-trained Head Chef Mariana Campos' infectious spirit clearly shows through her dishes, which are not only gluten-free, but are cultural mosaics featuring South American, African, and Singaporean influences.
Jump into her Dadinhos de Sago, little fried bundles of cheese and tapioca with red dragonfruit chutney; Mini Corn on Fire layered with fermented black garlic mayonnaise; and the Crispy Pig Ears tacos with red dates sauce and pickled ginger flowers to whet your appetite. The kaleidoscopic journey continues with the Wagyu Picanha with burnt cauliflower puree and banana powder, as well as the Sweet Potato Gnocchi, well-constructed with mushrooms, rosemary butter, and pea shoots—and if you still have room, the decadent Warm Chocolate Cake with caramel-miso ice cream deserves room in your life.
When? Now until otherwise specified
19 Yong Siak Street, Singapore 168650
View this post on Instagram
Springing back into the game, Shang Social unveils a new bamboo noodle-centric menu with dry and soup offerings. Fans of ramen will be delighted with the Bamboo Noodles with Rolled Pork Chashu & Pork-Prawn Broth as the luxuriant soup is contrasted with the delicate noodles. If you are torn between choices, go for the Three Treasures Homemade Sauce & Bamboo Noodles Platter, which features the best of both worlds: their new range of chili sauces—Canton Silver Fish XO Sauce, Merlion's Nine Spice Sauce, and Penang Belacan Chili Sauce—and a myriad of meats with lava eggs over the signature bamboo noodles.
For something on the go, opt for their new dim sums, all freshly prepared daily and of exceptional quality: BBQ Honey Pork Puff Pastry, Fried Prawn Spring Roll with Lychee, or even old-school cookies and pastries from heritage establishment Tong Heng.
When? Now until otherwise specified
78 Airport Blvd, #01–219 to 222, Singapore 819666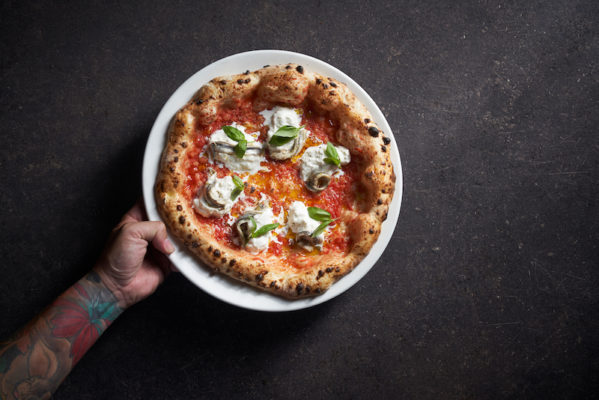 Putting the "g" before old, Cicheti unveils a refreshed menu under the riveted attention of Chef Aun. Italian signatures are updated to feature the best of local and Sicilian produce, serving up uncomplicated dishes with memorable flavours. The Melanzane coaxes the smokiness from its wood-fired origin, and the eggplant flesh is balanced with a warm anchovy and garlic dip, capers, butter, and a dash of lemon. Ask for the off-menu pizza and be treated to a Sicilian Inspired Napoletana: excellent Neapolitan with creamy stracciatella, white anchovies, chili flakes, and lemon zest over a tangy tomato base. The Vongole is more daring; instead of clear sauce, be treated to a rich paste of Hobinosugai clams with jalapeño, anchovies and onion purée.
When? Now until otherwise specified
52 Kandahar Street, Singapore 198901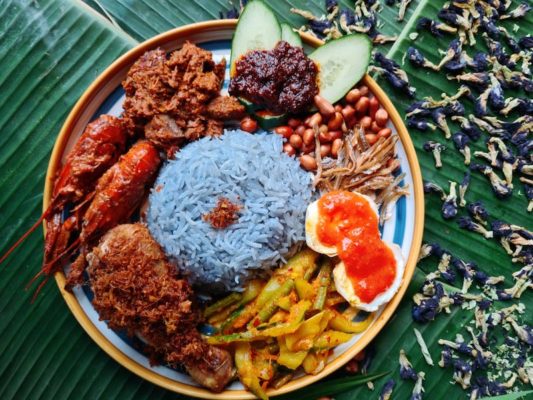 Fans of the ubiquitous local dish will be flocking to OSG Music Bar + Kitchen as their Nasi Lemak menu aims to please both traditionalists and adventurers. The OSG Signature Nasi Lemak features the eye-catching blue pea flower-infused Indian Basmati rice with sides ranging from Turmeric Fried Chicken Wing, Beef Rendang, Coconut Fried Chicken, or even Belacan Mini Lobster. There are also a number of potent chilis to turn up the heat, including their house-special Sambal Chili, Indonesian specialty Balado Chili and Malay-styled Sambal Belacan, but for those who prefer something a little more smooth, choose from their wide selection of wines such Barton Guestier Beaujolais Village or Le Versant Pinot Noir.
When? Now until otherwise specified
3 Temasek Boulevard #01-510/511 Suntec City Tower 1, Singapore 038983
CELEBRATIONS
View this post on Instagram
The ubiquitous patisserie Chateraise comes bearing seasonal delights all the way from Japan, featuring fruity creations that are decked with White Peaches, Shine Muscat and Pione. These limited creations, such as the Yamanashi Shine Muscat Tart, are only available until end of the month. The Yamanashi Shine Muscat and Pione Zuccotto boasts of an iconic construction with alternating shine muscat and pione inside a thick bed of fresh milk cream that is imported from Japan. This cream is made from the Hakushu mineral water from the Southern Alps, which results in its distinctively light and fresh profile.
When? Now until 30 September
Available at all Chateraise outlets islandwide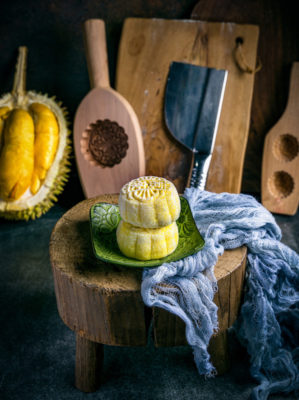 Spiking things up during the festive season, Royal Durian has partnered with Singapore Marriott Tang Plaza Hotel's award-winning Chinese restaurant, Wan Hao, to produce their first-ever premium Mao Shan Wang snowskin mooncakes. They are fully loaded with intense Mao Shan Wang durian flesh and shaped into golden palm-sized treats. The fillings are creamy and potently rich in both flavour and fragrance; eating just one of these arresting confectioneries feels like the complete experience of digging into a durian—without the mess.
The relatively young café, recently opened in 2019, is already making waves for bringing in premium durians from Malaysia and has garnered a loyal following. There is no doubt these eye-catching treats, resplendent in a satin red box, will sell like hotcakes this year.
When? Now until 30 September
Royal Durian Cafe, 134 Jurong Gateway Rd, #01-303A, Singapore 600134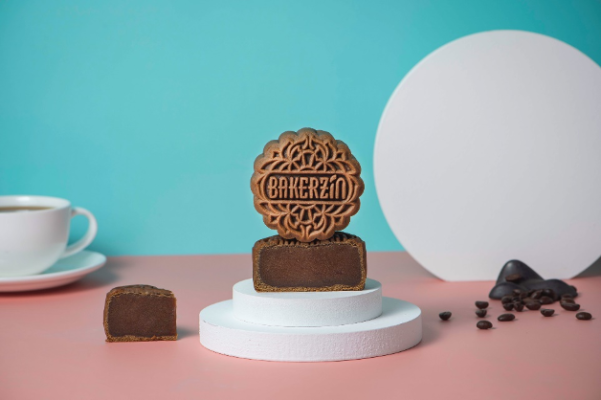 Classic gets a shot of caffeine with Bakerzin's new Aromatic Latte Mooncakes, featuring bittersweet fillings paired to subtle Arabica and Sumatra coffee notes. Fans will be familiar with the establishment's innovative approach to the festive treats each year, while keeping them perfectly balanced with the sweetness and other ingredients. The Latte Mooncake is akin to a large Asian chocolate treat, with smooth centre that brings out the richness of the coffee beans. It can get too much if you are having it alone, so be sure to alternate that with their Classic series, such as the Pandan, Melon Seed, or Premium Egg Yolk Mooncakes that are less sweet than their contemporaries. They also feature a flatten egg yolk centre to ensure that each slice gets a share of the golden sphere.
When? Now until 30 September
Available at all Bakerzin outlets islandwide and their website
If you are in the mood for pink, Foodpanda has released a series of limited edition snowskin mooncakes made with Pan Pacific and Hai Tien Lo. Housed within a gorgeous box with embossed drawers, the four flavours are just as innovative: Hazelnut Yuzu, Raspberry Chocolate, Matcha Black Sesame, and Soursop Lychee. Best eaten slightly thawed at room temperature, the cold skin texture is nice and chewy, while the fillings are smooth and fragrant. These treats are refreshing and not overtly sweet despite the tantalising combinations, which makes them perfect for sharing across generations. The collection will only be available through their pandamart until they run out.
When? Now until otherwise specified
Available only on pandamart
WFH SNACKS
View this post on Instagram
Three Buns, the rock 'n' roll burger club of the Potato Head Family, has redressed their sustainable menu with a series of plant-based creations in partnership with Asia's plant-based food pioneers, Green Monday. They are responsible for curating ingredients that are good for both the consumer and earth, with meat alternatives from OmniMeat, Beyond Meat, Gardein, and Alpha Foods. Highlights include the experimental but tasty Omni Hustle Gong Bao, which is a seared OmniMeat patty layered with gong bao katsup, ginger soya milk mayo, crushed cashew, inferno sauce, and scallions in a toasted mango flour wholemeal bun; and Beyond the Dog, a grilled Beyond Bratwurst topped with shiitake mushroom and dashi mayo in a toasted butter bun.
When? Now until otherwise specified
Available at Potato Head and Three Buns Quayside
View this post on Instagram
Local gourmet popcorn startup The Kettle Gourmet reported a 247% revenue growth during circuit breaker and it is no surprise because they are perfect for WFH snack breaks. Launching a series of new "snack monster" flavours such as nasi lemak, kaya butter toast, chilli crab, and chicken floss, there appears to be no better time to indulge in these treats that are not only healthier than the average choice of potato chips and chocolates, but also wonderfully nostalgic. CFO Chan Zi Wei explains, "Popcorn is and has always been a fun product, so it's always a good feeling to go back to what we loved as children." From coconut to kaya to chili, the flavouring on the crunchy kernels are tasty and realistic without being cloying or sticky towards the end of the pack.
When? Now until otherwise specified
Available at their website
Those who enjoy equal amounts of casual and Korean fare will attest to how consistently delicious Burger+ is, especially when it comes to their innovative take on breakfast toasts and burgers. If there is a trait that redefined restaurants during the circuit breaker, it would be how well the food held up during delivery, and the creations here stand up to the test beautifully. The Korean Bulgogi Burger Set, which comes with their signature subtly sweet beef burger and chunky fries, is delightfully sweet and substantial, while the Chicky Burger is arguably one of the better chicken burgers in Singapore as it comes stacked with a juicy chicken patty, fresh lettuce, tomato slices, and a tangy creamy sauce. The Yangnyeom Half-Chicken Special will appeal to those who love the thick and sweet sauce as it coats juicy chicken and then tossed with sesame seeds.
When? Now until otherwise specified
Available at Burger+ outlets at Wisma Atria & Clarke Quay Central
==
Stay updated and social with Popspoken: Facebook | Twitter | Instagram