Different industries are taking a hit from the epidemic and the local dining landscape is in the same pool. It is tough now, understandably with people taking precautions and steering away from crowded places or communal cuisines. 
However, we can get really creative when it comes to food. End the month on a high note with the delicious measures these restaurants are taking against growing restrictions and a changing dining landscape.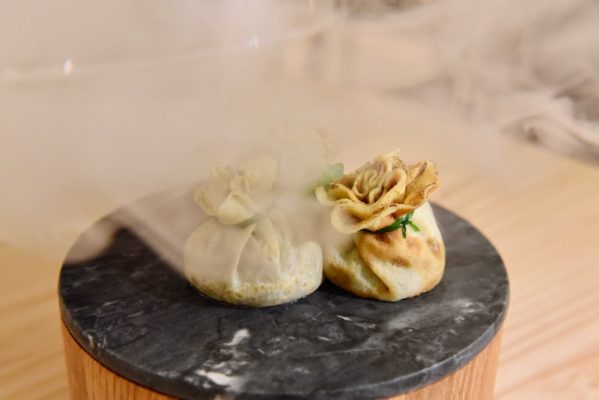 Newcomer Cicada brings a breath of fresh air to the often lacklustre experience of dining at Clarke Quay. Spanning two storeys, the multi-concept dining and entertainment venue has something for everyone: all-day dining, chic cocktails on tap, aesthetically-pleasing decor, a live mandarin jazz lounge, interesting tapas, and a strong lineup of house liquors. On the menu are diverse creations that showcase a blend of Asian flavours and techniques.
Standout savoury signatures include the Smokin' Dumplings, exceptionally flavourful bags made of crepes with decadent fillings like foie gras and served in a bath of applewood smoke; Nori Tacos served sampler-style with salmon belly, beef bulgogi, and satay-ed foie gras; Sakura Ebi Capellini, an easy crowd-pleaser with its play on different shrimp flavours and textures on angel hair pasta; and Char-Grilled Spatchcock, tender with an extra kick from the tangy Middle Eastern blend of spices and herbs. Make room for desserts as the Sticky Date Pudding is perhaps one of the best we have had in Singapore, itself balanced, moist and not overly-sweet.
When? Now till otherwise specified
Block 3C River Valley Road, Clarke Quay, #01-10 Singapore 179022
With over 30 branches in Asia, Yakiniku Like, a speciality yakiniku fast food restaurant from Japan, is finally here with their first restaurant at Paya Lebar Quarter (PLQ). The smokeless, individual-centric eatery is already decked with snaking lines of fans for a few reasons: it redefines the term "fast" with a commitment to serve food out within three minutes; delivers high quality meat at an unbeatable value; and offers fantastically delicious flavour options like the Like Cheesy Curry Sauce and our favourite, Garlic Butter dipping sauce. Yakiniku aficionados will be delighted with their signature meats like wagyu beef, karubi (beef short plate), and harami (beef skirt steak), or the more unique offerings of beef tongue and pork jowl.
When? Now till otherwise specified
10 Paya Lebar Rd, #B1-28 PLQ Mall, Singapore 409057
If you are looking to take your packed lunches to a new level, Tampines Food Co's latest partnership serves up four unique restaurant concepts helmed by local personalities. Chiak Local by Miss Tam Chiak features classic hawker dishes with a quirky side, such as CHIAK Minced Pork Noodles and CHIAK Penyet. Little Miss Bento by Shirley Wong will be a hit for fans who already follow her delectable bento creations online, as the menu serves various Japanese dishes and desserts, like Saba Teriyaki Don, Wasabi Shaker Fries, and Matcha Adzuki cake.
Co-founder Adam Shah manages The Halal Food Blog, which brings together halal-certified dishes, including traditional favourites like Ayam Bakar and Maggie Goreng, as well as modern halal eats such as pizzas and burgers. The most versatile of the lot, Michelle Hon's Chill Mom Kitchen caters to different age groups with a series of family-friendly choices, ranging from salads to pastas. As part of the new wave in virtual dining concepts which are more relevant now than ever, these four restaurants definitely lead the way for more exciting innovations in the F&B landscape.
When? Now till end of March
Available via Foodpanda, Grabfood and at Tampines Food Co
10 Tampines North Drive 4, #01-05 JTC Space, Singapore 528553
View this post on Instagram
The generally overlooked cousin of Matcha, Hojicha, finally seeps into the spotlight with Milksha's Seasonal Spring Cups. The Hojicha Latte and Hojicha Jelly Frost are packed with the aromatic flavours of the roasted tea leaves, while also blending nicely with milk or grass jelly. With everyone scrambling to get hold of superfoods to keep illnesses at bay, do not overlook Hojicha as an ingredient as the tea leaves are loaded with antioxidants, can help relieve stress, and reduce cholesterol levels. The drinks are not overly sweet as well, and each purchase of these gorgeous cups gets you a step closer to winning various prizes like Nintendo Switch to drink vouchers.
When? Now till otherwise specified
Suntec City Mall, 3 Temasek Boulevard #02-375/376 Singapore 179105
Turn back the clock with The Capitol Kempinski Hotel's afternoon tea, served daily from 3pm to 6pm at The Lobby Lounge. The five-part menu starts in a colloquial manner, serving up Chicken Rice 'Arancini', Chilli Crab Quiche, and Smoked Duck and Cantaloupe Cornet with Thai dressing for the first course; their house-seasoned Salmon Slices, Prawn Salad with Mango Salsa, Potato and Egg in a Brioche Bun, and Tuna Mayonnaise Croissant as the second tier; while freshly baked Cranberry Scones, Assorted Financiers, and various pastries make up the remaining three courses of the set. All the courses are paired with TWG TEA teas, or if you are looking to unwind, the option of adding on two glasses of champagne to wash down the sweet, heritage treats.
When? Now till otherwise specified
The Capitol Kempinski Hotel, 15 Stamford Rd, Singapore 178906
View this post on Instagram
With all that is going on, it is no wonder the notion of communal-style dining has lost its shine. In particular, Cantonese and Teochew restaurants Taste Paradise and Paradise Teochew are among those who are adapting to the changing dining landscape, now offering three individual set menus that are packed with flavour and value. The set menus include appetisers and desserts that blend well with decadent mains such as Stir-fried Angel Hair Pasta with Sakura Ebi and Ramen with Lobster in XO Sauce at Taste Paradise. For Paradise Teochew, local flavours are given a delectable twist, especially through classic staple options like Hokkien-style Fried Rice with Abalone, where light gravy envelopes each wok-hey-treated rice grain.
When? Now till otherwise specified
Available at Paradise Teochew outlets at Vivo City and Scotts Square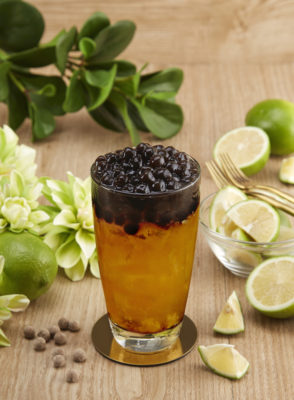 Taiwanese bubble tea chain, Chun Fun How, known for nutritious sweet potato recipe and eye-catching floral cups, has opened their first outlet at The Esplanade Mall. The store uses premium ingredients for all their beverages, with refreshing variants that are all rich in antioxidant and antibacterial properties, like Aloe Vera, Sweet Potato, and Winter Melon, to pair with special tea leaves imported from Nantou, Taiwan. It will also be easy to spot their drinks as they all come in one size and sport the same elegant designs ranging from floral patterns to fauna scenes. If you're trying Chun Fun How for the first time, you cannot go wrong with the fragrant Lychee Four Season with Aloe Vera, or the classic Sweet Potato Black Tea Latte with Pearls.
When? Now till otherwise specified
The Esplanade Mall, #02-13, 8 Raffles Avenue
View this post on Instagram
Craving for something sweet, light, and brimming with the best parts of Vitamin C? Ah Mah Homemade Cake's timely release of their new Citrus Cotton Cheesecake is a great immunity booster and an utterly delicious household snack. The complementary sweet and mildly tangy notes are made from fresh orange juice, zest, and lemon juice, then baked in individual moulds within a water bath to produce its trademark moist and jiggly body. While it has a rich cream cheesebase, it uses less sugar than the other cheesecakes to bring out the natural citrus flavours. With the cakes baked fresh everyday and replaced every 12 hours if they are not sold, we foresee this limited-time variant to be flying off the shelves during this period.
When? Now till otherwise specified
Available at all Ah Mah Homemade Cake outlets
==
Stay updated and social with Popspoken: Telegram| Facebook | Twitter | Instagram