Karin van Vliet has made a lot of life decisions around her ardent passion for food.
Even as we sit down at a corner table of Tippling Bar on a particularly sweltering afternoon, it is clear that she comes with gastronomical tales of her own. She is part of the power dyad behind the curated lifestyle publication, Table Tales. Now in its fourth edition with only 3000 copies in print, the book operates as more than a recommendation guide.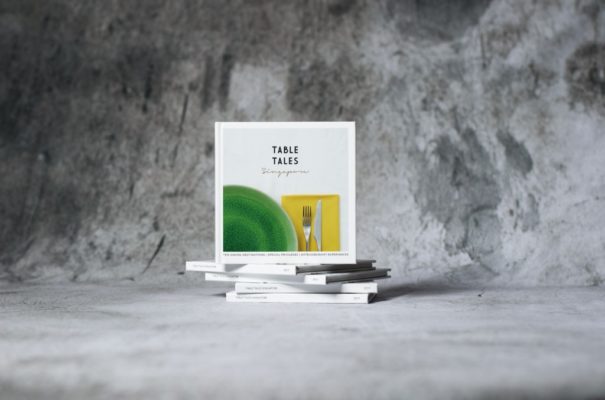 Do not judge this book by its cover. Behind the kitsch name lies an adventure for food lovers. More prominently, it is an invitation to create tales around exquisite dining spots, incredible food experiences, and the fantastic company that binds all these elements together.
In its carefully crafted pages, there are attractive deals with 10 specially selected restaurants of the upper tier in Singapore; either a 20% discount or a free main course. Bonus feature: the book also draws the chefs out to personally interact with the book holder and leave an autograph to commemorate the experience.
We chat with Karin about her journey as an entrepreneur in two distinct fields, F&B and digital marketing, her move across the world for food, and navigating the restaurant industry as a woman.
Tell us a little about your background! Everything started when…
I moved to Singapore over 10 years ago. Actually, it started 12 years ago when I was backpacking in Asia and Singapore was one of my stops. I knew I wanted to move abroad so I was always looking out for places to go, and Singapore stood out as a city. English was also the main language so that helped. It is very organized, with a lot of potential. So, I bought a one-way ticket upon graduation and moved here on my own, without a job, and just one suitcase.
Found a job, hated it, then I started with Supper Club, which is coincidentally a Dutch establishment. I have always worked in F&B in the Netherlands. Looking back, that was perhaps where my F&B adventure started. I then moved to Time Out Singapore for awhile, then starting my own events company where we ran events with various brands, before stepping away to run a creative agency.
Couple of years ago, I had the chance to start this book and I thought, "Ok, let's do it." It was fitting because my boyfriend and I loved to eat out. We met here, and our personalities really complement each other. People are always asking us where to eat, and saying things like, "Oh, you need to talk to Peter and Karin, they know where to eat."
It was a natural continuation and I like the fact that, by doing this book, it is non-digital, that this is old-fashioned. When everything is so digital, I think there is a very strong trend towards the non-digital initiative. I think it is a good initiative when brands or even restaurants focus on delivering the "total experience", the full commitment to the consumers.
Following that thought, what are some of your experiences that stand out?
One of the things that started a couple of years ago and I really enjoy is chef collaboration; when chefs travel together or fly in from their countries to create a special menu together. You get the best of both worlds in one restaurant and very often, they try to pair very contradicting chefs, for example, one very Asian with a Western chef, or even a meat-driven chef to a vegetarian chef. I like this daring combination and seeing what they can come up with. That is where a true chef will shine.
Another experience is when chefs pay attention to detail. In Europe, each season has its special ingredients. At a recent dinner, there was an autumn menu launched and the ingredient was game meat, really exclusive cuts that you can't get here. The chef also brought white truffles from Spain and literally had those glass balls, like a trophy, to display them.
These are the experiences that have been thought through. That is what excites me, and it really represents what Table Tales is at its core. Everything, from the moment you step into a restaurant until you walk away, you feel that it all works. It is those unexpected things and moments that make it memorable. It is this level of innovation that we really strive to have in the book.
How long does the whole process take for Table Tales (selection and writing)? Which part is the hardest?
Definitely selection. We start in January and because this is print, there are printing deadlines. If we want to launch in November, so by the first week of September, we need to have finished with final writing and design. The whole process takes about eight months. For the selection, we start by creating a list of 50 new restaurants, but also include some old names, and we have dinner at every single one of them.
We try two to three restaurants in one night, like a starter here, a main at another one, just to get a taste of the restaurants. I think a chef's creativity actually comes out a lot in the starters. We also get our friends to go on our behalf and get their comments. We want to make sure the list is diverse, so different prices, locations, and cuisines. The first couple of restaurants are easier. The moment you reach the 7th restaurant, it starts getting hard because some might be similar to the others or you might have missed one out that you really liked.
What is your favourite dish in Singapore? Why?
Banana bread. I never had that in the Netherlands. When I first had it in Toast Box, I was amazed by its sweet, moist texture. Oh, and the cold, thick kaya with toast— so good.
Did you ever feel at any point along this journey, being a woman was a detriment in being successful? Why?
To be honest, not really. I moved here on my own, which means I had a very different start from my peers by being in Asia. I think I just did what makes me happy. There was no gender-specific issues, but I do understand when people talk about women wearing many different hats and having to juggle everything at once. I have multiple projects running at the same time, and my bigger challenge is managing my time, and running and growing my company. Being a woman has not affected me as an entrepreneur, but it has expanded my ability to do more at once.
Are there any trends in the restaurant industry that excite you?
Sustainability and the fresh food movement. It goes hand in hand. Chefs want to have the best and freshest ingredients and they are beginning care about their carbon footprint, so they are taking measures that show in their food. They are more open to, say, tomatoes that are locally grown, from a nearby country, or even a rooftop, instead of importing it from some exotic location.
Another trend is the reduction of plastic usage. There are a lot of initiatives now to make people more aware of the use of plastic, from straws to plastic bags. It is about education and awareness to bring this change. Even though we grew up using plastic everywhere, there is always time to change this situation.
Is there a term that you love to see in association with food?
I enjoy rustic, uncomplicated dishes, rather than fancy terms or techniques. It is very much back to basic nowadays. You can call it what it is. I also like it when ingredients are referred to in their everyday names rather than the French or Japanese monikers. A good dish is when what you see is what you get; not only very ingredient-driven but with basic ingredients at its core.
If someone were looking at you, what would you hope they were inspired by?
I believe in making your own choices and your own success. If you want something, don't wait for it to happen, make it happen. Just do it. We are all waiting for this perfect chance that hardly ever happens. Starting small is okay. At the end of the day, what is the worst that can happen? Keep trying and learning. You will get there in the end.
We are giving away 1 copy of Table Tales 2019 – head here to join! Giveaway ends 16 Dec 2018.
Popspoken readers are entitled to free gift wrapping & a free weekly planner with every purchase of Table Tales 2019 – simply enter "Popspoken" as the voucher code.
==
Stay updated and social with Popspoken:  Telegram| Facebook | Twitter | Instagram