Happy National Day, Singapore! It is no secret that Singapore is an island of diverse and immerse food culture, so what better way to kick off our 53rd birthday's celebrations than using the mouth?
From McDonald's safe settlement in the Rendang Sedap Angus Beef Burger to ice cream parlour Tom's Palette's quirky Chee Cheong Fun ice cream, these attempts only demonstrate how tough it is when trying to pinpoint an authentic local flavour. Our list of homegrown, up-and-coming restaurants helps you make that decision on your own— onward, hungry folks of Singapore!
Skyve Wine Bistro's location is perhaps telling of its fare. Only a stone throw's away from Anglo-Chinese School (Junior), the sun-drenched, vintage décor of the restaurant is perfectly at home among lush greenery and family. Brother and sister helm the place, with Executive Chef Jachin Tan serving up dishes that emulate his fondest memories of food, and founder cum sommelier Celine Tan pairing his creations to her extensive and affordably-priced collection. The all-day bistro's name is a testament, where "Skyvers" from all walks of life can find respite over a good glass of wine and delicious food.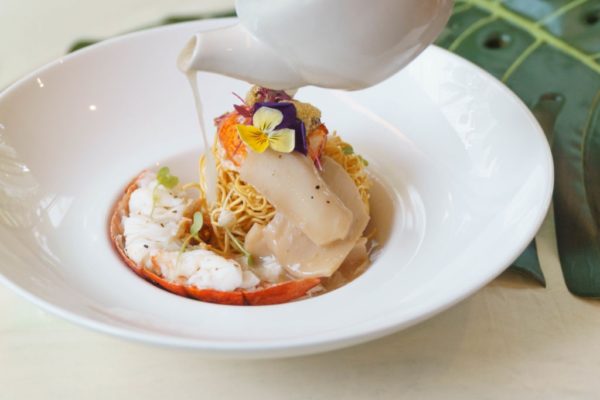 Our personal recommendation, the Truffle Mushroom Ngo Hiang is a flavourful vegan appetiser that will appeal to both camps at the table. The combination of brocollini and burdock root imbues the rolls with an addictive crunch. Their popular Lobster Sang Mee is local tze char fare served luxurious, topped with an array of seafood, egg drop soup on the side, and enough wok hey in the zup to be taken seriously. Maybe not as local but still deserving of its spotlight, the Semifreddo of Lime is an emerald-tinted dessert with blue pea flower caviar, each bite itself a refreshingly sweet end.
When? Now till otherwise specified
10 Winstedt Road Block E, #01-17, Singapore 227977
Everything at Ding Dong is revealing of its playful, scintillating nature. The décor, a mishmash of gaudy posters, is a visual treat for the eyes, while their recently revamped menu unfolds to a clever cocktail "treasure map" across Southeast Asia. The restaurant is no stranger to the eclectic culinary flavours of Asia, frequently placing itself at the forefront of innovation when it comes to the Mod-Asian experience.
"The food at Ding Dong has always been about stirring the Mod-Asian trend pot, bringing in fusion flavours that bridge culinary cultures between the East and the West," says Head Chef Miller Mai.
Embark on a truly Singaporean taste journey with Ding Dong's rendition of Kuih Pie Tee, the Singapore Chilli Crab. The little spicy cups contain the well-loved crab at its finest: already spared of its shell. The Beef Short Rib, Buah Keluak, and Wingbean Salad steals the thunder from other mains with the daring flavour of buah keluak. Together with the incredible mouthfeel of tender Wagyu beef, the dish is what you would imagine Singapore to taste like: rich, earthy, and overwhelming. Riding on that note, finish off with the king of fruits, Durian Alaska— a house-made durian ice cream paired with fluffy pandan chiffon cake; and coated with an intricate, light caramelised pandan meringue that forms the outer shell.
When? Now till otherwise specified
115 Amoy St #01-02, Singapore 069935
Whether it is longing, nerves, or designed for touchdown tourists, airport food has a propensity to be unremarkable. Enter Colonial Club, the 80-seater restaurant tucked beside the sports arm of Changi Airport's Terminal 3, determined to beat present expectations through tasteful interpretations of our heritage. With a menu that pays tribute to Singapore's history of colonisation, expect traditional Asian dishes that hail from different parts of Singapore, Penang and Malacca.
Highlights include the unassuming Roti Ayam, pan-fried French toast stuffed with tasty chicken meat fillings; when served hot and crispy, it is a savoury eggy treat for the mouth; and the signature Straits Nyonya Laksa with Soft Shell Crab. This dish is not for the light eaters as it enters the picture with a whole deep-fried soft-shell crab perched on the bowl of rice vermicelli swimming in thick, spicy rich coconut broth. To end, their homemade kaya brings all these elements together when spread on the slice of steaming, soft, shiok bread.
When? Now till otherwise specified
Changi Airport Terminal 3, Departure Hall, #03-33, 65 Airport Boulevard, Singapore 819663
The sweetest messages come from the oven. Bakerzin recently unveiled their special creation for National Day: the Cempedak Layer Cake. Its festive appearance is marked by the alternating layers of red and white, with the former of velvety sponge cake, and the latter made from 100% fresh pure cempedak (jackfruit). The result is both sophisticated and delicate, almost reminiscent of traditional kueh lapis but with a twist of modernity—almost like our country's unique stance.
When? Now till 12 Aug
Available at all Bakerzin outlets across the island
Another term for public holidays: stay-at-home day. If the temptation to curl up with a new drama series sounds familiar, Creamy Boutique Ice Cream is a great portable choice for those looking to fulfil both sweet and savoury indulgences. The new range of artisanal desserts is not only innovation, it is also highly photogenic, bringing Singaporean dishes together on a cookie. Crafted specially for the occasion, the Ondeh Ondeh Cookie paired with Milo Dinosaur Ice Cream will delight any 90's child with a penchant for nostalgic treats. When the rich, warm gula melaka centre oozes out to meet the smooth breakfast cocoa drink, it is a match made in foodie heaven.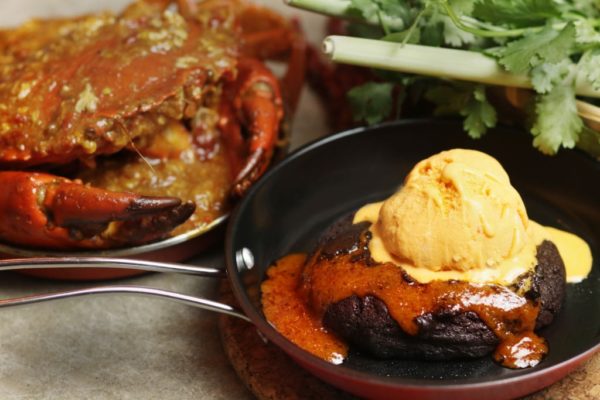 For those with adventurous palates (probably the same people who enjoy Chee Cheong Fun ice cream), the unorthodox Chilli Crab Cookie paired with Bread Toast Ice Cream is another National Day exclusive creation. The chewy black brownie cookie contains homemade, salty chilli crab lava, while the sweet ice cream balances it out— not bad for the first savoury lava cookie in the range!
When? The Ondeh Ondeh cookie is available till 9 Aug; the Chili Crab cookie till 31 Aug
139 Tyrwhitt Road, #01-03, Singapore 207557
===
Stay updated and social with Popspoken: Telegram| Facebook | Twitter | Instagram