There are a few ingredients that go into making the perfect dinner date: candlelight, soft music, unforgettable food, smooth wine, and good company. The same can be said for the perfect dinner party, especially the one returning for its sixth edition on 12 May 2018: Le Dîner en Blanc – Singapore.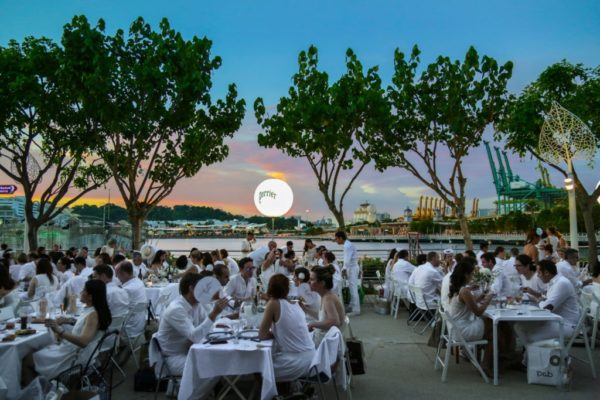 For the last three decades, this pop-up culinary event remains the leading summer contender in Paris for its intricate and unique guidelines— starting with the secret location. Guests who have successfully registered for a spot with their partners will be kept in the dark until the actual day of the dinner. Another quirk is that they will have to provide their own food, cutlery, and outdoor furniture.
In addition, every aspect and/or participant will be completely decked in white, starting from clothes to tableware to trash bags. If all of these sounds a tad tedious, it is because Le Dîner en Blanc models itself to be a luxurious picnic based on a long tradition. It rewards all these efforts with an entire night of celebrations and live performances, marking it to be a classy, unforgettable experience.
Unlike the parties held in other cities worldwide, the Singaporean edition encourages participants to get especially creative with their white outfits, whether it is rococo and/or creative getups, fantastical hats, or even unorthodox table settings for a night of fabulous spectacle. For those preparing food from home, the menu also extends to local and/or Asian dishes, as long as it is prepared in a three-course  Once everyone is settled, white napkins will be raised in the air to signal the start of dinner.
Throughout the night, there will also be a dedicated team ensuring that everything runs smoothly: wine, conversations, and especially vibes. We find out more from Jasmine Tuan, a multidisciplinary creative who heads the brand consultancy firm Brandmama— proving how women can look good while doing even better. She will be part of this year's hosting team, along with Wanderwine's founder Alexis Lhoyer and Chab Events' co-founder Guillaume Chabrières.
Popspoken: For those who have yet to meet you: as someone who wears many hats, what is the style that describes you?
I am in the midst of downsizing my life drastically. From a walk-in wardrobe to a rack full of clothes, I soon find my wardrobe accumulated very quickly as long as I am still actively shopping. I now aim to downsize my life to a 7kg duffle bag, and I've stopped mindless shopping entirely starting 2018.
Minimalism and simplicity work very well for me.
Popspoken: If you had to only pick one: food or fashion? Why?
Food. Before I do anything, I'll make sure I eat well first, followed by a good cuppa coffee.
Popspoken: There is growing pressure for women, especially in South East Asian countries, to pick between career or family. What is your opinion/advice?
Choose both. It's all about managing and keeping them well balanced. In the ideal world, moms get to work from home and take care of their family at the same time. Most women still go to the office to work. That's why we have working hours to stick to and do our best at work, and then the rest is family time. Don't forget to allocate some time for 'me time' too. It's the most important in my opinion.
Popspoken: Other than the secret venue, is there anything else from Le Dîner en Blanc 2018 that we should look out for?
Our dinner set menus are specially designed by celebrity chef Emmanuel Stroobant of Saint Pierre. One of the menus also comes in a vegetarian option. Guests can order them from our  [online] store prior the event to be picked up on site.
Popspoken: Have you been to the Le Dîner en Blanc picnics in other cities? Is there any city that you will like to join? Why?
No, I have not! I've always heard about the event when I lived in Singapore, but somehow I've never really gone about attending it. This year marks the 30th anniversary of Le Dîner en Blanc de Paris, where the magic all begins! I am seriously considering going to Paris to attend the event as a guest.
Popspoken: Any particular memories stand out from your previous hosting experience with Le Dîner en Blanc?
I was setting up at the VIF (Very Important Friends) table as guests started arriving and flowing in the venue from various pickup points. When I was about done and looked up, I saw a beautiful sea of white; everyone is all set and ready to commence dinner. It was surreal to me. I literally stood in disbelieve that all these are happening, that was my very first Le Dîner en Blanc event as a host and a guest, together with 1,000 other attendees. We had such an orderly and fun-loving crowd who are truly the ones who made the night memorable and magical.
Popspoken: What are some tips for newcomers to Le Dîner en Blanc?
Read all the information available on the official platforms and social media accounts. Make sure you come in all-white (not cream, not off-white) and get yourself a trolley to transport all the things you need to bring to the event. Most importantly, listen and cooperate with our bus and table leaders who are in charge of taking you to the secret location.
We love surprises and we also love to give one. Come with cheerful hearts and be entertained throughout the evening by the program the team has lined up.
Le Dîner en Blanc – Singapore
When? 12 May 2018
Secret location (released on the day itself)
Register here to join the waitlist for Phase 3

==
Stay updated and social with Popspoken: Facebook | Twitter | Instagram