Tucked into an obscure street off the beaten path of Tiong Bahru on Yong Siak Street sits a café called Open Door Policy. A relatively simple shop front, with a small signboard, with an arrow, that says "ODP" are all that greets you and tells you that you are at the right place when you come here for dinner at night.
In this tiny, homely shop, you push through a glass door and enter into a whole new world. Even though it was a peak hour, there were still quite a few tables to pick and choose from. The staff were friendly, and one gets the feeling of stepping into a home, and not a café, when one is at Open Door Policy.
Currently being hosted at Open Door Policy is Lazy Susan, a modernist all-day dining pop-up that is inspired by Asian breakfasts, and infused with global flavours. This culinary "rojak" of flavours turns traditional ideas of Asian breakfasts on itself, and changes it into something altogether.
Chef Haan Palcu-Chang, the brainchild behind the menu, has a background only matched by his cooking styles. He is half-Chinese, half-Romanian, and was raised in Toronto while having lived and cooked in France, Denmark and Korea. When asked to describe his cooking philosophy, Chef Haan said that "our favourite meals are always the ones that are shared with loved ones and family, and we hope to capture the spirit of a boisterous family meal in the way we cook, serve and present our food."
"We are driven to make our food delicious. Most importantly, our customers must enjoy it." With this in mind, the chef wasted no time in finding the perfect menu, after being scouted by Cynthia Chua, the CEO of Spa Esprit. From the moment he landed in Singapore, Chef Haan went about trying out our local delicacies. He then described how he spent two weeks in the kitchen, and experimented with 10 kg of chicken, just to find the correct balance.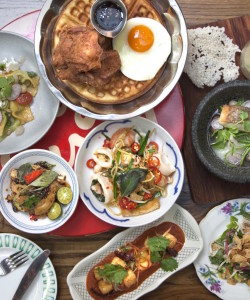 At the end of his undertaking, the results were delicious- and unconventional- treats like "ricotta pickled mussels with bean paste on sourdough", "crispy shrimp paste", "chicken with rice flour waffles and sambal maple", "jackfruit buns with BBQ sauce, guacamole and pistachio". In total, the menu comprised of 10 dishes and two desserts.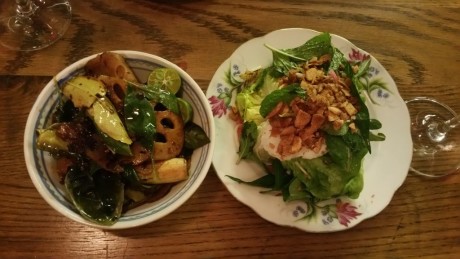 One intriguing dish was the charred snapper salad, lemon pickled onions, laksa leaf, bean sprouts and fried garlic ($14). The charred snapper salad, together with the stir fried lotus root with homemade chili jam, kaffir lime leaves and thai basil ($9) were fitting appetisers to kick off the dinner, and a hint for the types of dishes one could expect later. The lotus root, typically boiled with herbs in Asian cuisines, is now stir-fried to bring out its crunchiness, and mixed with lime leaves and basil to bring out the distinctly overall Thai taste of the dish.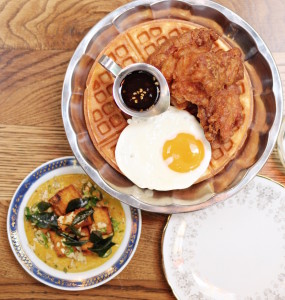 The shrimp paste fried chicken and rice waffle with sambal maple syrup ($22), is an unconventional take on the local "Har Jeong Kai" dish. While the chicken is fantastic by itself, it tasted even better when paired with the rice waffle and drizzled with the sambal maple syrup. There is even a sunny-side-up egg in all its organic goodness to go along with this curious dish.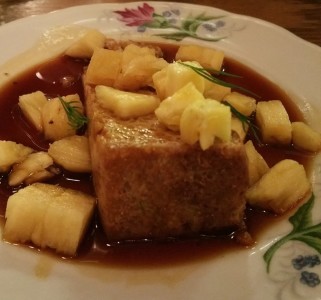 To round up the meal, try the baked sago custard cake, gula melaka caramel and pineapple (and dill springs) ($8). The restaurant also offers a wide selection of red and white wines to pair with your food. Guests can choose to have a glass of sauvignon blanc ($15) or even the la braja ($15), among others.
Before arriving at Open Door Policy, Lazy Susan had its first popup at the House of Dempsey. It was brought to Singapore by Cynthia Chua, the CEO of Spa Esprit.  To date, including Lazy Susan, Cynthia has created 18 distinct food and lifestyle concepts.
Lazy Susan will be on Open Door Policy's menu till 24 January 2016.
—
Lazy Susan
5th – 24th January 2016
19 Yong Siak St, Singapore 168650
Monday – Sunday: 12:00 – 3:00 PM / 6:00 – 11:00 PM
This was an invited media tasting
Stay updated and social with Popspoken: Facebook | Twitter | Instagram