Among the eclectic mix of old haberdasheries, Middle-Eastern flavours and rattan furniture shops in the Malay-Muslim quarter, the last thing you would expect to find would be an Italian eatery. This casual home-style restaurant has been nestled on Arab Street for 4 years now, offering a range of Italian favourites. Signifying 'olive' in Italian, Oliva aims to serve good, simple food and the owner, Diane Ng, proudly acclaims her homemade sauces and breads.
Diane's passion is clear in her devotion both in the kitchen and out of it, designing a menu that features simple Italian favourites and a few original dishes. We started off with two classics: Bruschetta ($7.50) and Insalata Caprese ($18). True to its name, Oliva prides itself in using 100% premium olive oil which topped off both antipasti.
The Caprese was your standard mozzarella and tomato dish – you can't really go wrong with that pairing. What we really liked though is the Bruschetta where the crispy classic toasted bread is replaced with slices of homemade bread. The flavoursome tomato basil mixture topped upon the baguette style bread gives a satisfying contrast between the juicy chopped tomatoes, soft bread, and crunch of the hard crust. This antipasto really embodies the restaurant's essence of creating something great out of simplicity.
We then moved on to the Lamb Shank Provençal ($25), made with an Oliva's special recipe. The lamb shank was served, as is best, with creamy mashed potatoes and steamed greens. The mash was a bit dry, and the veggies a bit undercooked but the pièce de resistance was slow-roasted with fresh and dry herbs to tender, juicy perfection. Though I personally prefer a more dressed-down version, with wine- or herb-based seasoning, the homemade tomato gravy complemented the aromatic melt-off-the-bone-meat well.
We tried the Pesto pasta ($16.50), another favourite and deservedly so. The al dente linguini was flavoured with a generous portion of pesto. This homemade sauce was creamy without being too rich. The vegetarian dish was garnished with pine nuts and rocket leaves, a clever deconstructed version of the sauce to bring out the nutty flavour.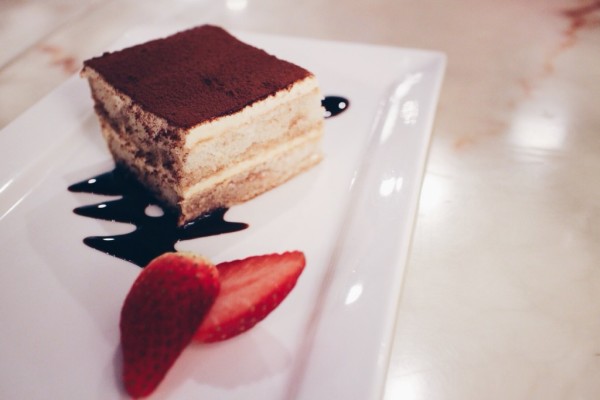 To finish off the meal, we had the Panna Cotta ($8.90) and the Tiramisu ($9.90). Tiramisu is one of my favourite desserts – I just can't resist the delightful parcelled layers of thick mascarpone cream and coffee soaked lady fingers, dusted with cocoa. However, Oliva's Panna Cotta outshone their Tiramisu, which was a tad on the dry side and lacking in coffee flavour.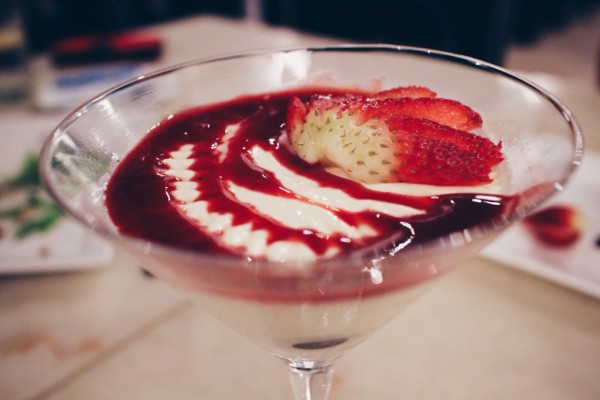 The Panna Cotta, on the other hand, was deliciously light and creamy, drizzled with homemade strawberry coulis and topped with masterfully sliced strawberries – a perfect amalgamation of sweet and sour.
The modern monochromic interior deviates slightly from the traditional Italian vibes we're used to, but this is made up by small touches such as the candles in mirror lined niches, Italian tunes and the alfresco dining area which aspires to emulate a vineyard experience.
The restaurant is a popular place for its set lunch, modestly priced at $12.90 which includes soup, dessert and a drink. Oliva is keen to deliver hearty no-frills Italian food, offering authentic dishes at reasonable prices – perfect for a casual meal.
Details:
Oliva Italian Restaurant
34 Arab Street
Singapore 199733
Tue-Fri: 11am-10pm
Sat-Sun: 11am-10:30pm
Closed Monday
Closed Sunday (2nd + 4th week of the month)
This was an invited tasting.